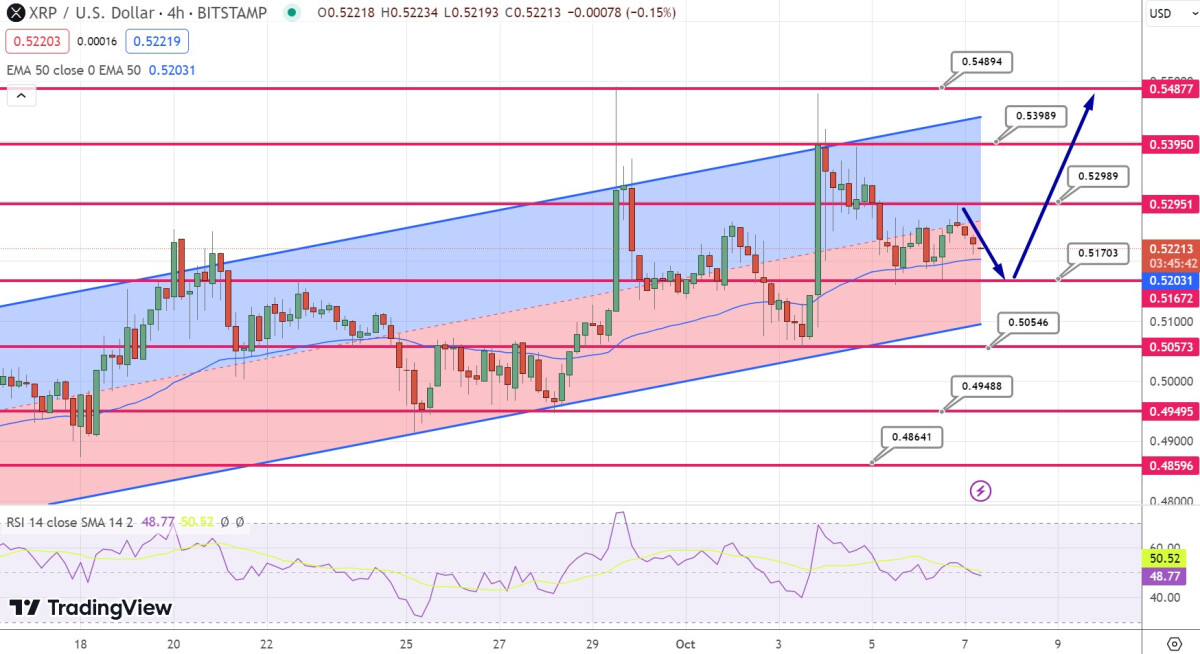 In the volatile world of cryptocurrency, Ripple's (XRP/USD) price stands out, with its daily trading volume now exceeding $500 million. Despite recent bearish sentiments, the surge has ignited speculation: Could XRP be on the brink of a rebound? 
Let's dive into the data and technical indicators to uncover the XRP price prediction.
XRP Price Update
Ripple's XRP has been under the spotlight recently, and the latest data suggests there might be a light at the end of the tunnel for its investors. As of October 7, the price of XRP stands at $0.52255. 
This relatively modest figure belies a noteworthy 24-hour trading volume surge that has crossed the $500 million mark, specifically landing at $574,496,492. This movement has resulted in a 0.50% increase in its value over the same time frame. 
As per CoinMarketCap, XRP's current standing is at rank #5, with its market capitalization valued at approximately $27.9 billion. 
The cryptocurrency has a circulating supply of 53.39 billion XRP coins, with its maximum supply capped at 100 billion coins.
For those closely watching the crypto market trends, be sure to check out our recent article on Bitcoin price prediction. Get the latest insights on BTC's potential trajectory.
XRP Price Prediction 
From a technical standpoint, based on a 4-hour timeframe, the pivot point for XRP/USD is currently at $0.5170. 
Key Trading Levels: It faces immediate resistance at $0.5295, with further resistance points lying at $0.5399 and $0.5489. On the flip side, XRP has immediate support at $0.5055, followed by additional supports at $0.4949 and $0.4864.
Key Technical Indicators: Diving into the technical indicators, the Relative Strength Index (RSI) is presently positioned at 48. An RSI value below 50 typically signifies a bearish sentiment, whereas above 50 it indicates bullish momentum. 
In XRP's case, the RSI is slightly leaning towards the bearish sentiment but is tantalizingly close to that midpoint that could tip it either way.
50 EMA Suggest Buying: The 50-day Exponential Moving Average (EMA) for XRP is at $0.5200. The asset's price hovers around this mark, which makes it a pivotal point to observe. 
If the price remains above the 50 EMA, it could be indicative of a short-term bullish trend, while a dip below might suggest a bearish stance.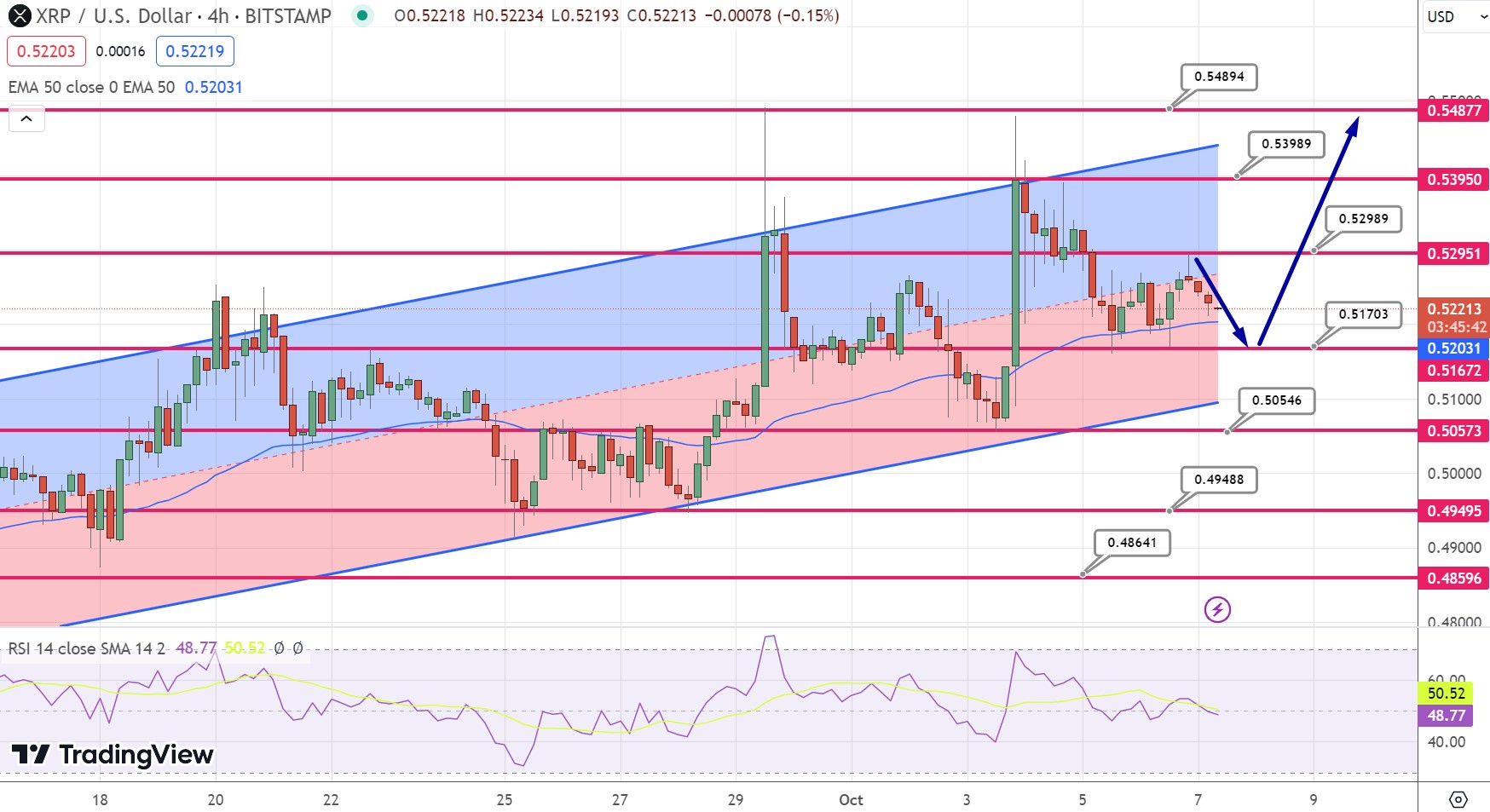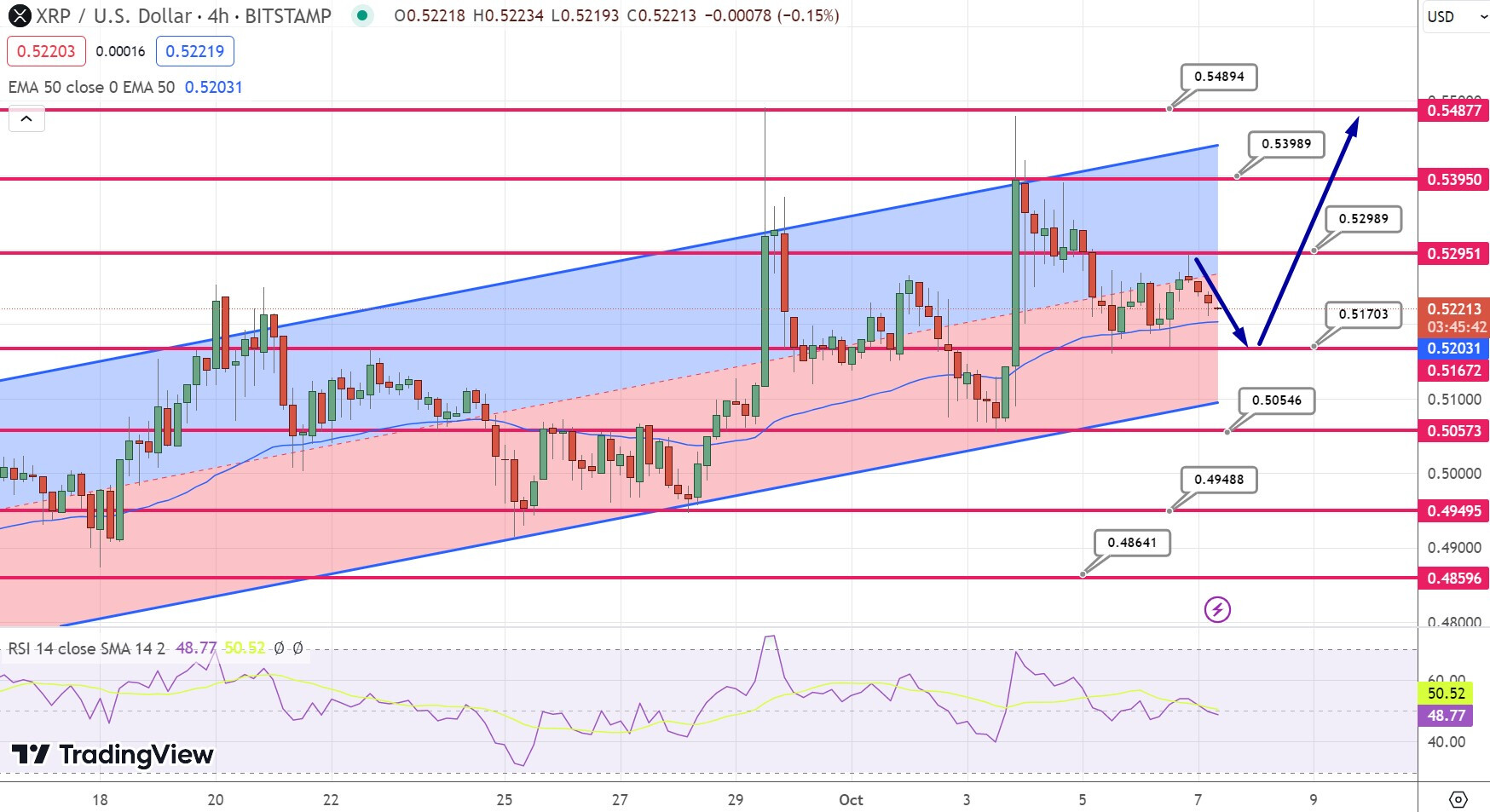 Looking at the chart patterns, XRP has charted an upward channel on its 4-hour timeframe, a positive sign for potential buyers. 
This channel suggests an ongoing bullish sentiment, and this view is further cemented by the 50 EMA (coloured in blue), which supports the chances of a bullish trend continuation at the $0.5200 level. However, any bearish crossover below this EMA could pave the way for a selling trend.
In conclusion, while XRP's short-term future seems to be hinged on the pivotal $0.5200 mark, the overall sentiment leans bullish above this price point. 
With the ongoing developments and technical indicators, traders and investors can anticipate XRP to test its resistance levels of $0.5400 or $0.5485 in the forthcoming days. 
As always, meticulous observation and strategic decision-making are the keys in these volatile crypto markets.
New Altcoin Surges in Popularity: Here's What You Need to Know
Altcoins that are relatively new may provide traders with greater returns in a shorter span of time compared to XRP, which is still in a favourable position. 
Newer altcoins have the potential to outperform the market by a significant margin, especially if they haven't had their initial growth spurts yet. 
This is particularly true for presale tokens, and TG.Casino (TGC) is currently conducting one of the most intriguing new sales, offering a decentralized casino platform that leverages the social influence of the popular Telegram messaging app.
In just two weeks since its presale launch, TG.Casino has raised over $600,000, indicating that the project is already gaining traction among investors. 
Along with an extensive range of games and gambling options, TG.Casino is set to leverage Telegram to tap into pre-existing investor and gaming communities.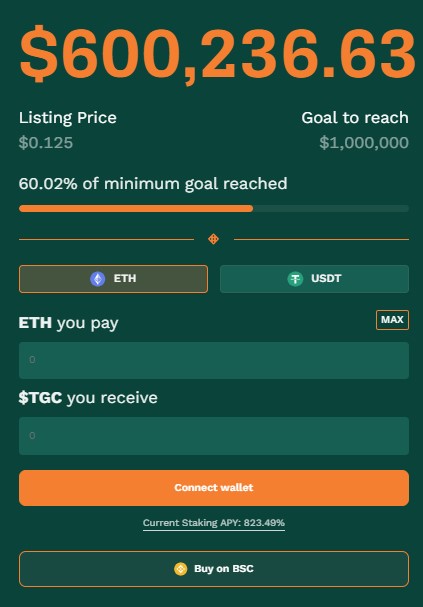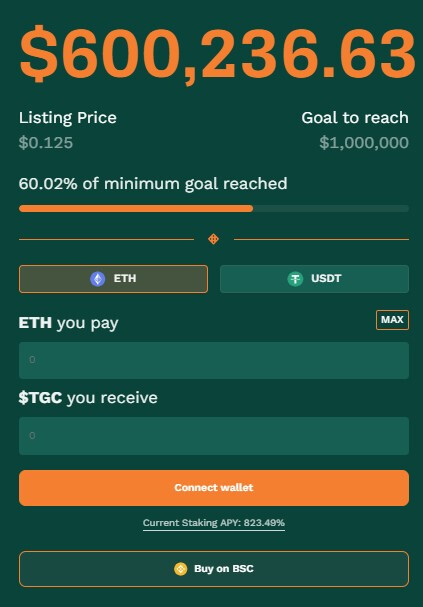 With the platform already launched a few weeks ago, the use of Telegram is expected to help accelerate TG.Casino's userbase growth. 
The TGC token, which is essential for playing the games on TG.Casino, will have actual utility, and its demand will be boosted by the ability to use it for staking. 
The token will have a hard cap of 100 million, with 40 million allocated for the presale, 20 million for staking rewards, and 10 million for gaming rewards, ensuring that it will remain highly decentralized.
To participate in TG.Casino's presale, investors can go to the official website and connect their software wallets. The wholesale price of 1 TGC is $0.125. 
However, the platform's strong fundamentals could lead to a potential increase in its price once it gets listed on exchanges.
Disclaimer: Crypto is a high-risk asset class. This article is provided for informational purposes and does not constitute investment advice. You could lose all of your capital.


This news is republished from another source. You can check the original article here.