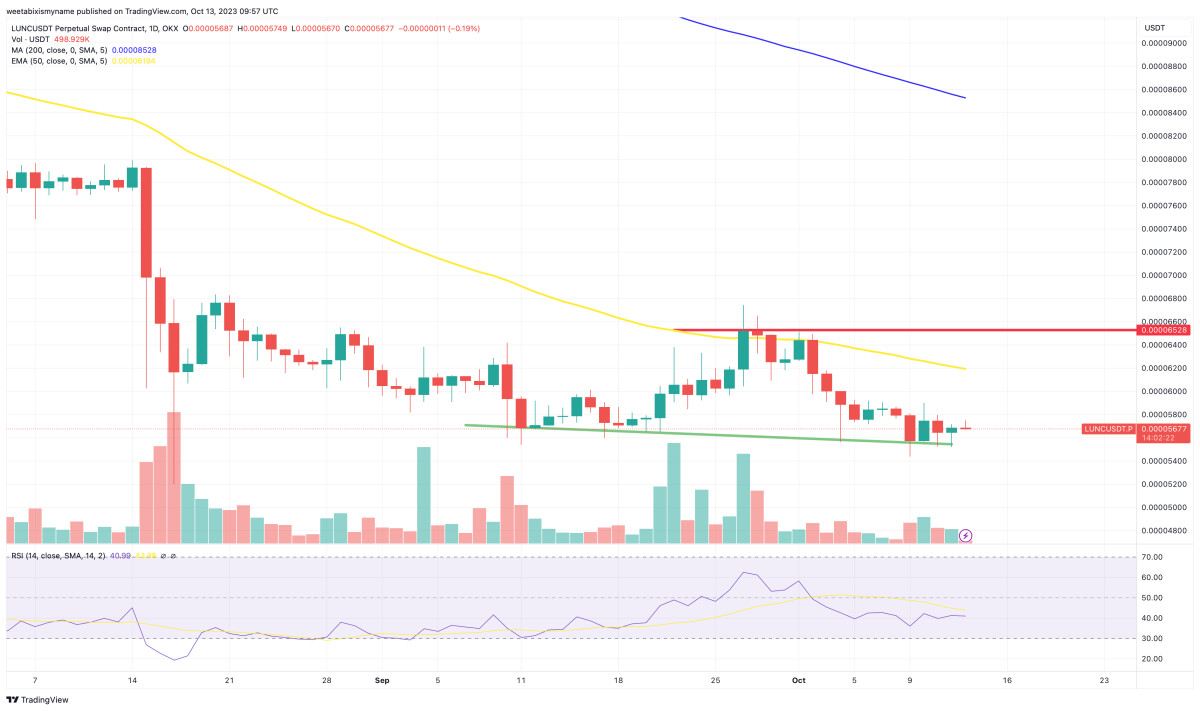 The Terra Luna Classic price has risen by 2% in the past 24 hours, with its ascent to $0.00005693 coming as the wider market falls by 0.2% today.
LUNC's move has enabled it to reenter the top 100 cryptocurrencies by market cap, although the altcoin remains down by 2.5% in a week and by 10% in the past fortnight.
And with LUNC also having fallen by 60% since the beginning of the year (and by 80% in 12 months), there's a sense that the token remains trapped in a downwards spiral, which it has so far failed to remove itself from in any decisive way.
Yet today's 2% jump holds out some hope for a breakout, with LUNC being one of the most oversold coins in the market.
Terra Luna Classic Price Prediction as LUNC Re-Enters Top 100 Crypto Rankings – What Happens Next?
While a case could be made that now is a good time to 'buy the dip', LUNC's indicators aren't strong enough at the moment to suggest that a rally is imminent.
For one, its relative strength index (purple) has flatlined at around 40, which is a position leaning more towards further selling rather than a rebound.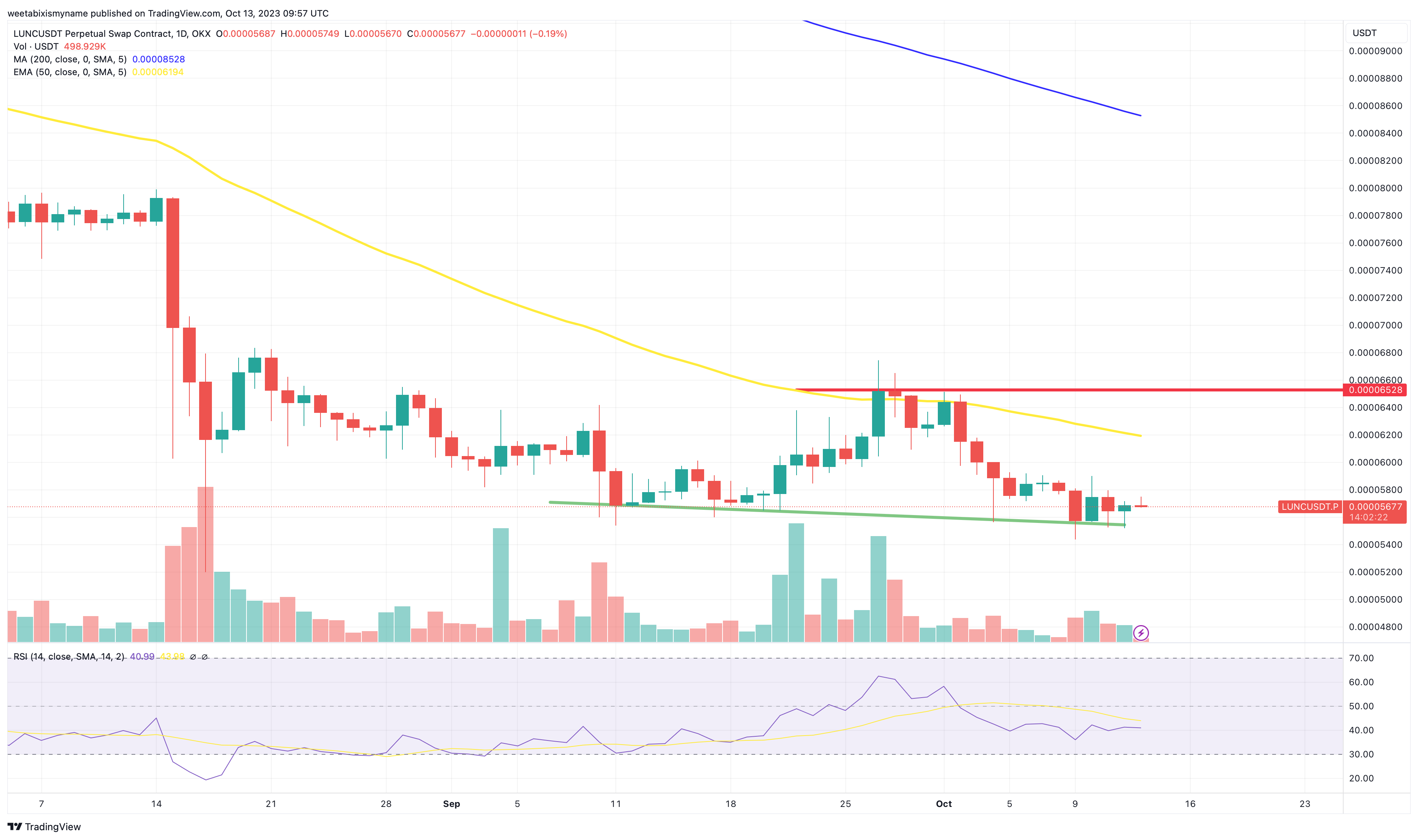 Perhaps more damningly, LUNC's 30-day exponential moving average (yellow) has continued to decline further below its 200-day average (blue), another sign of ongoing selling pressure.
Normally, a massive gulf between a short- and long-term average would imply that a rebound has to come soon, yet in the case of LUNC – a coin which is still struggling to justify its existence after Terra's dramatic collapse in May 2022 – such rules of thumb arguably don't apply.
The lack of hope is also underlined by LUNC's support level (green), which has declined steadily over the past few months, implying that the coin is unable to resist future drops to new, lower levels.
However, today's jump would suggest that LUNC is still capable of the occasional short-term rally at least, with today's increase largely down to the acceptance of a proposal that will burn 800 million USTC.
Given that USTC is still a long way below its former peg, this 800 million USTC equals roughly $8.8 million, so it's not a particularly significant sum in monetary terms.
Nonetheless, it does represent around 8% of USTC's total circulating supply, so it may have some impact on the 'stablecoin's' price, at least in the longer term.
The proposal's acceptance also holds out hope that other meaningful proposals will be accepted in due course, ones which potentially help boost LUNC and USTC.
Yet the ongoing occurrence of regular disagreements among Terra community members would warn against being too hopeful on this front, at least without further evidence of a significant change in culture and direction.
As such, LUNC may potentially fall back down to where it was prior to today's rise, with the altcoin possibly on course to end up lower by the end of the year than where it is today.
Promising New Altcoins
Given the ongoing uncertainty that surrounds LUNC, most traders may prefer to buy into other altcoins at the moment, particularly those that may be at the beginning of an upcycle. 
While it's generally hard to identify coins before they swing upwards, there is one area where doing this is a little more straightforward: presales.
Yes, the best presale coins can often rally big when listing on exchanges for the first time, as shown by the recent performance of Wall Street Memes (WSM). 
And one of the hottest sales happening right now belongs to Bitcoin Minetrix (BTCMTX), a tokenized cloud mining platform that has over $1.2 million in its token offering.
Set for launch in the next few months, Bitcoin Minetrix will provide users with the ability to mine Bitcoin (BTC) by staking the platform's native BTCMTX token.
By staking BTCMTX, users receive tokenized mining credits in return, with these credits then usable to pay for miners to mine Bitcoin on their behalf.
In other words, staking enough BTCMTX will earn users newly mined BTC, something which should make Bitcoin mining more open and distributed.
This interesting concept helps to account for why Bitcoin Minetrix's presale has raised so much so quickly, with the sale targeting a total raise worth as much as $15 million.
As a token, BTCMTX will have a capped supply of four billion, with its sale having ten stages in total.
It's about to end the first stage of the sale in just under three days, meaning that the current asking price for BTCMTX – of $0.0110 – will rise to $0.01110.
This will reach $0.01190 by the tenth and final stage, with investors able to join the sale by visiting the official Bitcoin Minetrix website.
Once the sale ends, the coin will list on exchanges, where it could end up rallying big, if the early success of its sale is anything to go by.
Disclaimer: Crypto is a high-risk asset class. This article is provided for informational purposes and does not constitute investment advice. You could lose all of your capital.


This news is republished from another source. You can check the original article here.