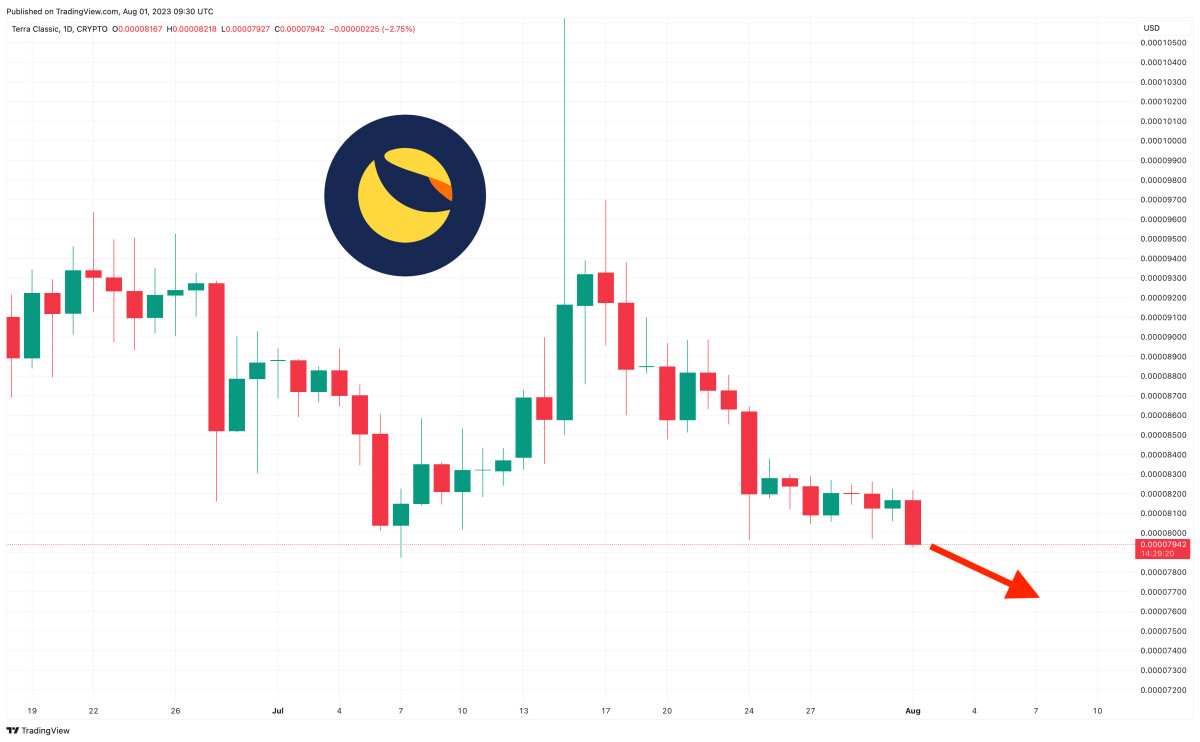 The Terra Luna Classic price has fallen below $0.00008 this morning after a 2% dip in the past 24 hours, with the altcoin also down by 3.5% in the last seven days and by 10% in the past fortnight.
Such declines should be concerning for LUNC holders, yet what's even more troubling is the fact that the cryptocurrency has declined by 1.5% since the beginning of the year, in contrast to coins such as Bitcoin (BTC) and Ethereum (ETH), which have gained by 75% and 53%, respectively.
This drastic underperformance highlights the troubled situation in which Terra Luna Classic continues to find itself, with investors waiting desperately for significant developments in terms of the re-pegging of USTC (LUNC's related stablecoin) and the burning of LUNC itself.
And with there being little immediate prospect of a breakthrough on such fronts, it's likely that LUNC will continue to fall in the short- and medium-term.
Terra Luna Classic Price Prediction as LUNC Falls Below $0.00008 Level – Is It All Over?
LUNC's indicators don't look to be in a healthy position at the moment, with its 30-day moving average (yellow) continuing to drop further below its 200-day average (blue), in a sign of rapidly declining momentum.
It's a similar story with the coin's relative strength index (purple), which has remained under 50 for the past week and which fell under 40 earlier this morning, suggesting that more losses could be coming.
Strengthening this pessimism is the fact that LUNC's support level (green) has been dropping steadily since the middle of July, and with the coin's price falling below $0.00008 earlier today, things could easily get distinctly worse.
What this means is that, even though LUNC appears to be oversold and undervalued, its severe loss of momentum could result in it failing to recover anytime soon.
And the fundamental reason why it has lost momentum in recent weeks is that the Terra Luna Classic community hasn't really made any significant progress on restoring either LUNC or USTC, with validators remaining divided on how to boost both coins and on whether price support is even the best strategy.
A clear indicator of the Terra Luna Classic community's division was provided yesterday, with a counter-proposal being put forward in response to a plan to burn USTC stored in a community fund.
This counter-proposal suggests returning the USTC back to a community pool, and while it seems unlikely to pass, its mere appearance highlights the discord at the heart of the LUNC community.
This is a really big part of why investors are consistently turning away from LUNC, and why it may not really recover in any significant way.
As such, it's hard to predict a substantial price move for LUNC in the near future, with the altcoin potentially dropping down to $0.000070 in the next few weeks.
Higher Potential Altcoins
Given that LUNC looks as though it has a very long way to go before it can ever return to growth, many traders and investors may prefer to look towards other altcoins that not only have a cleaner bill of health, but that look set to rise in the near future.
One particularly promising option lies with presales, which can often see tokens rise impressively in price once they list on exchanges.
And one of the latest presales to hit the market belongs to Shibie (SHIBIE), an ERC-20 token that playfully mixes the worlds of Shiba Inu and Barbie.
It kicked off its presale yesterday, offering 60% of the meme token's overall supply of 2,107,202,300 tokens, with SHIBIE priced at $0.000167.
In a year when a whole range of new meme tokens have hit the market and enjoyed market-beating gains, SHIBIE is clearly hoping to tap into the desire of investors for the next big thing.
And given the enduring appeal of both Barbie and Shiba Inu, it has a strong chance of accumalting a healthy army of followers and supporters, all of whom will help support SHIBIE's price as it lists on trading platforms.
New investors can join its sale by heading over to Shibie's official website and connecting their software wallets, with SHIBIE purchasable using ETH, USDT or fiat currency.
SHIBIE will then begin by listing on decentralised exchanges, at which point early investors in the token could be able to make a decent profit.
Disclaimer: Crypto is a high-risk asset class. This article is provided for informational purposes and does not constitute investment advice. You could lose all of your capital.


This news is republished from another source. You can check the original article here.