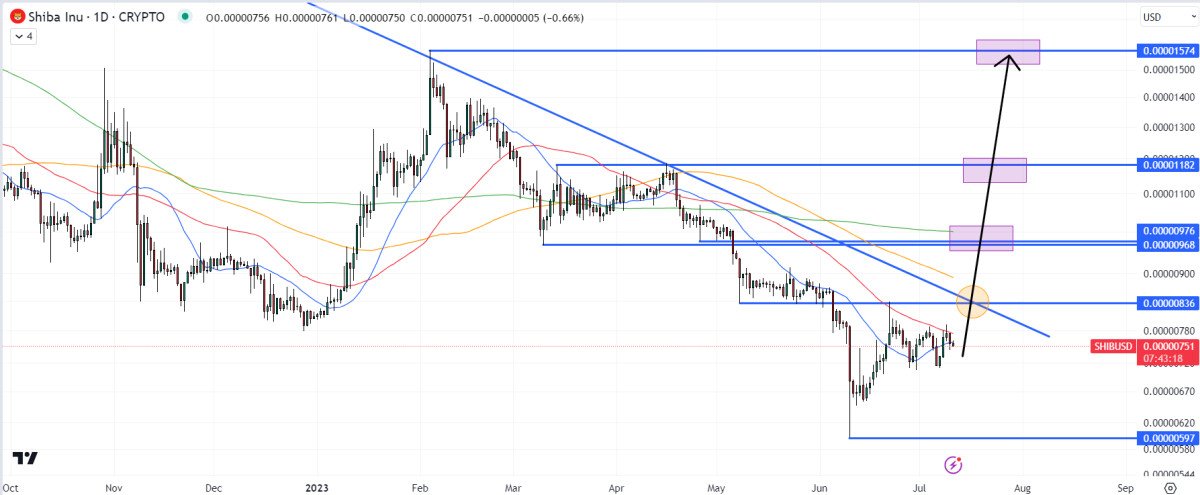 Shiba Inu (SHIB), the ERC-20 meme coin token that powers the Shiba Inu web3 ecosystem, was last trading around $0.0000075, down more than 90% from its 2021 all-time highs in the $0.000088 area.
For now, the crypto token is consolidating within recent $0.000007-8 ranges and is just below its 21 and 50-Day Moving Averages (DMAs).
Shiba Inu saw a steep price decline in June, falling from around $0.0000086 to more than two-year lows under $0.000006 amid FUD created by the US Securities and Exchange Commission (SEC)'s lawsuits against Coinbase and Binance.
In the lawsuits, the agency named a number of blue-chip cryptocurrencies as securities, though didn't name Shiba Inu.
SHIB has been able to recover an impressive 25% from these lows.
But on the year, the crypto token is still trading around 7% lower, versus year-to-date gains of around 84% and 56% for bitcoin (BTC) and ether (ETH).
Indeed, with SHIB still in a clear downtrend from its all-time highs, price predictions remain pessimistic, at least in the short to medium term.
Price Prediction – Where Next for Shiba Inu (SHIB)?
If SHIB was able to break above its 21 and 50DMAs in the $0.0000075-77 area, it could potentially face significant resistance as it retests support-turned-resistance at $0.0000084, which roughly coincides with the downtrend from the all-time highs and the 100DMA.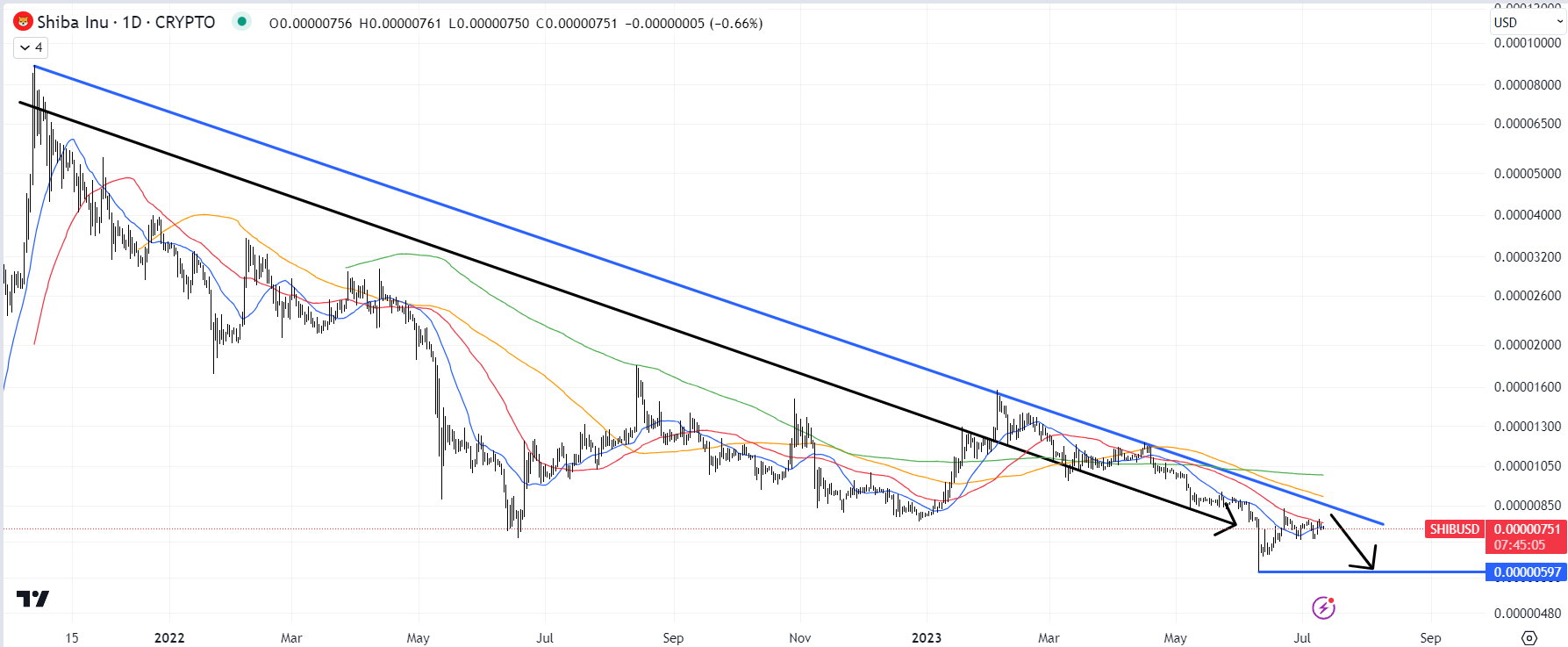 Bears may see a rally back to such levels as a good opportunity to add to short positions with a view to targeting a retest of the yearly lows.
Of course, was SHIB able to break above this key resistance zone, it could be set up for a swift rally back to test yearly highs around $0.000016.
But on the way back to yearly highs, SHIB would face formidable resistance at the 200DMA near $0.00001, which also coincides with March/April lows, and around April's highs near $0.000012.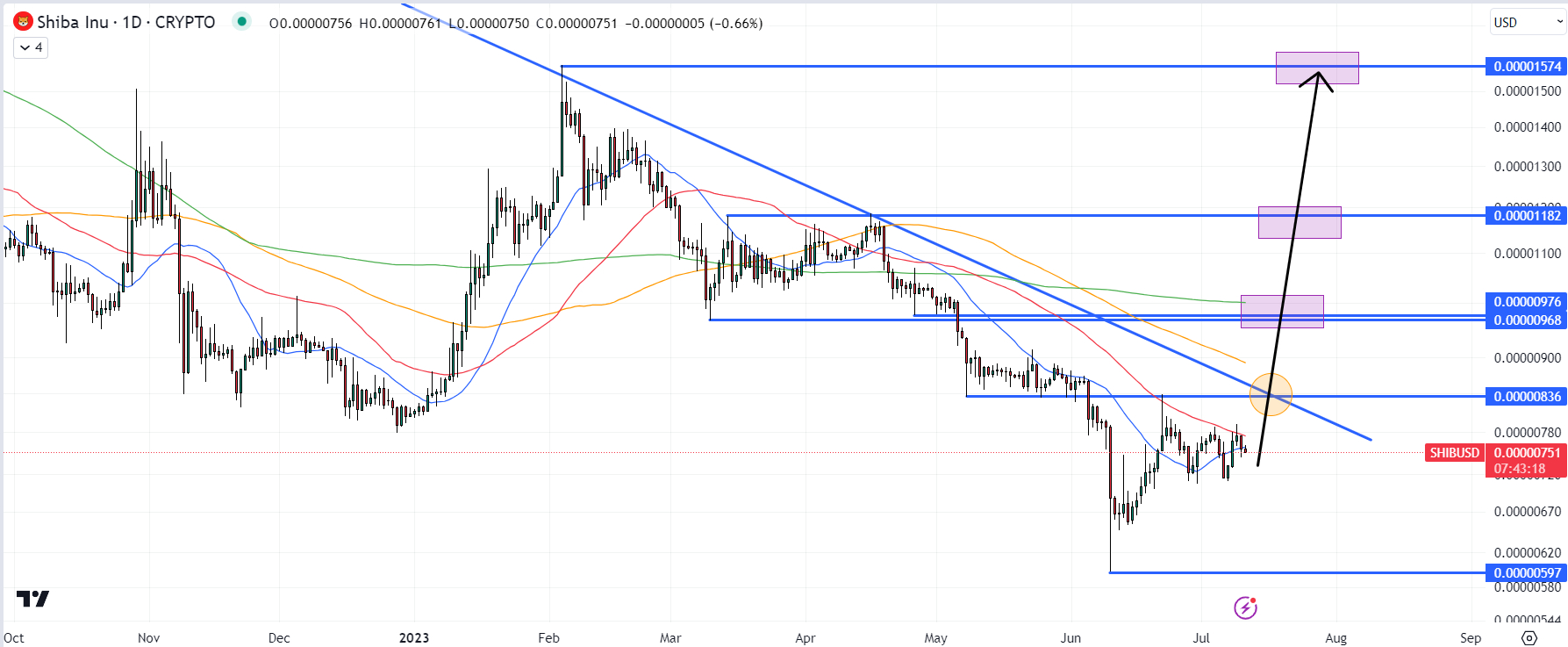 SHIB Lagging Behind the Blue-Chip Crypto Market Recovery
Despite the recovery in other major cryptocurrencies like bitcoin and ether this year, Shiba Inu has failed to see a substantial pick up.
On the one hand, that means that investors getting into the market right now would still be "buying the dip", with SHIB still down over 90% from its record peaks.
But, on the other hand, the crypto token's failure to recover could be viewed as a damning indictment that investors are "moving on" from Shiba Inu to other newer and more exciting meme coins, like Pepe.
If that is the case – i.e. that the Shiba Inu meme coin is essentially falling out of fashion – this could mean a dire outlook for SHIB.
But the Shiba Inu community and development team continue to make impressive efforts to instil the crypto token with utility that could deliver long-term value.
Community Building Out SHIB's Utility – Is Now a Good Time to Start Accumulating?
As per the Shiba Inu official website, a public beta version of the project's Ethereum layer-2 scaling solution Shibarium is live.
Once the alpha version of Shibarium goes live, this should facilitate the development of the Shiba Inu ecosystem via lower transaction fees and faster transaction times, as well as providing a new home for the development of innovative new Shiba Inu-related projects.
And the Shiba Inu team already has a bunch of these projects in the works.
The ShibaSwap Decentralized Exchange (DEX) has been live for some time, where Shiba enthusiasts can trade SHIB, LEASH and BONE tokens and generate passive income via token staking and liquidity mining.
ShibaSwap can also be used to trade non-fungible tokens (NFTs) of the popular SHIBOSHIS collection.
The Ethereum blockchain-issued NFT collection can also be bought via OpenSea.
Developers are also building a dedicated decentralized Shiba Inu metaverse called SHIB: The Metaverse and a free-to-play collectible card game called Shiba Eternity.
Time will tell if the development of the Shiba Inu ecosystem will be enough to lift SHIB back to all-time highs.
For those who are optimistic about the ecosystem's future, now is probably a good time to start accumulating SHIB tokens.
Shiba Inu (SHIB) Alternative to Consider – Wall Street Memes (WSM)
Wall Street Memes, one of the internet's hottest retail investing communities, rose to prominence in the meme stock craze of 2021 and has recently been expanding its relevance in the cryptocurrency space with the presale of its new $WSM token.
The success of the $WSM presale, which has raised more than $13.8 million in just over one month, isn't surprising given the size of Wall Street Memes' community.
Not only are there 523k hyper-engaged community members on its wallstbets Instagram account, there are another 214k on Twitter and more than 100k across its two other Instagram channels, wallstgonewild and wallstbullsnft.
All told, Wall Street Memes has a 1 million-strong social community of degens, which analysts think all but guarantees that the $WSM token will be listed on tier 1 crypto exchanges like Binance.
With 30% of the token supply being held back for community rewards, it can reasonably be expected that airdrops to holders will be a big part of the ecosystem.
Indeed, the first $WSM airdrop is open now. 
Analysts are already predicting big things for Wall Street Memes when it lists on exchanges and you can be a part of it.
Disclaimer: Crypto is a high-risk asset class. This article is provided for informational purposes and does not constitute investment advice. You could lose all of your capital.


This news is republished from another source. You can check the original article here.