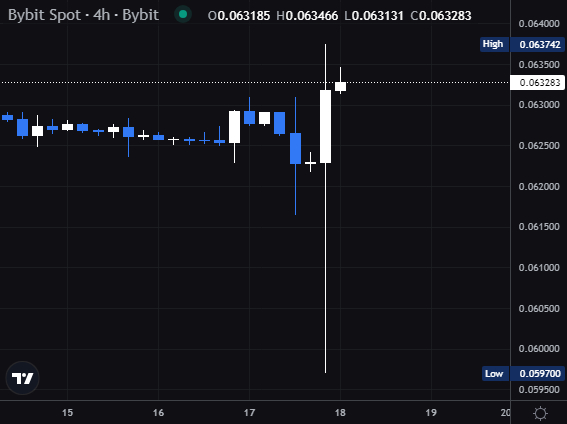 After a market-wide crash that saw Bitcoin hit as low as the $24,000 region on derivatives exchanges – in the largest liquidation event since the FTX collapse – surprise news hit.
A Bloomberg exclusive, syndicated by Yahoo Finance, states that the SEC is 'set to greenlight Ether-Futures ETFs'.
Will An Ethereum ETF Be Approved?
That headline alone caused the Ethereum price to sharply bounce from its low of $1,550 on Binance – even hitting $1,465 on Bybit – back to just under the $1,700 level at the time of writing.
ETH/BTC is currently up 1% on the day – although ETH/USDT is still down 6% in the past 24 hours, leading Bitcoin which is down 7.5%.
The text in the rest of Bloomberg's piece is not quite as conclusive:
'The regulator isn't likely to block the products, which would be based on futures contracts for the second-largest cryptocurrency, according to people familiar with the matter. Nearly a dozen companies, including Volatility Shares, Bitwise, Roundhill and ProShares, have filed to launch the ETFs. It couldn't immediately be determined which funds would get green lights. Officials have indicated that several might by October…'
If confirmation of an Ethereum ETF being approved won't arrive until October, there might not be cause for celebration yet – as some traders have commented across social media.
A US Bitcoin or Ether Futures ETF is also not considered as bullish for the crypto space as a spot ETF.
A former SEC official recently stated that any kind of Bitcoin ETF is unlikely to be approved in the near future, potentially not until after 2024.
Crypto Prices Crash
The Bitcoin sell-off prior to the Ethereum ETF news was initiated by China's Evergrande filing for bankruptcy, and rumors Elon Musk's SpaceX had sold their Bitcoin holdings, which also may be inaccurate.
Since the flash crash the Ethereum price has rallied over 10%, now consolidating as the market processes today's events heading into the daily close.
Update – Ethereum closed the day at $1,680 and Bitcoin at $26,610.
Related


This news is republished from another source. You can check the original article here.