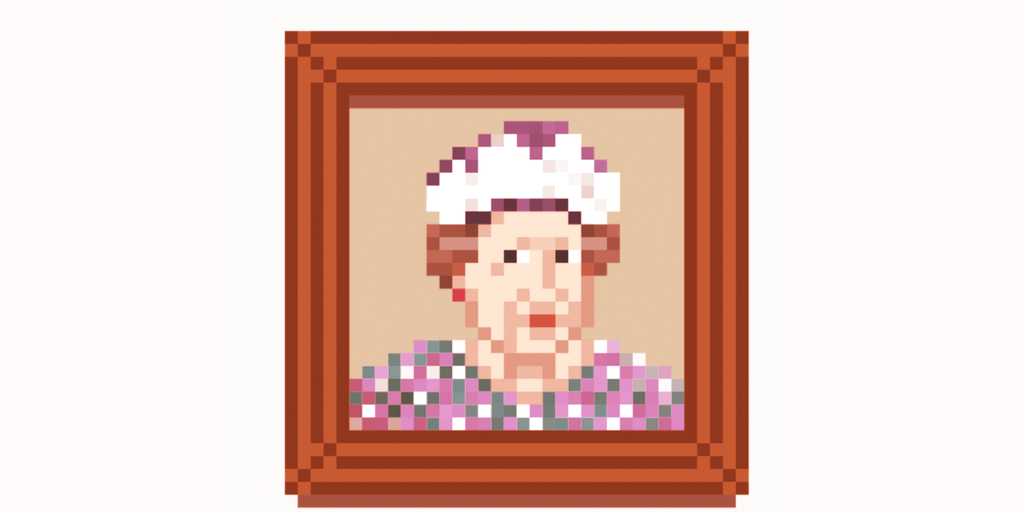 In brief
QueenE, an Ethereum-based NFT project, is holding its final Gen1 artwork auction following the death of England's Queen Elizabeth II.
The project launched in July and has released 73 total pieces of artwork.
An Ethereum NFT project that produced dozens of pieces of Queen Elizabeth II tribute artwork over the last two months is currently hosting its final auction for the collection today, following the passing of England's long-serving monarch.
QueenE launched its auctions in early July, offering a single Ethereum NFT portrait in tribute to the late Queen. The project was apparently created by Web3 builder Fabio Sevá and the pseudonymous mladen.eth, and was designed to launch new procedurally generated pieces at a steady clip for the rest of the Queen's life.
The project forked its format and code from Nouns, an inventive NFT project that auctions a single Ethereum-based profile picture each day and admits buyers into an exclusive club—but gave it a royal twist by serving up lo-fi renditions of Queen Elizabeth II instead. Initially, the QueenE auctions took place every few hours, but have mostly launched at a once-daily rate.
Upon news of the Queen's death today at 96 years of age, the project announced that the current auction—for the 73rd Ethereum NFT in the collection—will be the last one released as part of the original collection. A future "Gen2" collection was teased by the QueenE Twitter account, but no details have been revealed as of this article's publication.
"Rest in Ethereum, forever," the project's Twitter bio now reads.
As of this writing, the final QueenE Gen1 NFT has a top bid of 0.5 ETH, or about $825, with the auction set to end just before 4AM ET tomorrow. The previous top ETH sale price for any piece in the collection was 1.9 ETH for QueenE #23 on July 27—worth about $3,275 at the time.
An NFT is a blockchain token that represents ownership in an item, including digital goods like artwork, profile pictures, collectibles, and video game items. The NFT market surged across 2021, and some notable collectibles have netted eight-figure sale prices along the way.
Secondary sales for the QueenE NFTs have picked up since Queen Elizabeth II's passing was announced earlier today, and currently the floor price—that is, the cheapest available item listed on a marketplace—at OpenSea sits at 0.88 ETH, or about $1,450.
As with Nouns, the proceeds from primary sales of QueenE NFTs are funneled into a treasury, which is controlled by a DAO, or decentralized autonomous organization—that is, an online group with shared interests and token-based membership. DAO members can vote on proposals that use the funds (currently 10.10 ETH, or $16,650) for various initiatives.
Stay on top of crypto news, get daily updates in your inbox.


This news is republished from another source. You can check the original article here.