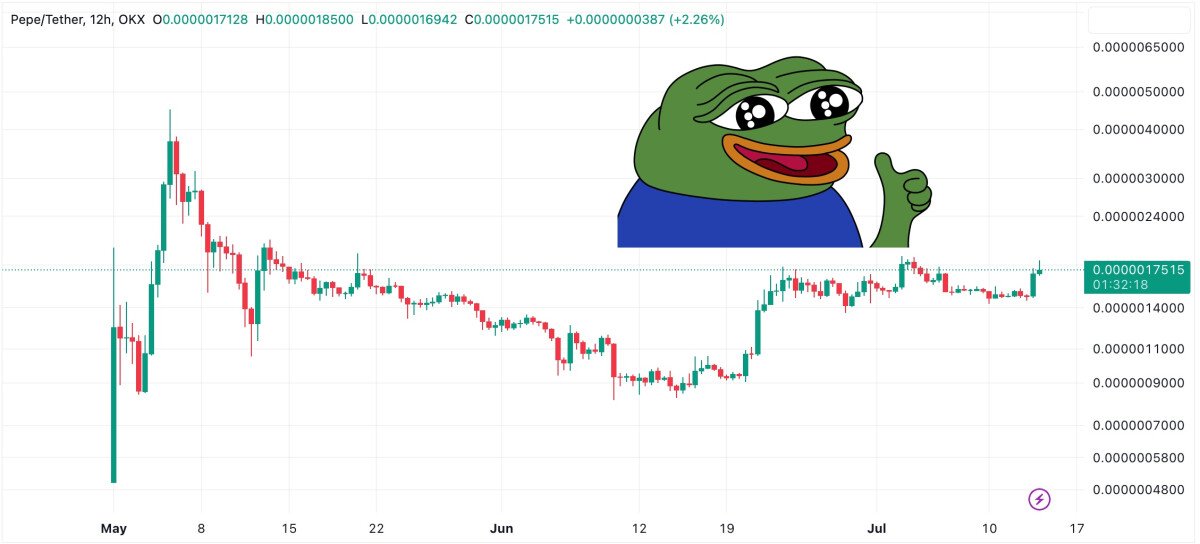 PEPE price predictions are turning bullish in dramatic fashion as the frog meme coin jumps 17% in value in the past 24 hours.
Currently priced at $0.000001753, PEPE is sitting on a monthly gain of 98%. PEPE started blasting higher at the end of June, but is still way off its all time high of $0.000004449 printed on May 5th this year.
Nevertheless, early buyers of PEPE have seen returns of 23,310%, and given the 60% drawdown from the all-time high (ATH), there is plenty of headroom for more explosive upside.
Since the token's inception on April 10th, at its height it reached a market capitalization that shattered the $1 billion market ceiling. 
PEPE currently has a market cap of $688 million, making it the 63rd-ranked coin, according to Coinmarketcap data.
Ripple XRP ruling lifts all boats – PEPE price too
The ruling by the judge Analisa Torres in the US District Court of Southern New York that Ripple selling XRP tokens to the public did not constitute the promotion of an unregistered security, has lifted the entire crypto complex.
Along with top altcoins, PEPE has been among the main beneficiaries of the XRP news. XRP price predictions are going ballistic – but so too are PEPE forecasts. 
In the case of PEPE this is not because of any particular utility of the token or legals, so much as its brand reach, as this popular tweet shows:
Given the fair wind for crypto as a result of the XRP ruling, and before it the news that BlackRock had filed to launch a spot bitcoin ETF, there is now strong bullish momentum for PEPE.
PEPE whale buys 1,357,644,743,404 tokens worth $2 million
Indicative of those opportunities is the activity of PEPE whales. Cryptonews analysis shows buying activity among the largest 100 PEPE holder is heating up.
The second-largest whale PEPE wallet, excluding exchange wallets, added 35,357,279,418 PEPE tokens in the past seven days. 
But that's small beer compared to the sixth-largest PEPE whale, buying 1,357,644,743,404 PEPE tokens valued at $2,370,447 at the current price.
And if you think becoming a millionaire off the back of PEPE is out of reach, think again – read our recent story on that today.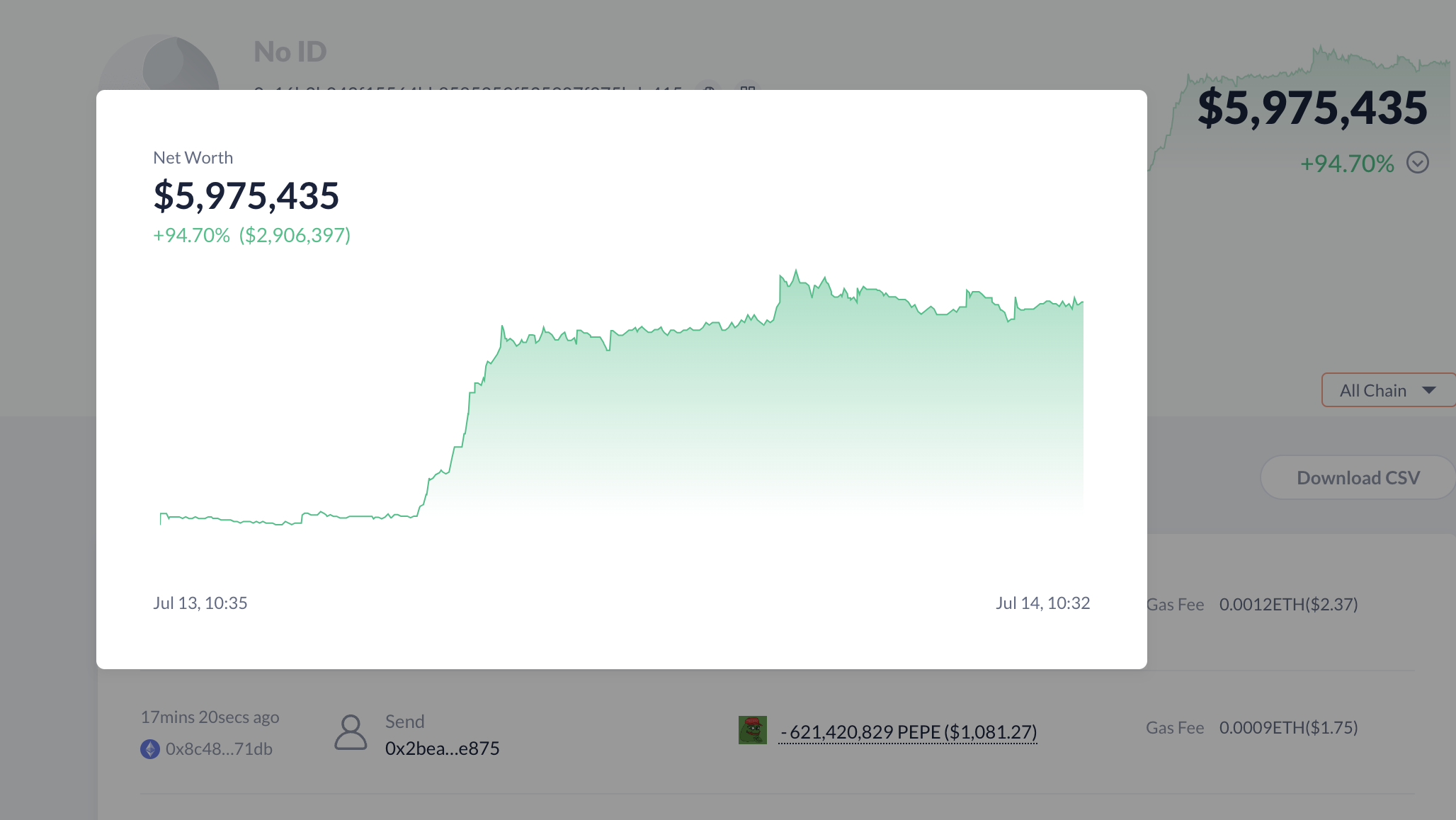 PEPE back to all-time high looks like a realistic proposition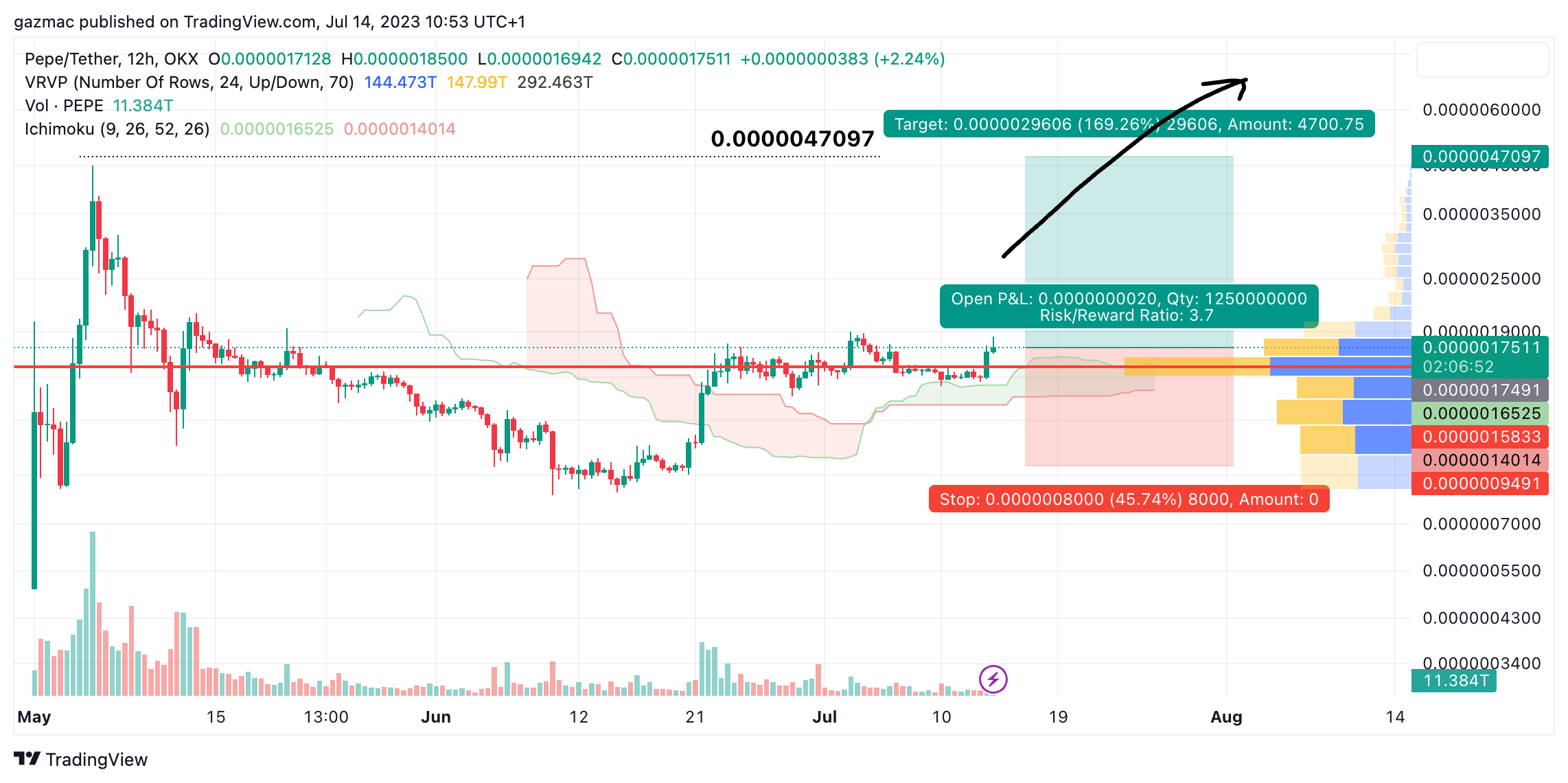 A pump back to ATH looks like a solid prospect, presenting buyers at current levels with a risk/reward ratio of 3.7. $1,000 invested today will grow to $4,700 if the ATH is retested.
The Ichimoku cloud on the 12-hour chart suggest that there is strong support for an entry today.
In addition the volume profile, which measures buying interest at certain price points, shows the point of control that identifies areas of strongest trading interest is currently n play. That means price action around the current levels is likely to be pivotal for near to medium term sentiment. 
Given the bullish nature of the backdrop more upward pressure on prices should be expected. 
Profit-taking will naturally kick in at some point, so an element of dollar cost averaging may be prudent after an initial long position is taken.
Alternatives to PEPE – $Wall Street Memes ($WSM) and Thug Life Token ($THUG)
If you are a looking for potentially even juicier opportunities in the market as altcoin market gets into full gear, then Wall Street Memes ($WSM) and Thug Life Token ($THUG) are certainly worth a gander.
Wall Street Memes has raised $14.6 million in its ongoing presale as buyers rush to snap up the tokens. 
The coin is the offshoot of the Wall Street Memes community of the same name which already has a one-million-strong social community on the back of the meme stocks craze. 
Not many projects can boast that Elon Musk has interacted with their Twitter account – but Wall Street Memes can:
Now it is bringing that underdog vibe to meme coins and looks set to deliver at least 10x gains at launch.
Thug Life Token has raised 1.47m and is rumored to be connected to Snoop Dogg. 
If that turns out to be the case, expect this coin to pump 100x or more. But even if those rumors prove unfounded, the brand appeal of the coin alone should see it rise above the rest of the meme coin crowd.  
Disclaimer: Crypto is a high-risk asset class. This article is provided for informational purposes and does not constitute investment advice. You could lose all of your capital.


This news is republished from another source. You can check the original article here.