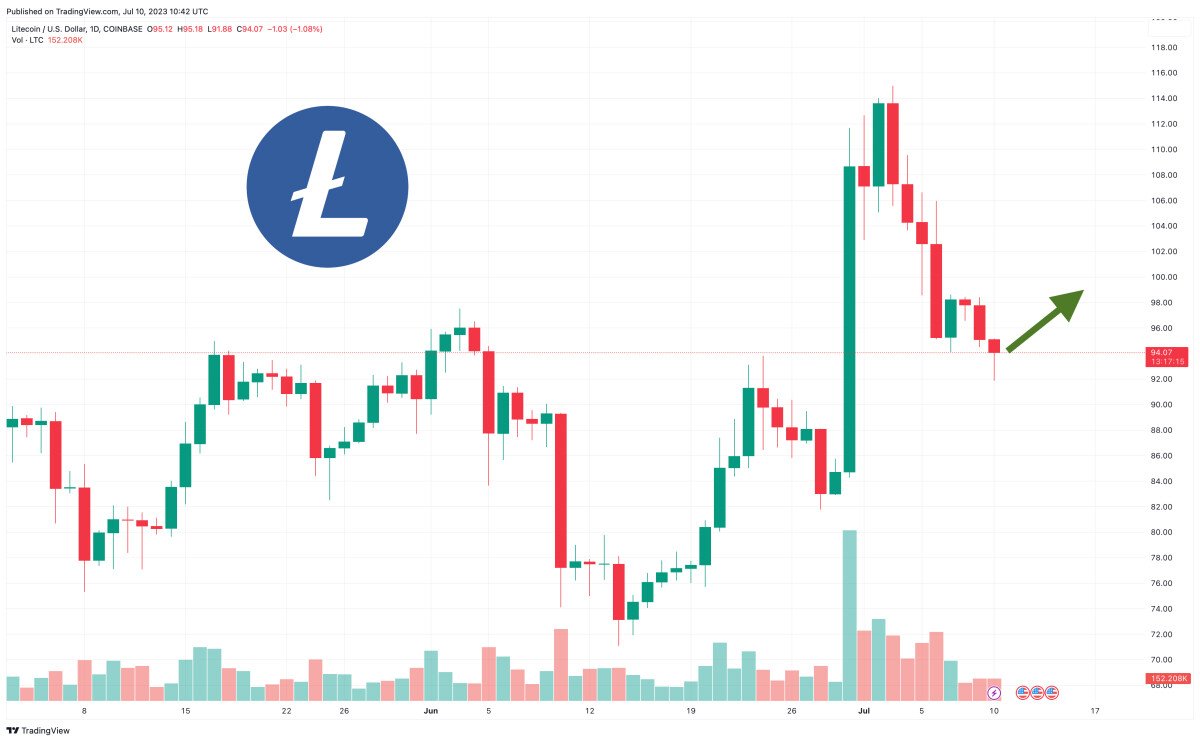 The Litecoin price has fallen by 3% in the past 24 hours, dropping to $93.86 as the cryptocurrency market as a whole slides by 0.5% within the same timeframe.
LTC is now down by 15% in the past week, yet it remains up by 23% in the last 30 days and by 72% in the past 12 months, on the back of anticipation surrounding Litecoin's next halving event, which is due in August.
Because Litecoin generates new blocks at a faster rate than Bitcoin, it's due to have its halving – which reduces block rewards by 50% – considerably earlier than the original cryptocurrency, something which has increased bullishness for the altcoin.
At the same time, LTC has also benefitted from not being named by the SEC as a security in the regulator's recent legal actions, enabling it to continue operating without any threat of being delisted from exchanges.
Litecoin Price Prediction as LTC Becomes One of the Best Performing Coins of the Year – Is Big Rally on the Way?
Litecoin has had quite a comedown since it hit one-year highs at the start of this month, with its indicators currently showing a significant loss of momentum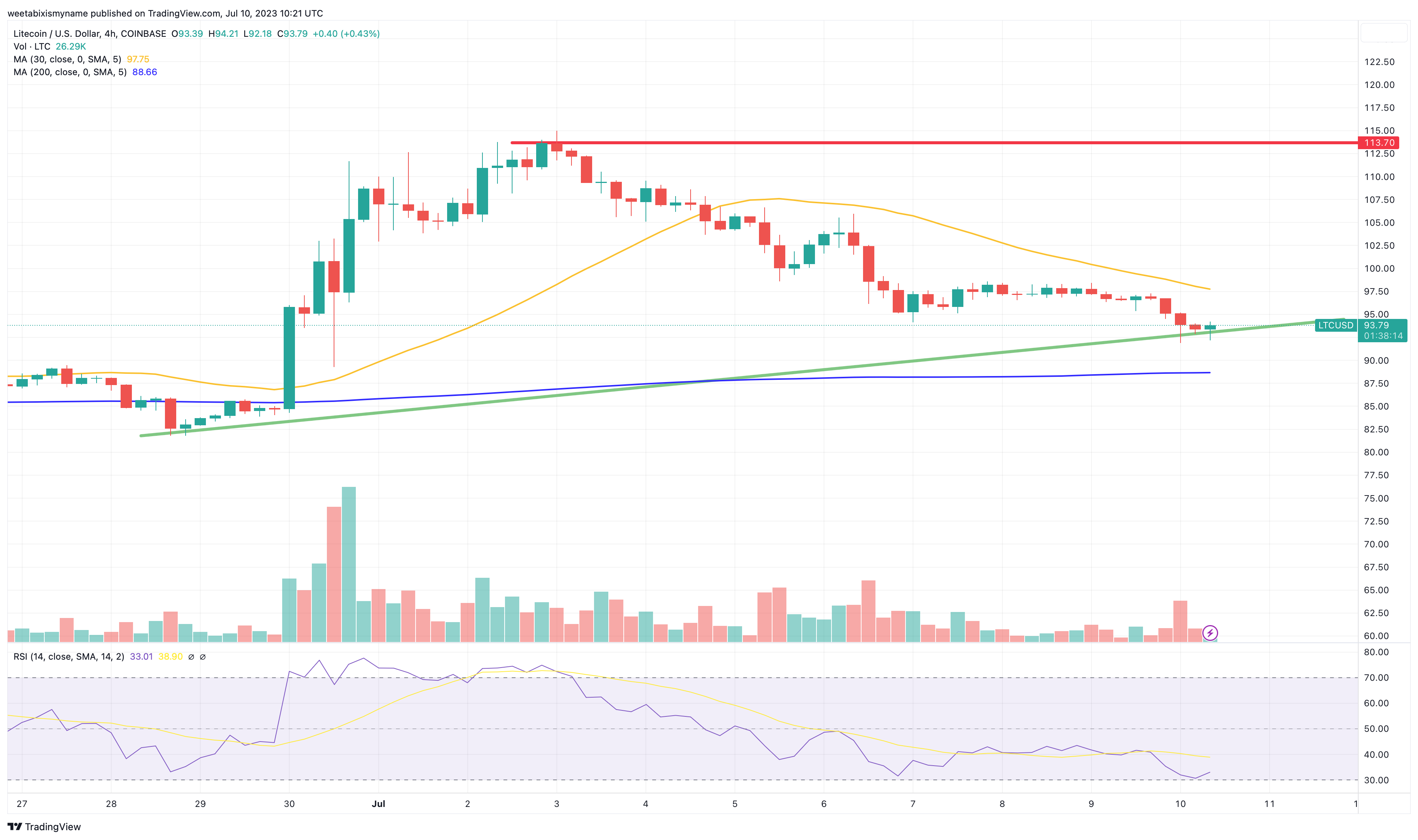 The thing is, it's not close to bottoming out, with its relative strength index (purple) just turning up again after hitting 30 earlier this morning.
Similarly, its 30-day moving average (yellow) is only a few days away from falling below its 200-day average (blue), at which point LTC will be expected to begin rising again.
It's also reassuring to observe that the altcoin's support level (green) has steadily increased over the past couple of weeks, meaning that LTC shouldn't really drop much lower in price.
As such, now is probably a good time to buy the coin, which could be expected to rise back towards $100 in the next couple of weeks.
It certainly has bullishness on its side, given that the next Litecoin halving is scheduled to take place early next month, at which point Litecoin block rewards will drop form 12.5 LTC to 6.25 LTC.
As with Bitcoin, this fall will theoretically make LTC a scarcer, harder currency, which in the long-term at least would be expected to reduce its supply and therefore increase its price.
At the same time, Litecoin has also benefitted hugely from the fact that it has escaped the SEC's attention, and is likely to escape the regulator's attention for the forseeable future.
This is significant, since many of the altcoins that have be named as securities by the SEC have since struggled, with Cardano (ADA), for example, still down by 25% compared to where it was at the start of June, when the regulator sued Binance and then Coinbase.
Taken together with the aforementioned halving, this leaves LTC in a reall good position for the rest of the year, with the altcoin likely to reach $150 or higher by the time 2024 rolls around.
New High-Potential Altcoins with Fundamentals
Of course, Litecoin isn't the only altcoin in the market right now with the potential to rally big in the next few weeks.
In fact, there are a number of promising new cryptocurrencies which are currently holding their presales, meaning that investors have the opportunity to buy them early before they list on exchanges, which is when they can potentially experience big rallies.
A prime example of a new presale token is ecoterra, an Ethereum-based recycle-to-earn platform that has raised over $6 million in the presale for its ECOTERRA token.
There are only two days left before ECOTERRA's sale comes to an end, with investors seemingly rushing to buy some of the altcoin while they can still obtain it at a discount.
Its native platform, ecoterra, is due to launch later in the year, with its main feature being that it will reward users for recycling household waste at participating recycling points.
Rewards will be paid to users in the form of ECOTERRA and non-fungible tokens, which can be resold by holders in order to make recycling more profitable.
On top of this, ecoterra will also offer a rewards system for users who provide proof of using renewable energy, providing people with further incentive for leading greener lifestyles.
It will also include its own marketplace for NFT-based carbon credits, again incentivizing the use of renewable energy.
As noted above, there are only two days left, but investors can still buy ECOTERRA at a discount by going to the official ecoterra website and connecting their software wallets. 
1 ECOTERRA currently costs $0.01, a price which could end up seeming very cheap in the next few days, when the token lists.


This news is republished from another source. You can check the original article here.