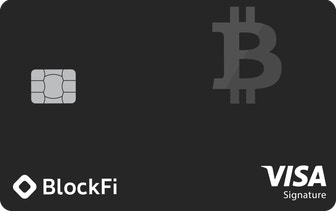 Snapshot
Bottom line
Thanks to a rewards program that lets you earn cryptocurrency, the BlockFi Rewards card offers a low-stakes way to get a taste of the highly volatile crypto market.
BlockFi Rewards Visa® Signature Card
Intro offer
3.5% Cryoto Rewards

Regular APR
15.74% – 25.74% (Variable)
Recommended Credit Score
Good to Excellent 
(670 – 850)
BlockFi Rewards Visa® Signature Credit Card Overview
The BlockFi Rewards Visa® Signature Credit Card offers a flat rate of cryptocurrency rewards for each dollar you spend and a higher base rate after you spend at least $30,000 on your card within a cardmember year. There is no annual fee and no foreign transaction fees.
While this sleek, metal credit card doesn't dole out traditional rewards, you get the chance to build up a stash of crypto just for using it for purchases. That makes the BlockFi Rewards Visa® Signature Credit Card very enticing—especially for crypto enthusiasts and even those who want to test the crypto waters without putting their own assets on the line.
What are the advantages and disadvantages?
While the BlockFi Rewards Visa® Signature Credit Card has plenty going for it, there are some upsides and downsides to be aware of.
Pros
Gives users the chance to invest in crypto using rewards instead of income
Rewards can be redeemed for cryptocurrency or stablecoins, which are considered less volatile than cryptocurrency
Use your rewards to earn 0.25 percent back on all eligible trades, up to a maximum of $500 each month
Since this card is a traditional Visa credit card, you can use it anywhere Visa is accepted worldwide, making it easy to quickly spend your cryptocurrency
Cons
You have to spend $30,000 on your credit card each year to get to the 2 percent back rate, yet several cash back credit cards offer this rate from day one
BlockFi only offers a select number of cryptocurrency. This lack of flexibility may disappoint crypto enthusiasts looking for more options when converting their rewards to crypto
Rewards can't be redeemed for options like paying down your credit card balance
Due to regulatory restrictions, New York Residents cannot apply
Cryptocurrency is a volatile market, so your rewards could decrease substantially in value after you earn them
The card lacks features found with top traditional rewards cards like a sign-up bonus or intro APR offer for purchases or balance transfers
A deeper look into the current card offer
Quick highlights
Rewards rate: Earn 1.5 percent back in cryptocurrency on all purchases. Rewards rate increases to 2 percent back once you have spent $30,000 on your card within a cardmember year
Welcome offer: N/A
Annual fee: $0
Purchase intro APR: N/A
Balance transfer intro APR: N/A
Regular APR: 16.49 percent to 26.49 percent, based on creditworthiness
Sign-up bonus
The BlockFi Rewards Visa® Signature Credit Card currently doesn't offer a sign-up bonus. Until recently, it gave cardmembers the chance to earn an elevated rewards rate of 3.5 percent back for the first 90 days after account opening, up to $100. This type of welcome offer wasn't as valuable as those found with many of the best rewards credit cards, but it did increase the card's value and help it stand out from other crypto cards, which typically did not come with sign-up bonuses.
Rewards rate
Like other crypto credit cards, you'll need to open an account with the cryptocurrency exchange that offers the credit card before you can apply for the card. But once you get it and start using it, the BlockFi card earns a respectable flat rate on all purchases, though it takes a considerable amount of spending to earn the highest rate. There are traditional credit cards that earn a higher flat rate or offer bonus categories with higher rates. But these cards lack the convenience of automatically having your rewards converted into your choice of a number of cryptocurrencies.
How you earn
The BlockFi card earns 1.5 percent back in cryptocurrency on all purchases until you reach $30,000 in spending in a year. Big spenders who can exceed the $30,000 mark in a year will begin to earn 2 percent back. Just keep in mind that the $30,000 spending threshold is required every year you're a cardmember, which is a major downside. If you manage to spend $30,000 within 9 months of account opening, you would only get 2 percent back in Bitcoin on your purchases for three months before the clock starts over.
Some rewards credit cards offer a higher rate of return without a spending requirement. For example, you could sign up for the Wells Fargo Active Cash® Card and earn 2 percent back rewards on your purchases from day one.
The rewards you earn come in the form of one crypto that you can choose, but you're limited to the crypto that BlockFi offers in the U.S. which is currently only 15 different crypto. That's not a large selection compared to its competitors, but being able to choose from that many is more than what BlockFi previously offered. When the card first first hit the market, you could only earn bitcoin as your rewards cryptocurrency. Now, you can choose from a number of the most popular types of crypto, including:
Bitcoin (BTC)
Ethereum (ETH)
Litecoin (LTC)
Chainlink (LINK)
PAX Gold (PAXG)
Basic Attention Token (BAT)
Uniswap (UNI)
Algorand (ALGO)
Bitcoin Cash (BCH)
Dogecoin (DOGE)
If you're concerned about the volatility of cryptocurrency, BlockFi's selection of crypto also includes stablecoins. These are a form of cryptocurrency whose value is tied to another asset, such as the U.S. dollar or gold. This gives stablecoins more stability compared to other cryptocurrencies, which are known for their high volatility. Stablecoin options include:
Gemini Dollar (GUSD)
USD Coin (USDC)
Paxos Standard (PAX)
Multi-Collateral Dai (DAI)
Binance USD (BUSD)
BlockFi states you can change your cryptocurrency as many times as you like throughout the month. That gives you plenty of flexibility to change your mind about how you'd like to earn rewards. But you will only earn rewards for that month based on the one crypto that is selected at the end of the month.
How to redeem
According to BlockFi, customers will have their crypto rewards deposited in their BlockFi Wallet  monthly, on the second Friday of each month. From there, cardholders can move their crypto into their own external crypto wallet.
Editorial insight
Up until February 14, 2022, BlockFi users were able to transfer their assets into a BlockFi Interest Account (BIA), which let them earn interest on their crypto deposits. The BIA also let users buy, sell or trade their crypto using a mobile app. But after
being charged by the Securities and Exchange Commission (SEC)
over failing to register its BIAs as securities, BlockFi agreed to make changes in an effort to bring its company into compliance with the Investment Company Act of 1940 within 60 days. In addition to paying $100 million dollars in penalties, BlockFi agreed to stop offering BIAs. Now, new BlockFi customers are unable to open a BIA. Existing BIA clients get to keep their accounts and receive interest, but are not allowed to add new crypto to their accounts.
How much are the rewards worth?
The rewards you earn with the BlockFi card are paid out at a value of 1 cent per percentage point. So if your reward rate is 1.5 percent, you'll earn $1.50 worth of a cryptocurrency for every $100 you spend or $2 worth of crypto for every $100 if you are earning 2 percent. But the actual value of your rewards are tied to the value of the crypto you are holding and its price when you decide to sell. If you have been watching the crypto markets for a while now, you already know that cryptocurrency is highly volatile and can be prone to wild price fluctuations.
As an example, the price of a single bitcoin has ranged from $11,711.51 on August 30, 2020 to $48,829.83 just a year later on August 29, 2021. On January 28, 2021, however, the price of bitcoin came in at $31,649.61.
Other cardholder perks
Since the BlockFi Rewards Visa® Signature Credit Card is not a traditional credit card, it doesn't get many traditional perks like an intro APR offer or sign-up bonus. The main benefits you'll want to know about are detailed below.
Refer-a-friend program
If you refer others to the BlockFi Rewards Visa® Signature Credit Card with your unique referral link, you get $30 in bitcoin per referral. This benefit can lead to substantial sums in bitcoin if you have a large network of friends or colleagues who might be interested.
Crypto trading bonus
You can also earn 0.25 percent back in crypto on all eligible trades you make through BlockFi, up to a maximum of $500 in crypto each month. To max out this benefit, you would need to trade $20,000 in cryptocurrency each month, or $240,000 in trades per year.
Rates and fees
The BlockFi Rewards Visa® Signature Credit Card doesn't charge an annual fee or foreign transaction fees. But if you don't pay your balance in full each month, you'll have to watch out for the card's variable APR of 16.49 percent to 26.49 percent. A couple of other common credit card fees to watch out for include a late payment fee up to $25 and a returned payment fee of up to $37.
How the BlockFi Rewards Visa® Signature Credit Card compares to other rewards credit cards
Before you sign up for the BlockFi Rewards Visa® Signature Credit Card, you should take the time to compare it to other rewards credit cards. Here's how it compares to another crypto credit card and a standard cash back credit card.
BlockFi Rewards Visa® Signature Credit Card vs. the Gemini Credit Card
If you're specifically looking for a crypto credit card, the no-annual-fee Gemini Credit Card has a number of features that help it to stand apart.
With the Gemini card, you earn rewards in more bonus categories, including 3 percent back on dining and 2 percent back on groceries. You'll also have far more crypto options to choose from when it comes to how you earn rewards. With the Gemini card, you can convert your rewards to any of the 50+ cryptocurrencies available on the Gemini platform.
Another plus for the Gemini card is that cardholders earn cryptocurrency rewards in real time, which may appeal to crypto enthusiasts who don't want to wait for their rewards to be converted into crypto once a month.
BlockFi Rewards Visa® Signature Credit Card vs. Wells Fargo Active Cash Card
The Wells Fargo Active Cash Card charges no annual fee and offers a flat 2 percent cash rewards back. Since this is a traditional cash rewards credit card, you can redeem your rewards for a variety of options, including gift cards, transfers to a bank account (Wells Fargo savings or checking accounts), statement credits or cash at Wells Fargo ATMs if you're a banking customer.
While the Wells Fargo Active Cash Card doesn't offer crypto rewards, the 2 percent cash rewards flat rate you earn from day one is more generous than the BlockFi Rewards Visa® Signature Credit Card, which only gives out 2 percent back after you spend $30,000 on your card each cardmember year.
Best cards to pair with this card
Since cryptocurrency is so volatile, there is no guarantee your rewards will hold much value when you go to redeem them. So it's a good idea to pair a crypto credit card with a traditional rewards credit card. Look at your regular spending to see which categories you spend the most in. If you spend a lot on dining or groceries, for example, use a credit card that offers more rewards in those categories, and then use the BlockFi card for any other purchases.
As an example, the Capital One Savor Cash Rewards Credit Card gives cardholders 4 percent back on dining, entertainment and popular streaming services, as well as 3 percent back on grocery purchases and 1 percent back on everything else.
Another option is the Blue Cash Preferred® Card from American Express, which comes with 6 percent back on up to $6,000 spent at U.S. supermarkets each year (then 1 percent back), 6 percent back on select U.S. streaming services, 3 percent back on purchases at U.S. gas stations and on transit and 1 percent back on other purchases.
Bankrate's Take: Is the BlockFi Rewards Visa® Signature Credit Card worth it?
While the BlockFi Rewards Visa® Signature Credit Card doesn't offer the best rewards rate out there, it can be a smart choice if you want to start building up crypto without investing your own money. Just keep in mind that you should always pay your bill in full and never carry a balance. If you wind up in debt, the high variable APR you'll pay for purchases will wipe out your crypto gains in a short amount of time.
This news is republished from another source. You can check the original article here.