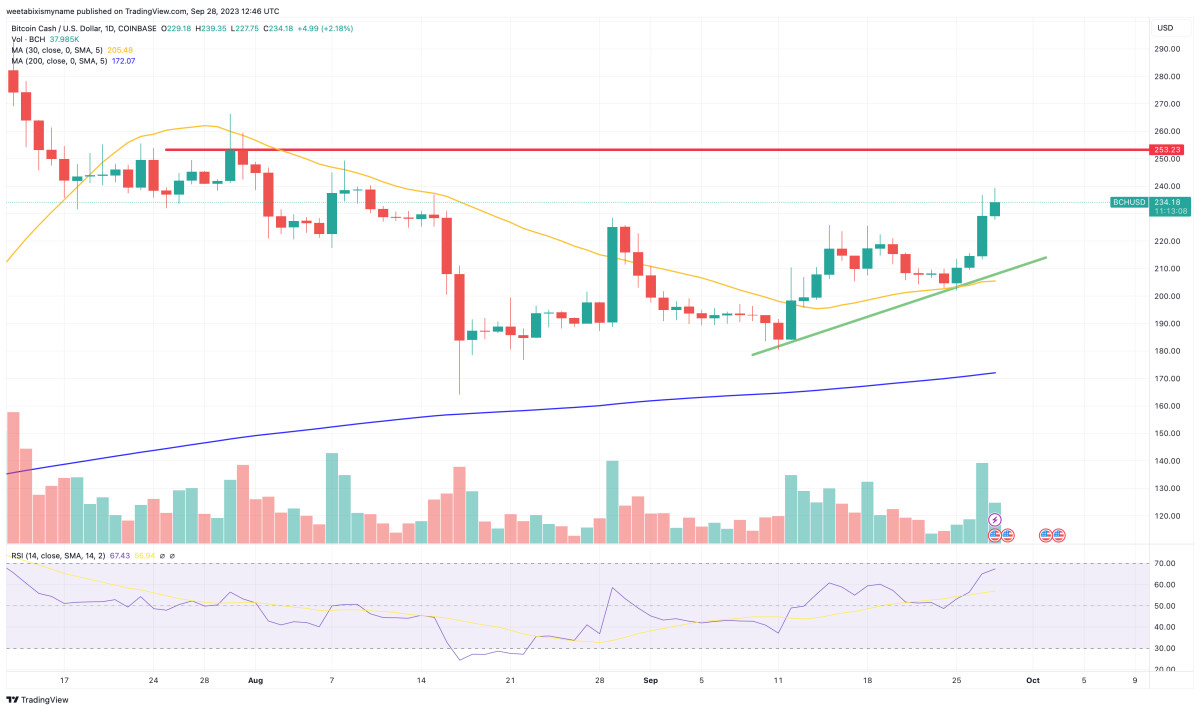 The Bitcoin Cash price has continued rising strongly today after beginning a surge yesterday, with its move to $235.39 representing a 1.5% gain in 24 hours and 12% rise in a week.
It seems that whales have begun accumulating BCH following a period of relative stagnation and decline for the altcoin, the coin's trading volume rising from only $70 million over the weekend to nearly $500 million today.
Its gains in the past couple of days now mean that it's up by 23% in a month and by 142% since the beginning of the year, making it one of the best-performing tokens over this period.
And with BCH's momentum remaining strong, it could continue to post gains in the coming days and weeks.
Bitcoin Cash Price Prediction as BCH Gains 10% and Extends Bull Run – What's Going On?
BCH must be one of the most bullish tokens in the market right now, with its indicators all pointing to strong buying pressure.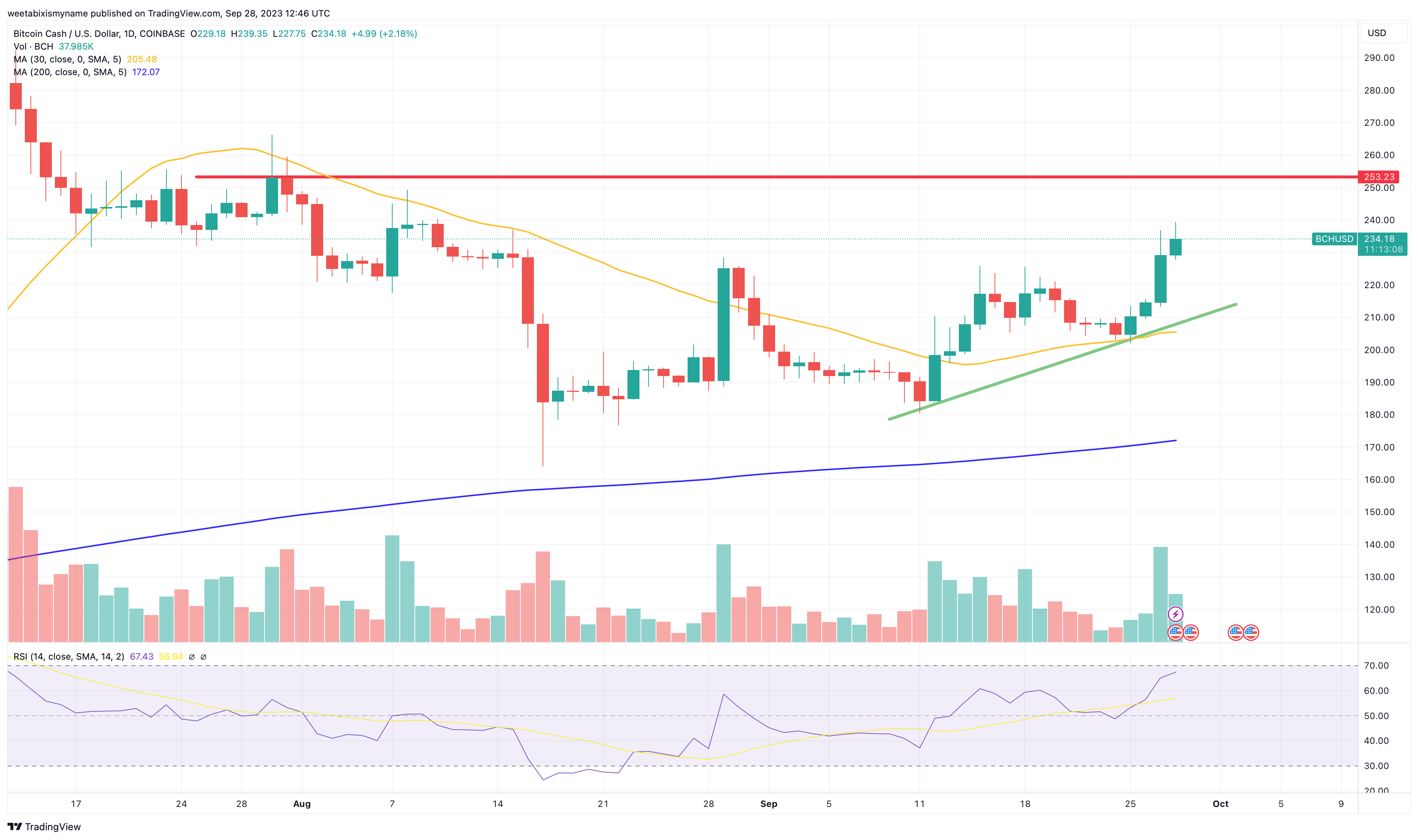 The coin's relative strength index (purple) is nearing 70, a level which signals considerable buying interest, on the one hand, but also the possibility that its rally could soon peak, on the other.
That BCH may be close to peaking is also indicated by the altcoin's 30-day moving average (yellow), which has remained above its 200-day average (blue) for several months now.
In other words, BCH should – in theory – come back down sooner or later, although traders who enter now may still be able to ride the token for a little while longer yet.
Indeed, the fact that its price has broken through its 30-day average yet again would suggest that another breakout may have just begun, and that it may still have considerable momentum.
While nothing has happened in the past few days to spark a BCH rally, it seems that whales and large investors have begun accumulating the token, as indicated by the marked increase in its trading volume.
Yet more generally, BCH has been riding high ever since the end of June, when EDX – a US-based exchange backed by such heavyweights as Fidelity and Charles Schwab – launched.
This was significant for Bitcoin Cash insofar as it was only one of four tokens supported by the new exchange, including Bitcoin, Ethereum and Litecoin.
Bitcoin Cash was also helped by the SEC's legal actions against Coinbase and Binance, since these actions named multiple altcoins – but not BCH (or BTC, LTC and ETH) – as securities.
As such, BCH has been able to maintain some very good momentum over the past few weeks, with regulatory concerns serving to re-concentrate attention on it.
And assuming that the momentum continues for a little while longer, it should reach $250 in the next few weeks.
New Bitcoin-Mining Platform
There's no denying that BCH looks very strong at the moment, but it isn't the only promising cryptocurrency in the market right now, with various new alts also showing potential for big gains in the near future.
Arguably one of the most interesting new tokens at the moment is Bitcoin Minetrix (BTCMTX), a tokenized cloud mining platform that aims to democratize access to Bitcoin mining.
The platform began its presale last week, and has already raised more than $150,000 so far, a sign that investors are quickly gaining an interest in the token.
Bitcoin Minetrix works by enabling users to stake their BTCMTX tokens in order to gain access tokenized mining credits, which in turn can be burned in order for actual Bitcoin mining to take place on the user's behalf.
Put simply, staking enough BTCMTX tokens can result in users receiving mined BTC as a reward.
What's significant about this is that people will no longer need to own expensive and highly specialized hardware in order to mine BTC, a proposition which accounts for Bitcoin Minetrix's early success in raising money.
Running on the Ethereum blockchain, the BTCMTX token will have a maximum supply of 4 billion, with 1.4 billion being allocated to the presale.
Interested investors can join the token's presale by going to the official Bitcoin Minetrix website, with 1 BTCMTX costing $0.011.
The sale will have ten stages in total, with the token set to reach a price of $0.01190000 by the final phase, at which point it will list on trading platforms, where it could have one of the most successful listings of the year.
Disclaimer: Crypto is a high-risk asset class. This article is provided for informational purposes and does not constitute investment advice. You could lose all of your capital.


This news is republished from another source. You can check the original article here.