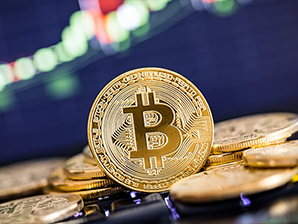 With these top cryptos to watch, all eyes focus on the Federal Reserve. Following the unprecedented expansion of the money supply in the early response to the coronavirus pandemic, the monetary excesses finally caught up with the economy. In a bid to control skyrocketing inflation, the central bank declared a commitment to hawkish policies. That's negative for pure growth-centric assets like virtual currencies.
However, the actual dynamics on the ground floor present far greater nuances and complexities. According to the Federal Reserve Bank of New York, "Median one-year-ahead inflation expectations continued to decline in September, falling to 5.4 percent from 5.7 percent, its lowest reading since September 2021. In contrast, the three-year-ahead inflation expectations rose to 2.9 percent from 2.8 percent in August."
Put another way, the trajectory of cryptos will likely depend on which monetary force wins out, inflation or deflation. Adding to the convoluted nature of digital assets, money velocity increased conspicuously in the second quarter of 2022.
Still, this velocity – or the rate at which each unit of currency circulates in the economy – remains historically low. That suggests pessimism or deflationary dynamics continue to dominate the discourse. Therefore, investors should tread carefully with these top cryptos to watch.
Bitcoin (BTC-USD)
Over the trailing week ended the late evening of Oct. 17, Bitcoin (BTC-USD) managed to eek out a gain of nearly 3%. While a positive development, BTC continues to trade below the all-important $20,000 level. According to the basic principles of technical analysis, the lack of forward progress invites bearish interest. Logically, failing to move higher implies that many sector advocates have checked out. It's still one of the top cryptos to watch.
Nevertheless, the Bitcoin bulls remain bullish indeed. Many prominent voices argued that BTC stands poised to move higher, bringing up other cryptos with it. Some suggest that a capitulation not by the bulls but by the bears will materialize. Therefore, investors should keep a watchful eye on BTC.
Anything and everything is possible with cryptos. However, the sector (in its short history) tends to gyrate according to clear bullish and bearish cycles. For me, it's not enough to have a hunch that BTC will move higher – there needs to be some fundamental justification for it.
Keep in mind that in the equities sector, investors discount security valuations based on downwardly adjusted earnings projections. A similar exercise needs to occur with cryptos. It's difficult to see, then, what catalyst will spike up BTC in the near term aside from an unexpected inflation surge.
Ethereum (ETH-USD)
Several weeks and months prior to the event called The Merge, many investors looked to Ethereum (ETH-USD) to provide a spark for cryptos. Certainly, they had some justification in believing this. Prior to The Merge, Ethereum utilized an energy-intensive proof of work (PoW) consensus mechanism. However, the network now shifted successfully to the energy-efficient proof of stake (PoS).
So, what happened to the pricing of ETH, which disappointed sharply since the mid-September event? According to Ethereum co-founder and ConsenSys CEO Joe Lubin, subsequent trading suffered from a "sells the news" dynamic.
Moreover, while Lubin would hardly qualify as a crypto critic, the blockchain pioneer had some pointed words for Ethereum. "The economy is broken, and it's likely to remain broken for a while," Lubin said. "So we remain the tail that is being wagged by a very sick dog: the global macro situation."
To be clear, Lubin remains bullish on the Ethereum ecosystem, which I think is the right attitude to have. Be fundamentally optimistic about cryptos but also be realistic about their current macro headwinds.
Tether (USDT-USD)
Another one of the top cryptos to watch is Tether (USDT-USD) offered myriad conveniences for blockchain market participants. Frankly, the virtual-currency-to-real-currency conversion imposes substantial frustrations. From lag times to security-related speedbumps, the process isn't just annoying. It can mean a missed opportunity given the break-neck speed of cryptos and their underlying pricing dynamics.
Therefore, during clearly defined bullish cycles, it makes sense to allocate a significant portion of your risk capital into Tether. When opportunities arise, you can jump right in. However, during clearly defined bearish cycles, I'm not sure if it makes much sense to be overly exposed to USDT. Without broader market support, whatever prospects materialize will likely be patchy.
Moreover, Tether always carries the risk of not being what it claims. After all, it's during downturns that panicky events like bank runs erupt. With little in the way of benefits and plenty of risks, investors should seriously consider "de-risking" excessive exposure to USDT.
XRP (XRP-USD)
While arguably most of the attention paid toward XRP (XRP-USD) centers on founding organization Ripple Labs and its ongoing lawsuit with the U.S. Securities and Exchange Commission, it's easy to forget the innovative potential of the target blockchain. Recently, Coindesk.com reported that Ripple is "testing a way for developers to deploy smart contracts made for the larger and more popular Ethereum on its XRP Ledger (XRPL) blockchain with little effort."
Essentially, Ripple and the underlying XRP coin can benefit from fundamental synergies associated with Ethereum's smart contract technology. While an exciting narrative from a functional perspective, XRP has not reaped the rewards in terms of market performance.
The volatility in XRP underscores important lessons that participants of cryptos must understand. Like The Merge event, fundamental progress in a blockchain project doesn't always translate to market upside. Therefore, the Fed's monetary policy probably presents the biggest influencing factor over XRP and other digital assets, not individual improvements.
Cardano (ADA-USD)
One of the main pioneers of the PoS consensus mechanism, and another one of the top cryptos to watch, Cardano (ADA-USD) has not been able to move against the grain relative to other cryptos. Indeed, over the trailing week, ADA suffered disproportionately, declining nearly 7%. In contrast, Bitcoin moved up above 2% while Ethereum gained over 4%.
Still, as is the case with most cryptos, advocates for Cardano remain hopeful of a recovery. Recently, Cryptonews.com laid out the case for how ADA can reach $5 in 2023. At time of writing, ADA is priced a little bit above 37 cents. Therefore, we're talking about a more than 13-fold increase in equity value, which seems outlandish.
Basically, because Cardano undergirds several decentralized finance (DeFi) protocols, it could become the standard bearer for this innovation. Certain market patterns indicate that perhaps, ADA may rise.
Nevertheless, investors must be super cautious about such assumptions. As we've already seen with other cryptos, fundamental developments don't always translate to market upside. Buy ADA if you absolutely have to but remain vigilant, if not healthily skeptical.
Huobi Token (HT-USD)
One of the emerging names among alternative cryptos, Huobi Token (HT-USD) received a massive burst of momentum. Over the trailing 24 hours, HT swung higher to the tune of 10%. And in the trailing week, it returned a staggering 48.4%.
To get everyone on the same page, Huobi Token represents the "native token of the cryptocurrency exchange Huobi Global," per Coinmarketcap.com. Further, HT is a decentralized asset based off the Ethereum blockchain. Despite its youth (having launched in January 2018) it has attracted significant attention.
Recently, though, it caught the eye of crypto entrepreneur Justin Sun, who will act as an advisor to the underlying exchange. Although Sun may cut a controversial profile among some circles, his name commands significant respect in the broader blockchain community. Under this context, it might not be so surprising that HT skyrocketed.
Still, cryptos remain mired in a deflationary cycle at the moment. Therefore, prospective participants should approach extremely carefully.
Casper (CSPR-USD)
Another one of the top cryptos to watch is Casper (CSPR-USD). Although it suffered a hit during the trailing 24 hours, over the past week, CSPR gained a whopping 35%. Market sentiment is robust, largely because of the profound potential of the underlying blockchain.
One of the first networks to promote a PoS consensus mechanism, Casper claims to deploy a future-proof architecture. According to CryptoBuyingTips.com, "Casper is designed to ensure the platform is continually developed according to the evolving needs of its users, and that it's maximally accessible to developers of all backgrounds."
Overall, Casper's development team seeks to solve the so-called adoption trilemma: security, scalability and decentralization, all under one cohesive blockchain protocol.
Undoubtedly, the project commands respect. In the charts, CSPR also appears to have hit a bottom and thus, subsequent moves could march higher. Nevertheless, the broader market sentiment has shifted to a risk-off profile. Therefore, if you must acquire CSPR, do so with great caution.
On the date of publication, Josh Enomoto held a LONG position in BTC, ETH, USDT, XRP and ADA. The opinions expressed in this article are those of the writer, subject to the InvestorPlace.com Publishing Guidelines.
This news is republished from another source. You can check the original article here.