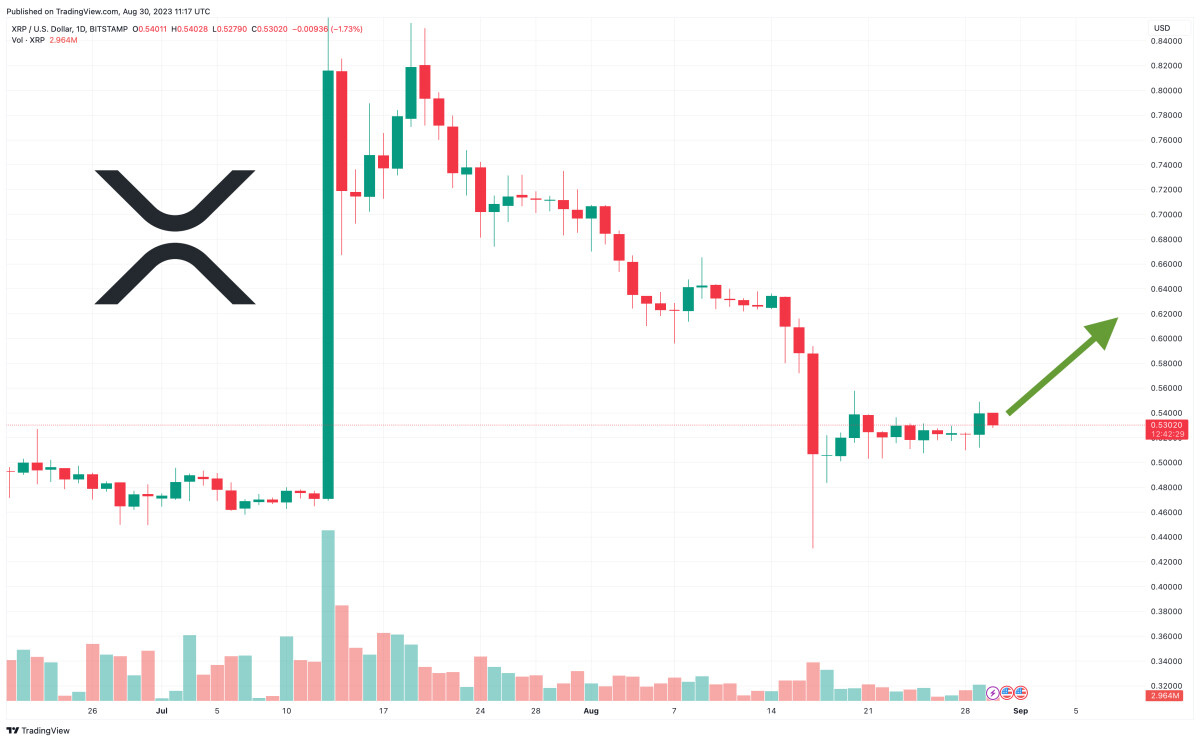 The XRP price has risen to $0.529853 today, representing a 3% gain in 24 hours as the cryptocurrency market benefits from Grayscale's successful appeal against the SEC.
XRP is now up by 1.5% in the past week, yet the altcoin remains down by 25% in the last 30 days, following a difficult few weeks for crypto that had been marked by macroeconomic fears and regulatory concerns.
However, with XRP still up by 55% since the beginning of the year, the altcoin remains in a good position to resume rising, especially after its trading volume has risen to $1.5 billion virtually overnight.
XRP Price Prediction as $1.5 Billion Trading Volume Floods In – Are Whales Buying?
Yesterday's good news has arguably come at the perfect time for XRP, which has been oversold for several weeks now and is due to correct upwards strongly.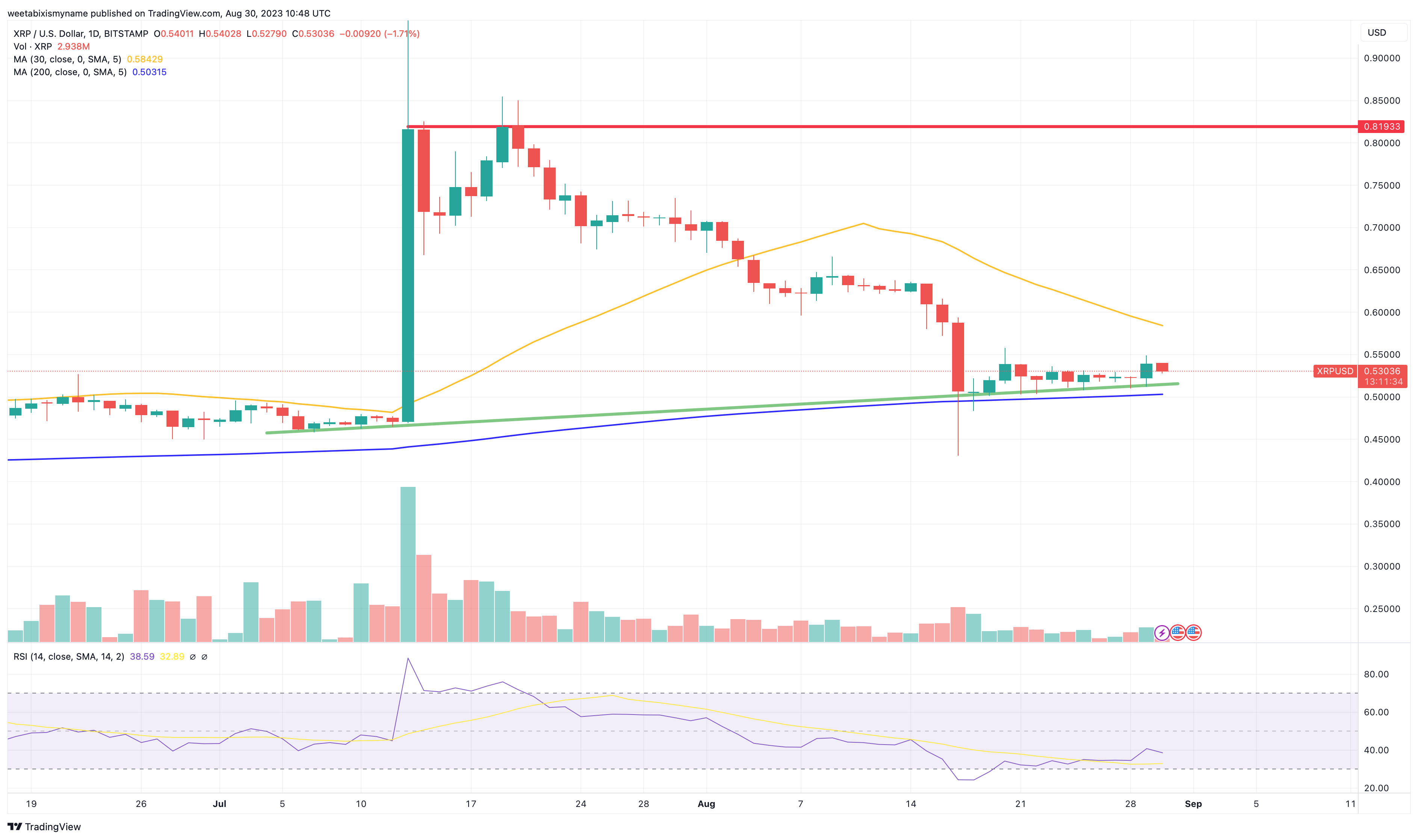 The altcoin's relative strength index (purple) has begun rising slowly after spending more than a week at or below 30, a level which signals that it had been markedly undervalued.
Its 30-day moving average (yellow) had been falling steeply towards its 200-day (blue), but it's now likely that it will begin rising again with today's rally, and probably won't stop rising until XRP's price is strongly above both averages.
It's arguable that XRP's movements won't last very long, given that the Grayscale relates mostly to Bitcoin.
However, Grayscale's victory in its appeal is almost certaintly a win for the entire cryptocurrency market, with the judge effectively ruling that the SEC was unjustified and arbitrary in its rejection of Grayscale's Bitcoin ETF application.
Such a ruling weakens the SEC's position and suggests that the regulator may similarly prove unsuccessful in its other actions, such as those against Coinbase and also its bid to launch an interlocutory appeal against Ripple.
As such, we could really see XRP continue to mount recurring climbs over the next few months, with data showing that whales may have begun accumulating the altcoin again in anticipation of further rises.
And in the longer term, XRP continues to look like a very promising altcoin, with Ripple steadily expanding its business in the wake of its partial victory against the SEC.
The company has made progress in several partnerships in recent weeks, while its latest market report shows that its sales of XRP (as part of its cross-border transaction operations) continue to be in good health.
For this reason, XRP is likely to return to $0.60 in the next few weeks as the market slowly becomes more positive, while the latter months of the year could see it return to $0.80.
Quicker Gains With Newer High-Potential Alts
There's no doubt that XRP will sooner or later make some substantial gains, but there remains every possibility that holders could be waiting months (if not longer) for really big things to happen.
In the meantime, so may be in a position to diversify into newer altcoins that look set to rise quickly in the near term, with various presale tokens potentially in line for substantial rallies once they list on exchanges.
Probably the best-placed for such a rally is Wall Street Memes (WSM), a new ERC-20 cryptocurrency that has raised well in excess of $25 million since opening its presale.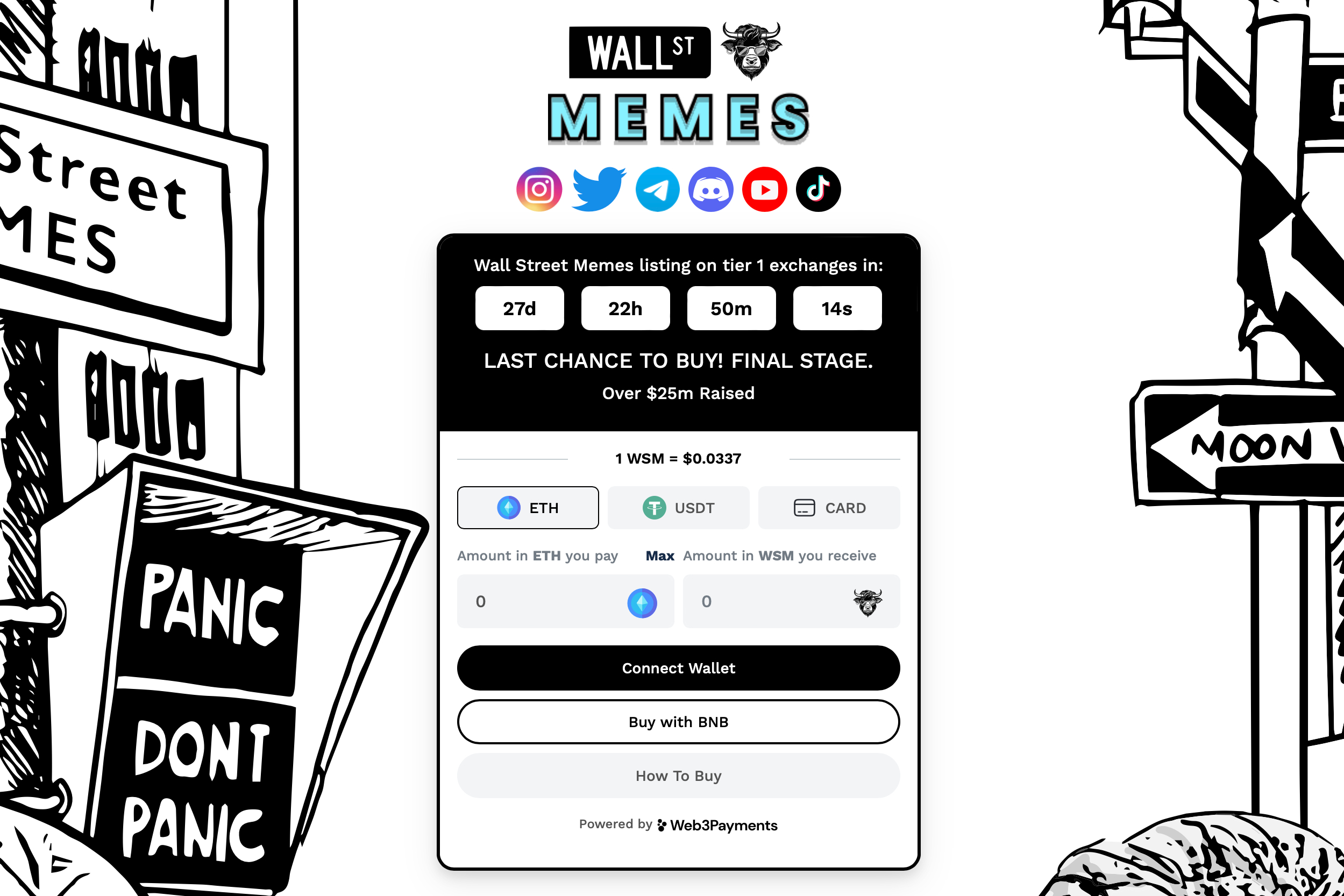 Set to list on various exchanges in just under 28 days, Wall Street Memes has emerged out of the meme stocks movement that was responsible for the infamous GameStop and AMC rallies in 2021.
This means it has come with a substantial community of holders and supporters, as indicated by its Twitter follower count, which now stands at just over 265,000.
Not only is this much more than the followers boasted by most of its rival meme tokens, but it also means that WSM is likely to be supported well beyond its listing period, with the coin set up nicely to have a long lifespan.
WSM will have a total maximum supply of two billion, with 50% of this going to its presale and 30% going to community rewards.
This latter allocation is likely to prove highly instrumental in ensuring a high level of community involvement, which again will mean that WSM is set to be a much more sustainable and long-lasting meme token than most of its rivals.
New investors can join the presale (while they still can) by navigating to the the official Wall Street Memes website and connecting their software wallets.
1 WSM is selling at $0.0337, a price which likely offers a big discount relative to the levels the meme token will rise to once it lists in the next month.
Disclaimer: Crypto is a high-risk asset class. This article is provided for informational purposes and does not constitute investment advice. You could lose all of your capital.


This news is republished from another source. You can check the original article here.