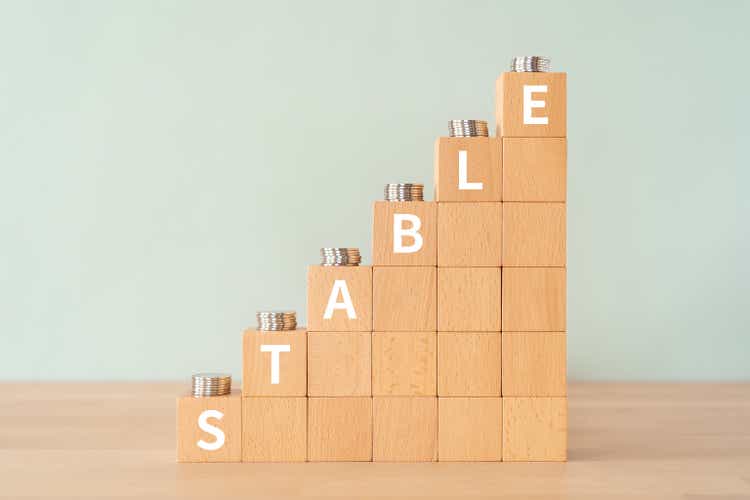 Stablecoins, which are designed to be pegged to the value of a more "stable" asset, are subject to a string of regulatory gaps that should be filled as the market keeps evolving, Paul Grewal, the chief legal officer of cryptocurrecy exchange Coinbase Global (COIN), said Wednesday during the Philadelphia Federal Reserve Bank's 2022 fintech conference.
The global market cap of stablecoins is now standing at $153.3B, with only Tether (USDT-USD) ($66.4B) and USD Coin (USDC-USD) ($54.4B) accounting for nearly 80% of that value, according to data from CoinMarketCap.
For instance, "understanding what reserve assets stand behind a given stablecoin, and having certain requirements, for example, regarding the composition of those reserve assets," are necessary for "additional regulation to clarify the standards and requirements attached to these stablecoins," Grewal explained. His suggestion comes after the multi-billion dollar meltdown of algorithmic stablecoin TerraUST (UST-USD) when it de-pegged from the U.S. dollar in May.
Singapore's central bank, in particular, is currently assessing its approach in regulating stablecoins. Tharman Shanmugaratnam, the minister in charge of the Monetary Authority of Singapore, said earlier this week that one of the "merits of a regulatory regime" could involve reserve requirement for stablecoin issuers such as Circle, which issues Tether (USDT-USD).
Furthermore, there are transparency requirements that can help to fill stablecoin's regulatory gaps. "What visibility do regulators, members of the public, auditors, others have to the composition of these asset that fundamentally guarantee the safety and security of the assets," Grewal questioned.
There are also "important opportunities" for regulators to clarify operational efficiency of stablecoins, Grewal added.
"What risk management programs do they [stablecoin issuers] have in place? What cyber-security standards are being applied? Is the code that is being used to run a particular blockchain subject to sufficient testing, quality assurance, security measures to ensure that these assets are fundamentally safe for all participants in the system?"
Towards the end of July, House lawmakers were said to delay a bipartisan stablecoin bill until September.
This news is republished from another source. You can check the original article here.