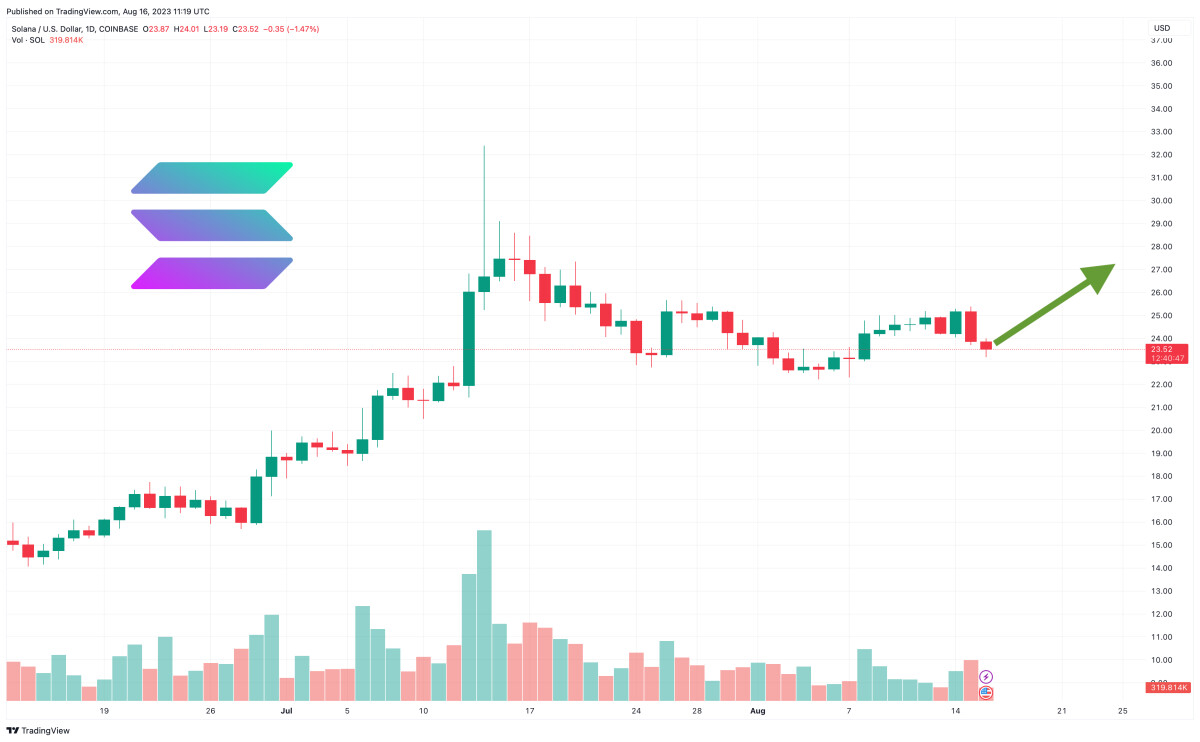 The price of Solana (SOL) has dived by 6% today, with the altcoin's fall to $23.39 coming as the cryptocurrency market as a whole drops by 1.5% in the past 24 hours.
This means SOL has lost 5% in a week and 15% in a month, with today's selloff largely the result of speculation that the SEC is delay all of its decisions regarding Bitcoin ETF applications until 2024.
However, even though SOL has been disproportionately affected by market-wide negativity, its fundamentals remain as promising as ever, and have actually been boosted by yesterday's launch of a tokenized version of Bitcoin on the Solana blockchain.
As such, SOL can be expected to make a recovery soon enough, and to see recurring rallies throughout the rest of the year.
Solana Price Prediction as Tokenized Version of Bitcoin Prepares to Launch on SOL Blockchain – Time to Buy?
SOL's chart suggests that the altcoin has just begun a selloff that could still take a few more days to bottom out, given that its indicators remain in middling positions.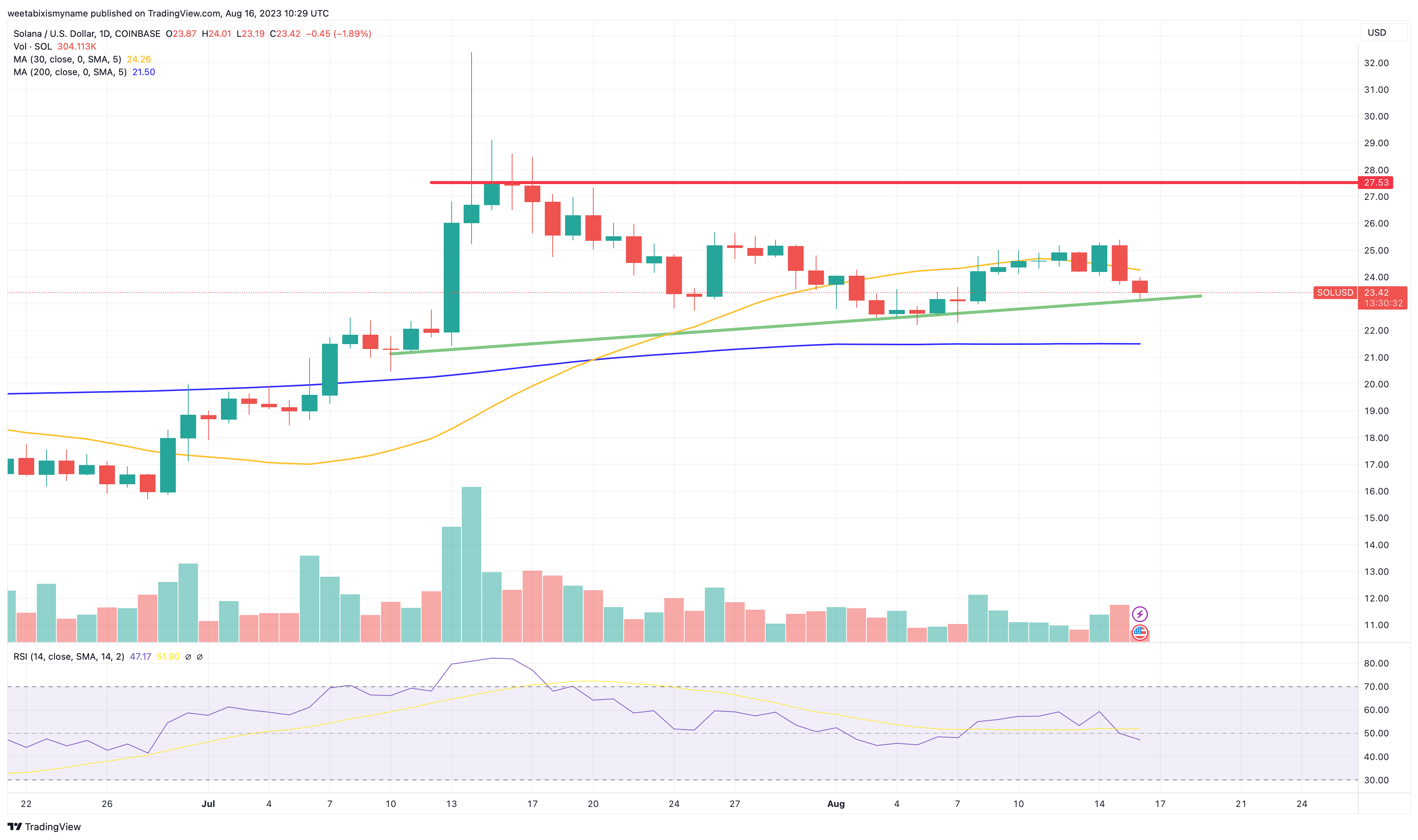 Firstly, its 30-day moving average (yellow) has only just begun sinking towards its 200-day average (blue), as has its actual price.
Likewise, SOL's relative strength index (purple) has just dropped below 50, leaving it with plenty of space in which to fall towards – or below – 30.
This means that SOL's price is likely to sink further in the next few days, potentially dropping to $23 or $22 before it bottoms out.
One note of optimism comes from the fact that SOL's support level (green) has held up quite well in recent weeks, implying that the altcoin shouldn't drop too far before correcting itself upwards.
And there remains plenty of reasons to be optimistic about Solana and its future, with the Threshold Network launching its tokenized version of Bitcoin on Solana's network yesterday.
As with Wrapped Bitcoin (WBTC) on Ethereum, tBTC (as it will be known) will enable BTC holders to put the value of their Bitcoin to work on various DeFi platforms and applications.
This ultimately means more usage for Solana, which has been recovering and re-growing this year after a difficult 2022 that was marred by a series of outages.
Now, with the network experiencing consistent 100% uptime, and with new launches and use cases (such as tBTC), Solana is likely to continuing making a consistent recovery throughout the rest of the year.
From its current level of $23.39, it could rise to $24 over the next few weeks, and possibly return to $30 by the end of the year.
New High-Upside Altcoins Emerging
SOL continues to look promising, yet it may be some time before it really ratchets up substantial gains, largely because it's already a well-established token and because the market is still uncertain.
However, several new presale tokens have appeared in recent months, with the best of these likely to witness impressive gains once exchanges begin listing them.
A great example of this is Launchpad.xyz (LPX), a universal Web3 platform that launched the presale for its native LPX token in July and has already attracted more than $1.3 million from investors.
Designed as an all-in-one platform for Web3, Launchpad will provide its users with a Web3 wallet address, as well as a play-to-earn game hub, a launchpad for presales, a trading terminal, market intelligence and data, and also an AI-powered search engine specifically for cryptocurrency trading.
Perhaps more impressivley, Launchpad will also feature its own DEX, a trading platform for NFTs, and also the ability to create and trade fractionalized assets.
These are a truly comprehensive range of features, and their ambitious scope is a big part of the reason why Launchpad.xyz's presale has already been so successful.
Yet LPX is attractive as a token in its own right, given that it will not only provide discounts on Launchpad's fees, but will also be used for staking.
New investors can acquire some of the coin by checking out the official Launchpad.xyz website and connecting their software wallets, with 1 LPX costing $0.0445.
This will probably seem a very cheap price in the next few weeks, when LPX lists on exchanges and Launchpad rolls out more of its features.
Disclaimer: Crypto is a high-risk asset class. This article is provided for informational purposes and does not constitute investment advice. You could lose all of your capital.


This news is republished from another source. You can check the original article here.