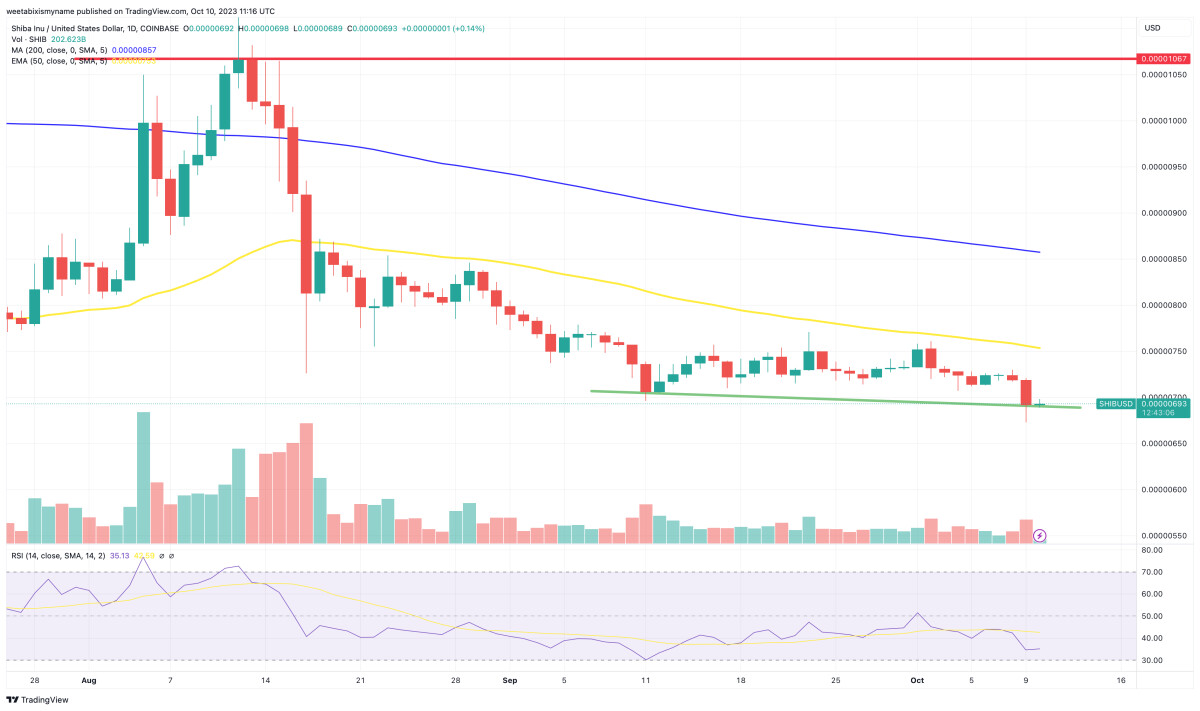 The price of Shiba Inu (SHIB) has inched upwards by 0.5% in the past 24 hours, reaching $0.00000692 as the wider cryptocurrency market dips very slightly across the same period.
SHIB is now down by 5% in a week and by 6% in the last 30 days, with the meme token also having lost 14.5% of its value since the beginning of the year, in contrast to many other major coins (e.g. BTC, ETH, XRP, SOL).
However, October has historically been a very good month for SHIB, with the coin's surge of 822% in October 2021 showing just what it can potentially do towards the end of each calendar year.
So if SHIB comes anywhere near replicating its performance from two years ago, it could end up entering November at a much higher level than it currently has now.
Shiba Inu Price Prediction as SHIB Could Skyrocket to $0.00003000 – Will History Repeat Itself with an 822% October Surge?
SHIB's indicators continue to suggest that the meme token remains very oversold, and that it has been since the middle of August.
In particular, the chart below shows that SHIB's relative strength index (purple) has languished below 50 for nearly two months, with this indicator actually being below 40 for much of this time.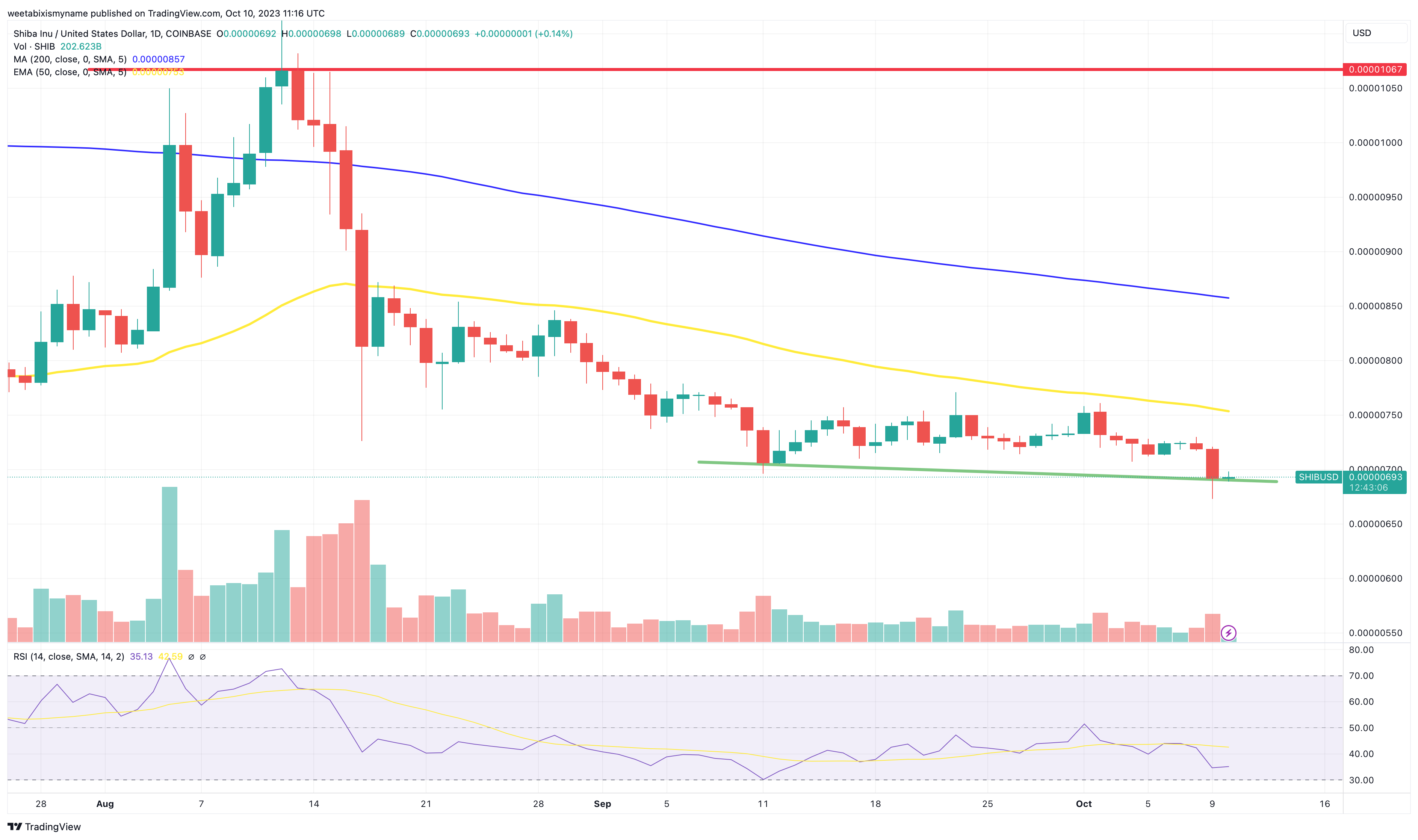 Such low levels signal heavy selling pressure, yet they also signal the possibility of a recovery rally, which becomes likelier with every passing week that SHIB's RSI struggles to clear 50 or 40.
Likewise, the altcoin's 30-day moving average (yellow) has remained below its 200-day average (blue) since May, providing another very big sign that SHIB really should rebound soon.
However, it's possible that the token hasn't quite bottomed out yet, seeing as how its support level (green) has been declining for more than a few weeks now.
This decline indicates that few buyers are interested enough in SHIB to buy it when it falls to new lows, although SHIB supporters could argue that this is as much a sign of bearish market-wide sentiment as it may be of a lack of confidence in SHIB.
Still, it's worrying that SHIB hasn't done much since August, yet again this potentially sets the stage for big gains in October.
As noted above, October has been one of SHIB's best months, with even October 2022 seeing the coin rise by 10% in only 31 days.
Of course, past performance is no guarantee of future performance, while it also needs to be remembered that SHIB's gains in October 2021 came when it was still a pretty low-cap coin, with much more growth potential than it has now.
As such, SHIB supporters should perhaps not expect an 822% gain this time around, even if the token is due a rebound.
New Alts With Strong Fundamentals
While SHIB does look like it's due to rebound soon enough, it's not the only altcoin in the market with good potential right now, with several new presale coins also looking highly promising.
Perhaps the most promising of all is Bitcoin Minetrix (BTCMTX), a tokenized cloud mining platform that launched its presale at the end of September and has already raised close to $900,000.
Such a figure indicates that investors like what they see as far Bitcoin Minetrix's design and roadmap is concerned, with the platform offering users the ability to earn mined Bitcoin by staking the BTCMTX token.
Specifically, Bitcoin Minetrix converts staked BTCMTX into tokenized mining credits, which can then be used to purchase hashpower on the Bitcoin blockchain.
This enables users to indirectly mine BTC, with those who stake enough BTCMTX in line to receive freshly minted Bitcoin.
Sweetening the deal further is the fact that holders can also earn new BTCMTX by staking the token, making it doubly profitable.
It will have a total supply of 4 billion, with 1.4 billion being made available as part of the presale.
Buyers can join this sale by going to the official Bitcoin Minetrix website, where BTCMTX currently costs $0.011.
Each stage of the sale will increase this price a little further, with BTCMTX ending at $0.01190 by the tenth and final stage.
And once this stage has closed, the token will list on exchanges, where it could make a big profit for early investors.
Disclaimer: Crypto is a high-risk asset class. This article is provided for informational purposes and does not constitute investment advice. You could lose all of your capital.


This news is republished from another source. You can check the original article here.