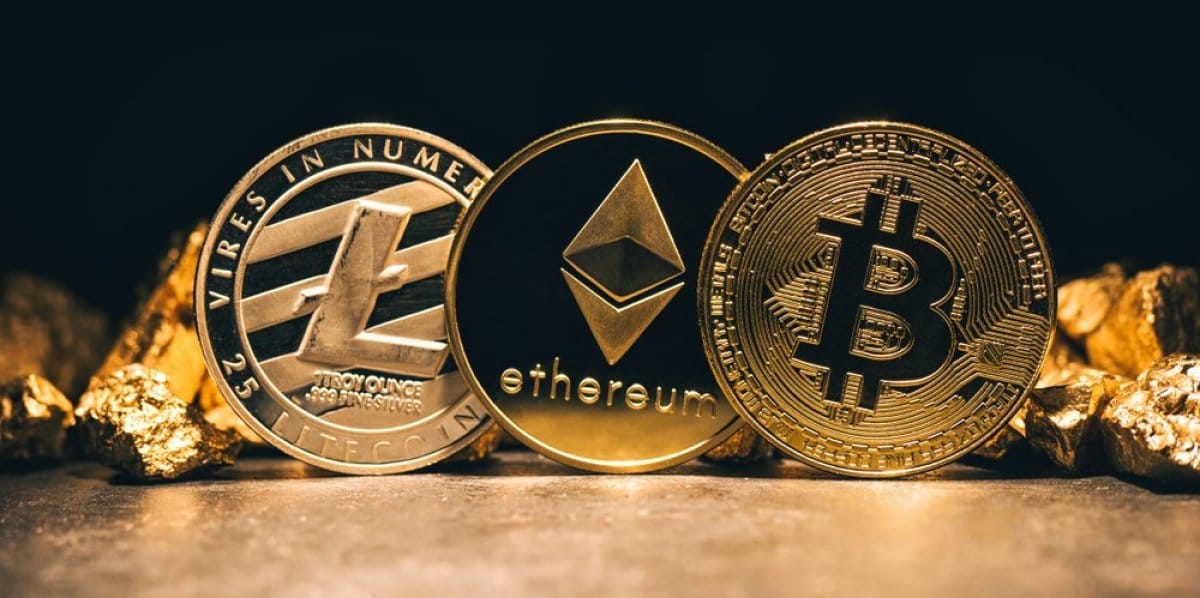 The crypto market has rebounded as the industry turned a corner after a sub-par performance in September. While sourcing for the juiciest news, we turn to the popular subreddit SatoshiStreetBets to find out what has been trending in the last couple of days.
Listed below, we consider some of the trendiest cryptocurrencies on SatoshiSteetBets for the first week of October.
1. Bitcoin (BTC)
Bitcoin has remained the talk of the town even on the well-known subreddit SatoshiStreetBets. The 489,000 strong subreddit have largely continued to attract the importance of Bitcoin to the crypto market.
Considering why this is so, the premier digital asset has largely begun October on a strong footing.
Bitcoin jumped 5% to $47,481.68 on October 1, after ending September at $43,740.55. BTC broke above the $47K mark following a series of sporadic performances through the ninth month.
Continuing its uptrend push, BTC has largely made a beeline for a new record value after five months of value shedding. The crypto bellwether crossed the $55,000 mark while seeing resistance at $56,000 in the early hours of today. It has a 52-week trading range between $10,355 and $65,000. With a current price action of $54 591.80, the premier digital asset is 15% off its all-time high.
The recent change in fortune is largely due to market news. In a recent release, Soros Fund Management, an asset management company owned by legendary billionaire investor George Soros, announced that BTC holds "some coins … but not a lot." CEO Dawn Fitzpatrick confirmed this in a Bloomberg special.
Another major positive is the recent approval of a Bitcoin exchange-traded fund called Volt Crypto Industry Revolution and Tech ETF by the US Securities and Exchange Commission (SEC). According to the filing, the Bitcoin ETF with ticker BTCR will comprise companies with large holdings of BTC.
67% of all retail investor accounts lose money when trading CFDs with this provider
2. Ethereum (ETH)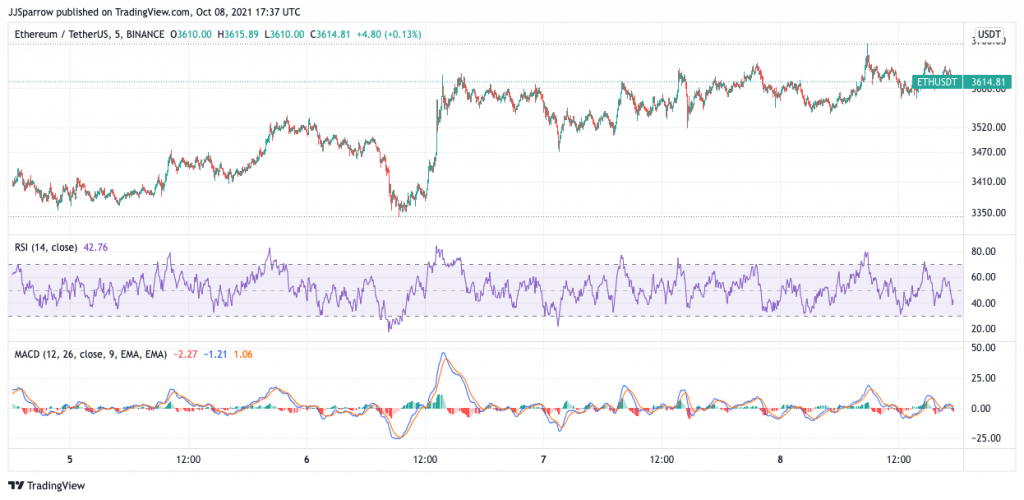 Not to miss out on topics on SatoshiStreetBets, the Ethereum discourse was also featured in this week's crypto roundup. Reasonably seen as an appropriate successor to the crypto throne, Ethereum controls a large chunk of the fledgling decentralised finance (DeFi) and non-fungible token (NFT) sub-sectors. With the protocol transitioning to a proof-of-stake (PoS) protocol by 2022, there has been no pause on its project value gain in the future.
Much like Bitcoin, the ETH token has seen an improvement in its value after dropping to a shocking $2,880 during the September bearish heat. However, its value gain has been more modest in the last 24 hours, with ETH presently retracing some early morning gains.
At the moment, ETH is down 0.11% and trades at $3,592.66. Meanwhile, ETH was up 12.44% in the last week and sold above the 20-day moving average support price of $3,183.32. A relative strength index (RSI) figure of 61.19 shows that more investors are piling up ETH. This is following growing market confidence in the digital asset's long-term growth potential. According to a report by blockchain analytics platform Santiment, the total amount of 532,750 ETH staked so far this year is the highest since July 2016.
67% of all retail investor accounts lose money when trading CFDs with this provider
3. Shiba Inu (SHIB)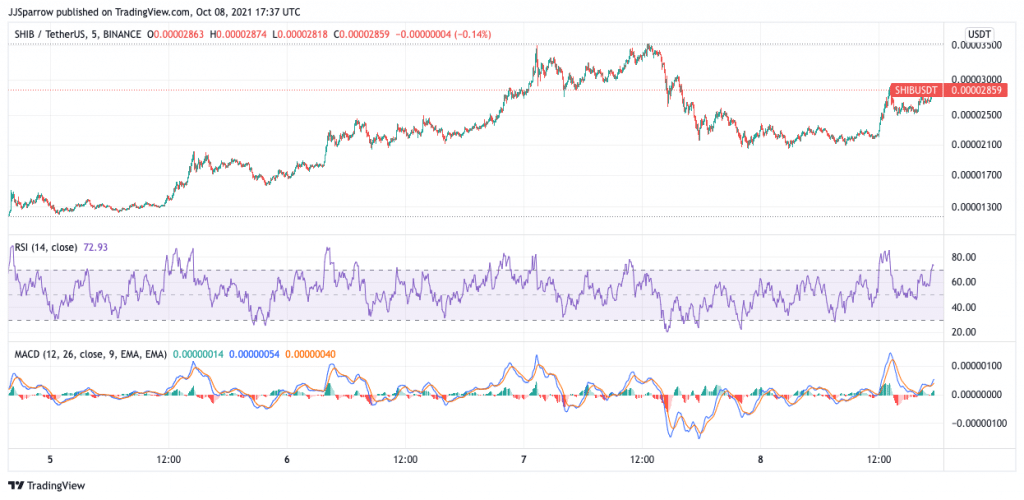 The popular meme coin out to displace Dogecoin, the Shiba Inu, has also featured significantly in the SatoshiStreetBets discussion for this week. Based on the Ethereum protocol, Shiba Inu has enjoyed a stellar 2021, racking up more than 21,000% value year-to-date (YTD). Also touted as a worthy successor for DOGE, SHIB has been carving an entire ecosystem for its dog-themed protocol. One of them is the decentralised exchange (DEX) duly named ShibaSwap.
In performance, SHIB has been on a tear in the last week, although Shiba Inu trades below a penny. The DOGE knock-off is down 18.82% after surging more than 55% in the middle of the week. SHIB currently changes hands for $0.00002578. SHIB has made a statement this week largely because of its weekly gains. Standing at a whopping 258%, SHIB has made three consecutive uptrends in a bullish run.
This has been attributed to DOGE's most vocal supporter, Elon Musk, making tweetstorms since the year began. As characteristic of the billionaire investor, his tweet of "Floki Frunkpuppy" led to a 49% increase in SHIB's price in one day. The current market price of SHIB shows a tailing off the social media-generated price action, and RSI figure of 80.28 shows a strong interest in the meme coin.
67% of all retail investor accounts lose money when trading CFDs with this provider
4. Dogecoin (DOGE)
Not to be outwitted, DOGE has also made it into the discussion this week on SatoshiStreetBets.
Mainly a Bitcoin knock-off, the joke cryptocurrency has garnered a lot of public attention and is the most social media-focused digital asset in the market. Dogecoin is a popular playground for Elon Musk, who reportedly called himself the 'DogeFather.'
DOGE's 52-week performance range is between $0.0016 and $0.7416. Currently trading at $0.2462, DOGE is down 0.43% in the last 24 hours.
However, its downward spiral is more pronounced when compared to its previous high and is down 68.23% this year. Meanwhile, DOGE is still racking up adoption figures, and the latest is movie-exhibition giant AMC which is now accepting DOGE for its digital gift cards.
67% of all retail investor accounts lose money when trading CFDs with this provider
5. IOTA (MIOTA)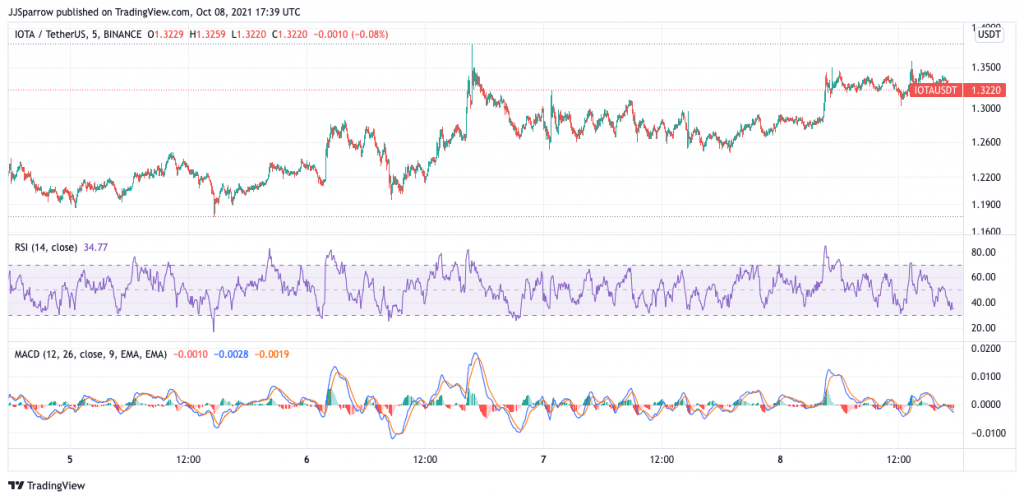 Last on the most talked-about coins on SatoshiStreetBets is distributed ledger protocol IOTA. Created with an innovative tech called Tangle, IOTA eliminates the need for no miners and fees while ensuring rapid transactions.
The IOTA token MIOTA has performed spectacularly in the last few days and is up 6.83% over the previous 24 hours. Currently trading at $1.3446, MIOTA has grown 6.82% in the last week. MIOTA's 52-week range lies between $0.21 and $2.68.
Currently trading at $1.3446, MIOTA is down 25% from its all-time high. IOTA is scouring some major partnerships. The latest collaboration with the EU Commission to support the European Blockchain Services Infrastructure (EBSI). RSI figure of 53.89 shows that investors are gradually increasing their MIOTA token purchases.
67% of all retail investor accounts lose money when trading CFDs with this provider


This news is republished from another source. You can check the original article here.