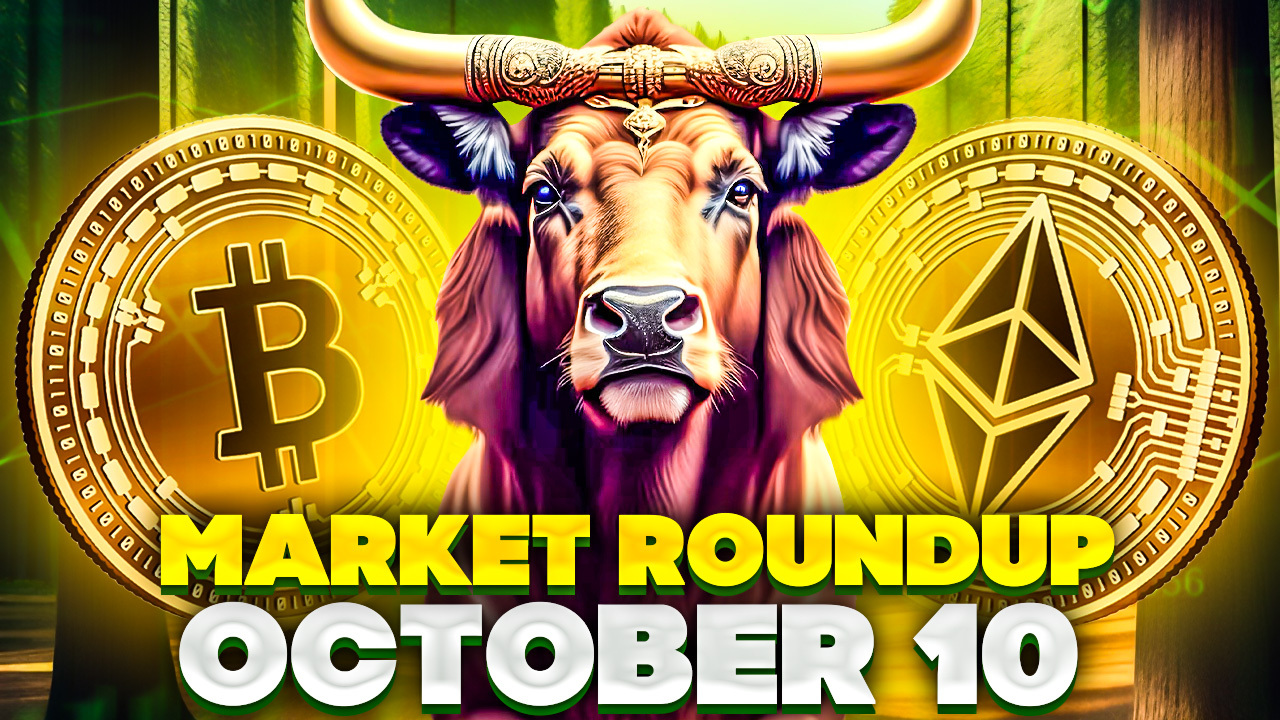 The cryptocurrency world is abuzz with significant developments today. Bitcoin is currently trading at $27,653, experiencing a 1% decrease on Tuesday. In a noteworthy political move, Robert F. Kennedy Jr., a staunch advocate for cryptocurrencies, has decided to run for president as an independent, parting ways with the Democrats. 
The ongoing conflict in Israel has also prompted several crypto firms, including Fireblocks and MarketAcross, to initiate an aid fund, showcasing the industry's commitment to humanitarian causes. 
Furthermore, a groundbreaking development has emerged as a BTC enthusiast has introduced the BitVM paper, unveiling Ethereum-style smart contracts within the Bitcoin ecosystem. 
These events collectively underscore the dynamic and ever-evolving nature of the cryptocurrency landscape.
RFK Jr. Leaves Democrats to Run as Independent Due to Pro-crypto Stance
Robert F. Kennedy Jr., who had previously declared his candidacy for the Democratic primary race, has decided to withdrawn from the race and run as an independent candidate for the US presidency.
Kennedy is a well-known advocate of cryptocurrency and has expressed his desire to make the United States a global hub for digital currencies, including Bitcoin. 
He has proposed backing the US dollar with hard assets such as gold, silver, platinum, and Bitcoin.
Kennedy has been a vocal critic of the Federal Reserve's FedNow instant payment system, which he has equated with central bank digital currencies (CBDCs). 
He has also expressed concerns regarding potential restrictions on Bitcoin. Polls conducted by the super PAC, American Values 2024, which supports him, suggest that Kennedy could receive 19% support among voters if he ran as an independent candidate. 
However, this level of support falls behind that of Biden and Trump. Kennedy's pro-crypto stance could influence market sentiment.
Crypto Firms Launch Aid Fund for Israel War Victims
A fundraising initiative called Crypto Aid Israel has been established by cryptocurrency companies, Fireblocks and MarketAcross, with the aim of providing humanitarian aid to Israelis affected by the ongoing conflict with Hamas. 
The organization has created a multi-signature wallet that accepts donations in various cryptocurrencies, including Bitcoin (BTC), Ethereum (ETH), and stablecoins like USDT and USDC.
To facilitate the flow of crypto donations, Israeli banks and regulators are collaborating for the first time, potentially creating a bridge between crypto assets and traditional banking systems. Fireblocks, a crypto-security firm, will manage these digital assets.
While Bitcoin is currently experiencing a decline in its price, this news may highlight the growing acceptance and utility of cryptocurrencies in times of crisis, potentially influencing positive sentiment within the crypto market.
Bitcoiner Introduces Ethereum-Style Contracts to Bitcoin in BitVM Paper Drop
Robin Linus, a Bitcoin developer, has introduced the concept of BitVM through a white paper titled "BitVM: Compute Anything on Bitcoin." 
The aim of BitVM is to enable more expressive off-chain smart contracts on the Bitcoin network without requiring a soft fork. BitVM employs an architecture that takes inspiration from Ethereum's optimistic rollups, fraud proofs, and recent advancements in Merkle tree.
This allows Turing-complete Bitcoin contracts to be executed off-chain while verifying them on the Bitcoin network.
Potential applications of BitVM can vary from games to verification of validity proofs in Bitcoin contracts, and even bridging BTC to other chains. 
Although the Bitcoin community has shown interest and cautious excitement, it remains an opt-in feature, offering flexibility and security sandboxing for users. This news may boost Bitcoin's support as innovations like BitVM increase its utility and appeal, potentially impacting market sentiment and outlook positively.
Bitcoin Price Prediction
In today's Bitcoin (BTC/USD) technical analysis for October 10th, we observe that Bitcoin is currently trading at $27,653, experiencing a 1% decline on Tuesday. 
Bitcoin maintains its position as the leading cryptocurrency, boasting a market capitalization of over $520 billion, with approximately 18.8 million Bitcoins in circulation. Examining the 4-hour chart, we identify several key price levels. 
The pivot point is set at $27,760, providing a reference point for potential price movements. Immediate resistance levels include $28,000, followed by $28,300 and $28,600, while immediate support levels are observed at $27,280, with subsequent support at $26,750 and $26,420.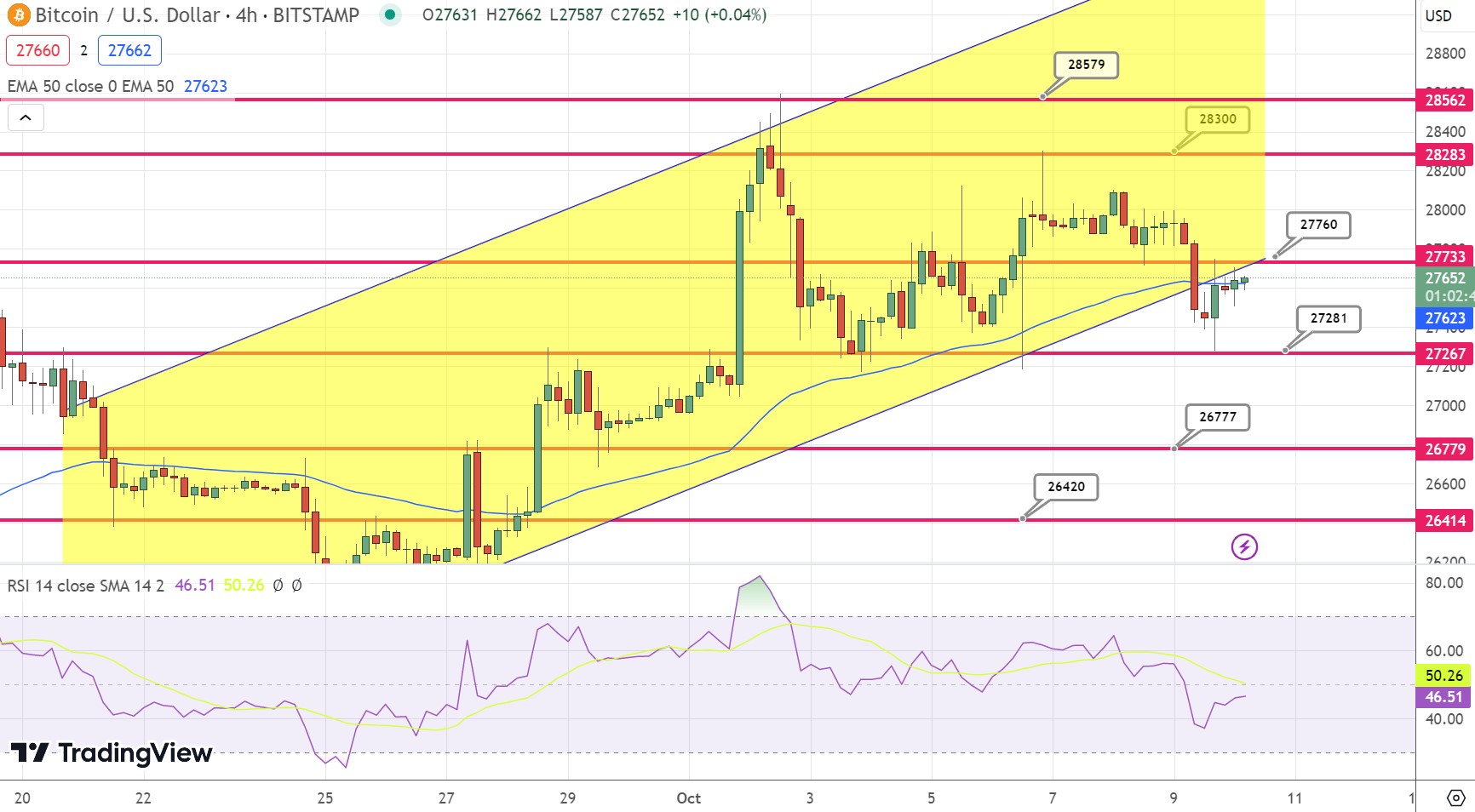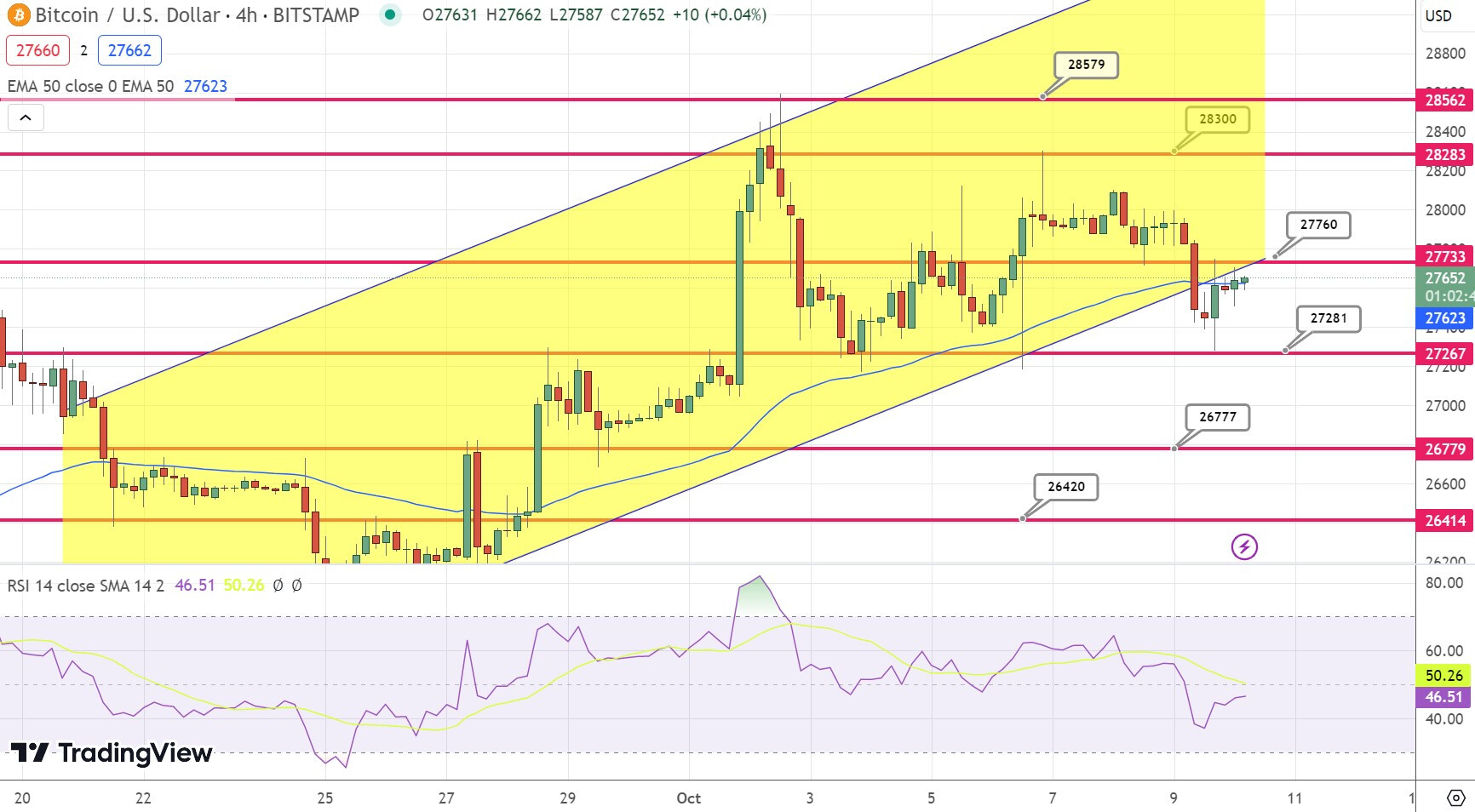 Currently, the Relative Strength Index (RSI) registers at 45, indicating a relatively neutral market sentiment, implying that Bitcoin is neither significantly overbought nor oversold.
 In conclusion, the overall trend for Bitcoin is considered bearish below the pivotal level of $27,760 and vice versa. Traders are advised to keep a close eye on this key level for potential trading opportunities in the upcoming days.
Top 15 Cryptocurrencies to Watch in 2023
Stay up-to-date with the world of digital assets by exploring our handpicked collection of the best 15 alternative cryptocurrencies and ICO projects to keep an eye on in 2023. 
Our list has been curated by professionals from Industry Talk and Cryptonews, ensuring expert advice and critical insights for your cryptocurrency investments. 
Take advantage of this opportunity to discover the potential of these digital assets and keep yourself informed.
Find The Best Price to Buy/Sell Cryptocurrency


Disclaimer: Cryptocurrency projects endorsed in this article are not the financial advice of the publishing author or publication – cryptocurrencies are highly volatile investments with considerable risk, always do your own research.


This news is republished from another source. You can check the original article here.