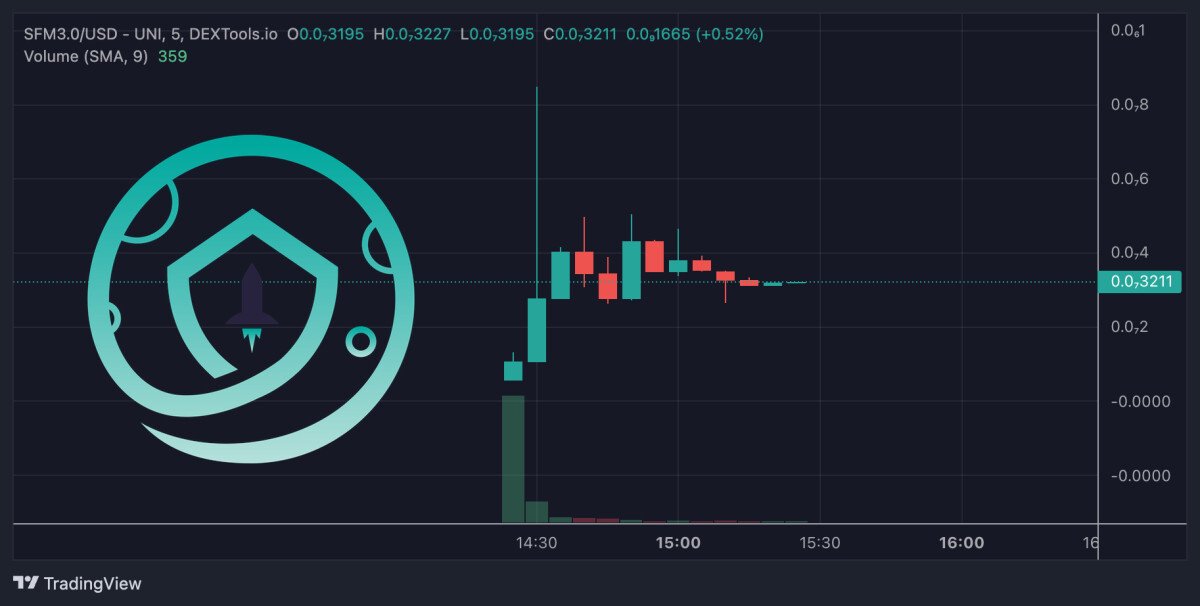 There's a new and better SafeMoon in town  – SafeMoon 3.0 ($SFM) – and its price is predicted to explode higher as the version meta trend gathers pace.
$PEPE has been joined by $PEPE2.0 and now $PEPE3.0, and it is the same for a bunch of other meme tokens. There's also $SHIB2.0, $WOJAK2.0 and now $SFM3.0.
SafeMoon3.0 ($SFM3.0) price takes off with 500% pump
Now SafeMoon 3.0 ($SFM3..0) is joining the party and it has already exploded in price by more than 500%.
The straight-to-DEX token gained 190% within seconds of its launch and is currently registering an advance of 500%.
The original SafeMoon launched on May 2021 and at its height a month after its birth had gained 23,225%.
However, a number of missteps and, in hindsight, poor design decisions, led to mounting problems for the team behind SafeMoon 1.0.
First off, there was a 10% tax on transaction with 5% going to token holders in reflections. A good idea on the face of it, but that, and other issues, led to claims it was a Ponzi scheme and the rewards disappeared in a later version of the token.
Initially lacking in utility, an announcement was made by the original anonymous SafeMoon team that the coin would be making a pitch for the unbanked in the west African nation of Gambia. 
But that died a death, as did plans for a debit card – a card that was going to charge 2.5% on transactions. SafeMoon 1.0 has lost 98% of its value from its all-time high.
SafeMoon 3.0 avoids the issues that broke SafeMoon 1.0
The original Safemoon's price explosion was certainly helped by endorsements from the likes of Paul Logan and Nick Carter. 
But things started to go south when Braden John Karony took the leadership as CEO after the anonymous team behind the project registered as a Limited Liability Company. 
Worse was to come, however, when SafeMoon v1 set up a process to migrate to SafeMoon v2.0. Those who did not do the migration in time were to be subjected to a 100% tax. The rewards mechanism was also removed in the new version.
SafeMoon 3.0 is shorn of all those problems, and the mounting number of lawsuits and security problems that befell the original token.
SafeMoon3.0 is bringing back rewards for token holders
It is expected that SafeMoon3.0 will include the reintroduction a burn and reward mechanism for token holders.
In other positive news for prospective buyers of the token, SFM3.0 has locked its liquidity and the contract ownership has been renounced.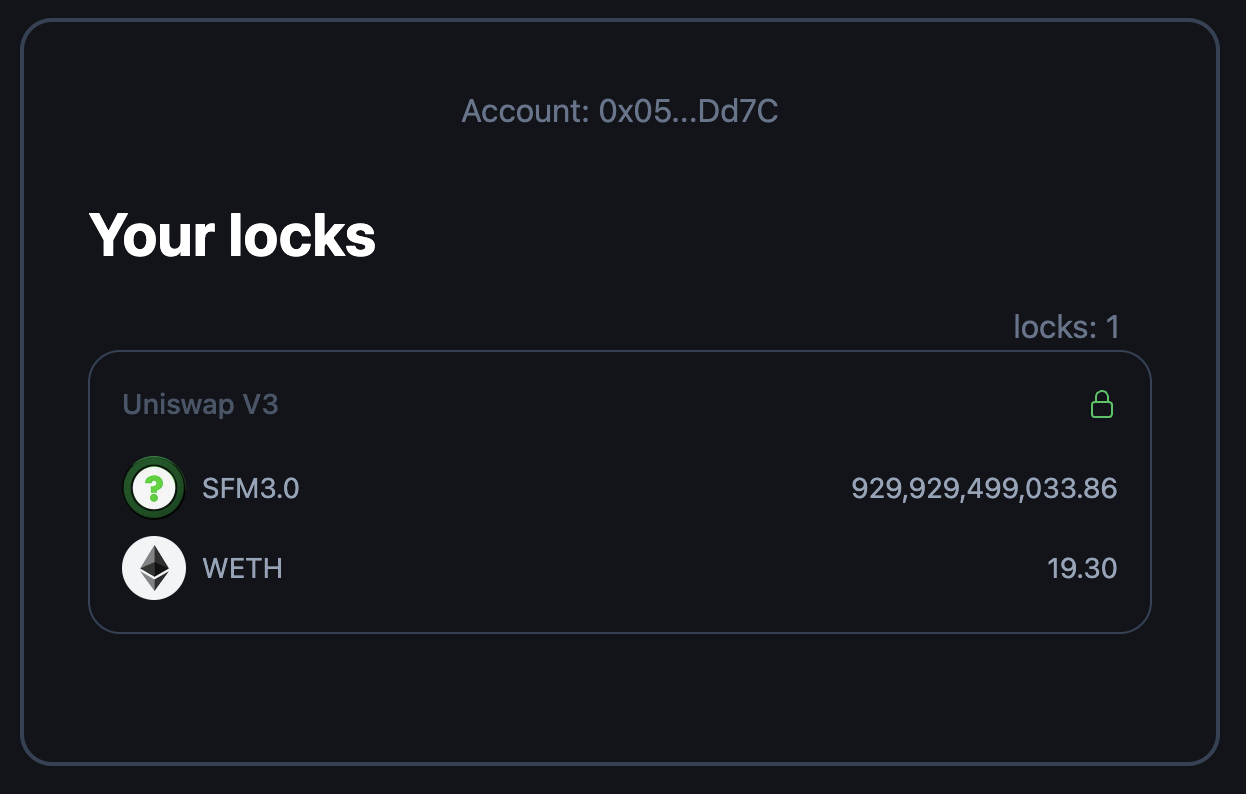 Locked liquidity means that there is no need to worry about a rug pull and a renounced contract means there can be no manipulation of the contract code to, for example, increase supply.
Trading volume is a healthy $1.56 million and locked liquidity $61,000, although that isn't shown on DexTools and other DEX trading sites because of a quirk of Uniswap V3 decentralized exchange.
The launch of SFM3.0 took place against the backdrop of a sharp pull back on 3% in the bitcoin price as it dived below $30,000 after briefly touching $31k
However, that has given $SFM3.0 buyers an extended window to get in near the ground floor.
Launching at $0.000000005299, $SFM3.0 is now priced at $0.00000003195 for a gain of 502%.
One of the first buys was a bot that went in with a $1.1 million trade, temporarily spiking the price more than 1,000%. If that is an early indication of the price action to come, hang on to your hates.

Version meta trend set to continue as SFM3.0 price keeps pumping
SafeMoon 3.0 can be bought on Uniswap with USDT or WETH.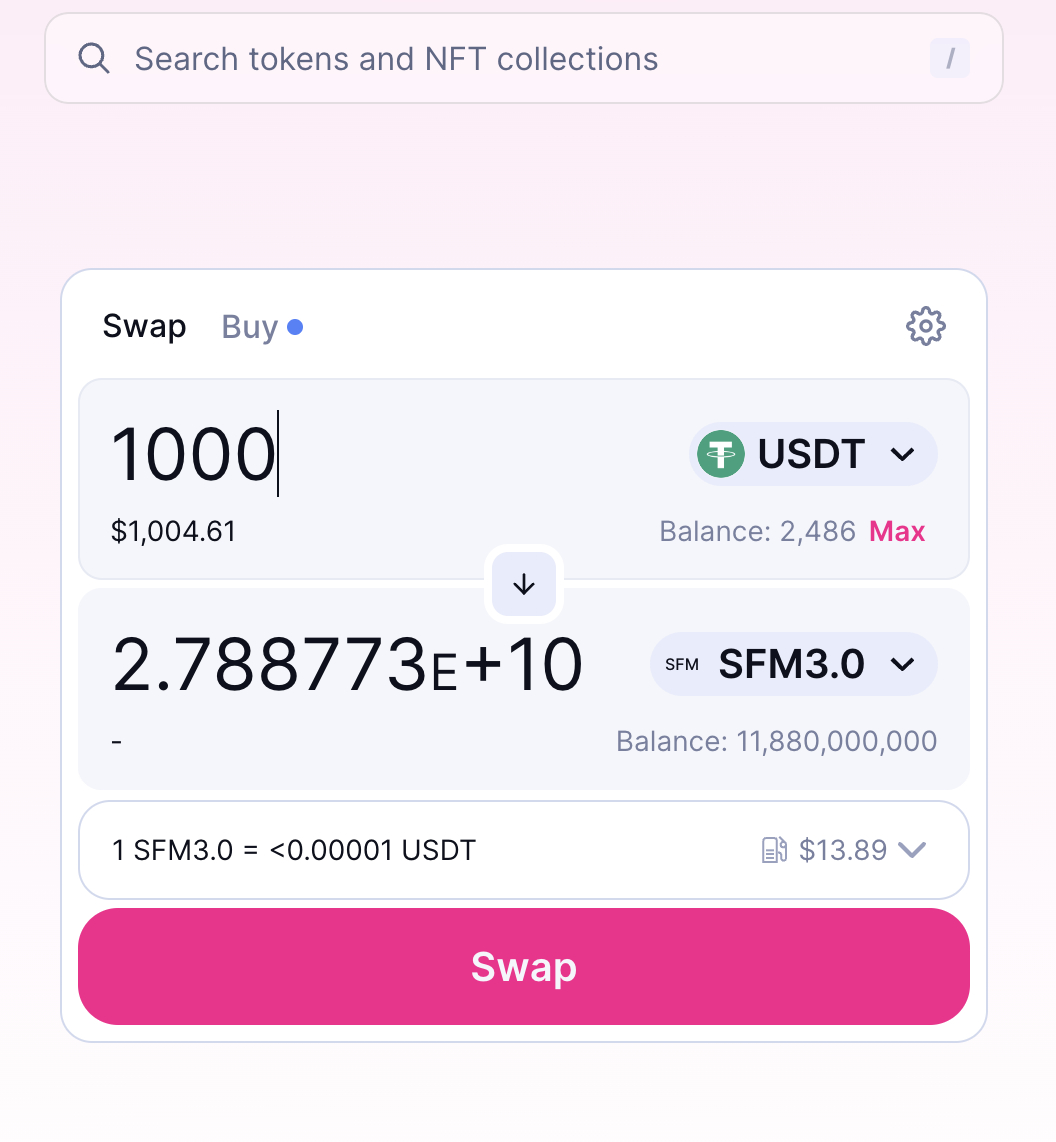 With the 2.0 meta in full flow across the meme altcoin space, SafeMoon3.0 is well positioned for a huge rally that could see buyers at current levels sitting on gains in excess of the 23,000% made by the original iteration of SafeMoon.
SHIB2.0 and PEPE2.0 meme coins are currently trending in the No.1 and No.2 spots on DexTools' hot pairs , indicating that the 2.0 trend is far from finished.
SafeMoon was one of the most exciting launches of 2021 and for a time threatened to transform the possibilities of DeFi attracting mass adoption.
If you missed out on SafeMoon the first time round, the team behind  SafeMoon3.0 have got your back.
This news is republished from another source. You can check the original article here.