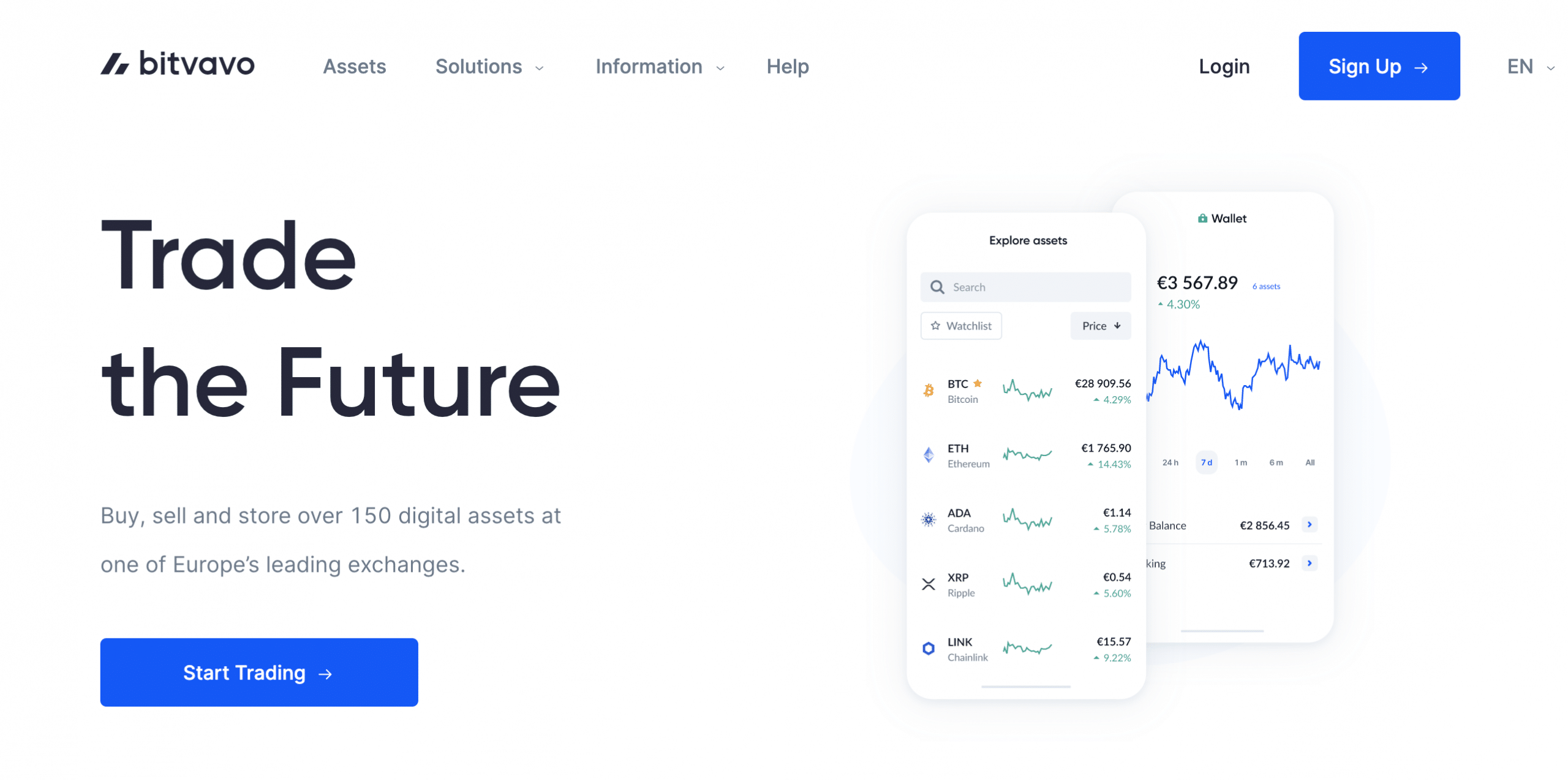 Bitvavo is the largest and perhaps, the most competitively priced cryptocurrency exchange in the Netherlands. The platform was established with the aim to make digital assets accessible to everyone, especially for complete beginners.
If you are based in Europe, and looking for a way to buy or sell cryptocurrencies with ease, then our Bitvavo review will be of interest to you. Here we have compiled an analysis of the platform, by considering its supported markets, security measures, fees, customer service, and more.
Recommended Broker – eToro
What is Bitvavo?
Based in Amsterdam, Netherlands, Bitvavo is a fintech company that was launched in 2018. Although this platform is a relatively recent addition to the cryptocurrency arena, our Bitvavo review found that the team behind it has an ambitious goal – which is to bridge that gap between the traditional financial setup and the blockchain ecosystem.
The result is a user-friendly cryptocurrency exchange that allows investors of all shapes and sizes to easily and securely engage with the new digital economy. In just three years, Bitvavo has built a user base of over one million users in Europe and supports 150 plus tokens.
Bitvavo not only attends to the needs of beginners but also caters to advanced traders using its dedicated exchange. The platform has different trading orders and charting tools integrated into the website. Our Bitvavo review liked the fact that you can also easily deposit and withdraw your money using a variety of payment methods, and make direct purchases of cryptocurrencies using EUR.
In addition, there is also the option to stake your digital assets and earn rewards, instead of leaving them idle in your wallet. And most importantly, the fees on this platform are highly competitive, which is one of the reasons why Bitvavo continues to be one of the most popular cryptocurrency exchanges in Europe.
Bitvavo Pros and Cons
Before we get into the core details of Bitvavo and its main features, we thought it best to offer you a summary of the advantages and disadvantages of using this platform for your cryptocurrency purchases.
Pros
150+ cryptocurrencies supported
Direct purchase with EUR
Low fees
Supports multiple payment methods
Cons
No regulation
Only crypto-to-EUR markets
No passive investment tools
Unable to invest in non-crypto assets – like stocks
Cryptoassets are highly volatile unregulated investment products. No EU investor protection. 67% of retail investor accounts lose money when trading CFDs with this provider.
Bitvavo Supported Markets
As we mentioned earlier in this Bitvavo review, the provider was built to provide users with an easy and hassle-free way to invest in cryptocurrencies. To facilitate this, the platform has built an exchange, and an advanced trading interface, which investors can switch between based on their requirements.
Buy and Sell Cryptocurrencies
For those who are looking to invest in digital assets, Bitvavo provides you with a beginner-friendly platform. Currently, there are 156 cryptocurrencies supported and you will be able to buy or sell your chosen token within minutes. This includes popular projects such as Bitcoin, Ethereum, Ripple, and several DeFi tokens like Enjin, Polkadot, Cardano, Polygon, and more.
To start making purchases, you will have to complete the identity verification process. Once that's done, the next step is to make a deposit to the platform in EUR. Bitvavo supports a few different modes of payment that processes transfers instantly – such as Bancontact, and Giropay. However, this might incur additional charges depending on the method you choose.
As you can see from the picture above, the interface for buying and selling digital assets is quite clean. It is user-friendly to the point that even those who have never purchased cryptocurrencies in the past will be able to complete the process in minutes.
Furthermore, you will also be able to sell your digital assets via this feature. To do that, you can select your chosen cryptocurrency, and make a deposit into your Bitvavo wallet. In doing so, the transfer will be completed instantly or in a couple of hours, depending on the coin. You can then sell the tokens in exchange for EUR on Bitvavo.
Bitvavo Hosted Wallets
If you are using Bitvavo to invest or trade cryptocurrencies, the platform also offers hosted wallet services where you can store your digital currencies. Our Bitvavo review found that these will automatically be available to you right after you sign up on the website.
According to Bitvavo, there are a few advantages to using its hosted wallet:
There is no need for you to transfer your digital currencies to an external wallet.
It is easier for you to send and receive cryptocurrencies when engaging in trading on the platform
These wallets are issued by Stichting Bitvavo Payments, which is an entity different from Bitvavo. As such, your digital assets will not be affected by any security breaches that occur to this platform. In addition, the majority of your cryptocurrencies are stored in cold wallets and are protected by multi-signature access.
All that being said, even though Bitvavo claims that these wallets are secure, the platform is still unregulated. As such, you can never be 100% sure about the safety of your assets.
If you do not want to use an external storage solution for your cryptocurrencies, then you can consider a regulated broker like eToro. This platform also comes with an in-built wallet service, but since the site is licensed by respectable bodies (like the SEC), your digital assets will be well-protected.
Bitvavo Staking
Bitvavo also allows you to access staking services, to earn rewards on the idle account balances you maintain in your wallet. You can get started simply by opting in while being able to maintain total control of your digital assets. In other words, you will be able to deposit or withdraw cryptocurrencies at any time – without having to complete any lock-in period.
The platform supports both on-chain and off-chain staking for this purpose. Depending on your chosen digital assets, you will also receive the right to actively participate in transaction validation of the respective network.
Currently, Bitvavo offers staking services for the following cryptocurrencies:
ARK (ARK)
Bitcoin (BTC)
Bitcoin Cash (BCH)
Cardano (ADA)
Chainlink (LINK)
Dai (DAI)
Ethereum (ETH)
Litecoin (LTC)
ICON (ICX)
NEO (NEO)
Ontology (ONT)
Tether (USDT)
Tezos (XTZ)
Tron (TRX)
USD Coin (USDC)
VeChain (VET)
Waves (WAVES)
The staking rewards are calculated and readjusted based on several factors. For instance, if you take the case of Tezos, the interest you earn is determined by the total amount staked across the network. You will be able to see what returns you are making directly from your account.
Another advantage is that you will also be able to trade digital assets while participating in the Bitvavop staking program. Our Bitvavo review can confirm that you can opt-out of the service any time you want. The maximum yield offered is 7.5% on staked cryptocurrencies and will be distributed to you on a weekly basis.
Bitvavo Trading Platform
If you want to trade cryptocurrencies instead of investing in them, Bitvavo offers you euro markets for all its supported digital assets. Meaning, you will be able to access pairs such as BTC/EUR, LTC/EUR, MKR/EUR, and others.
The difference is that the trading interface is a bit more sophisticated. Whether you are buying or selling your chosen cryptocurrency, you will be able to choose between making a 'limit' or 'market' order. There is also the option to use 'stop-limit' to close your position at specific levels.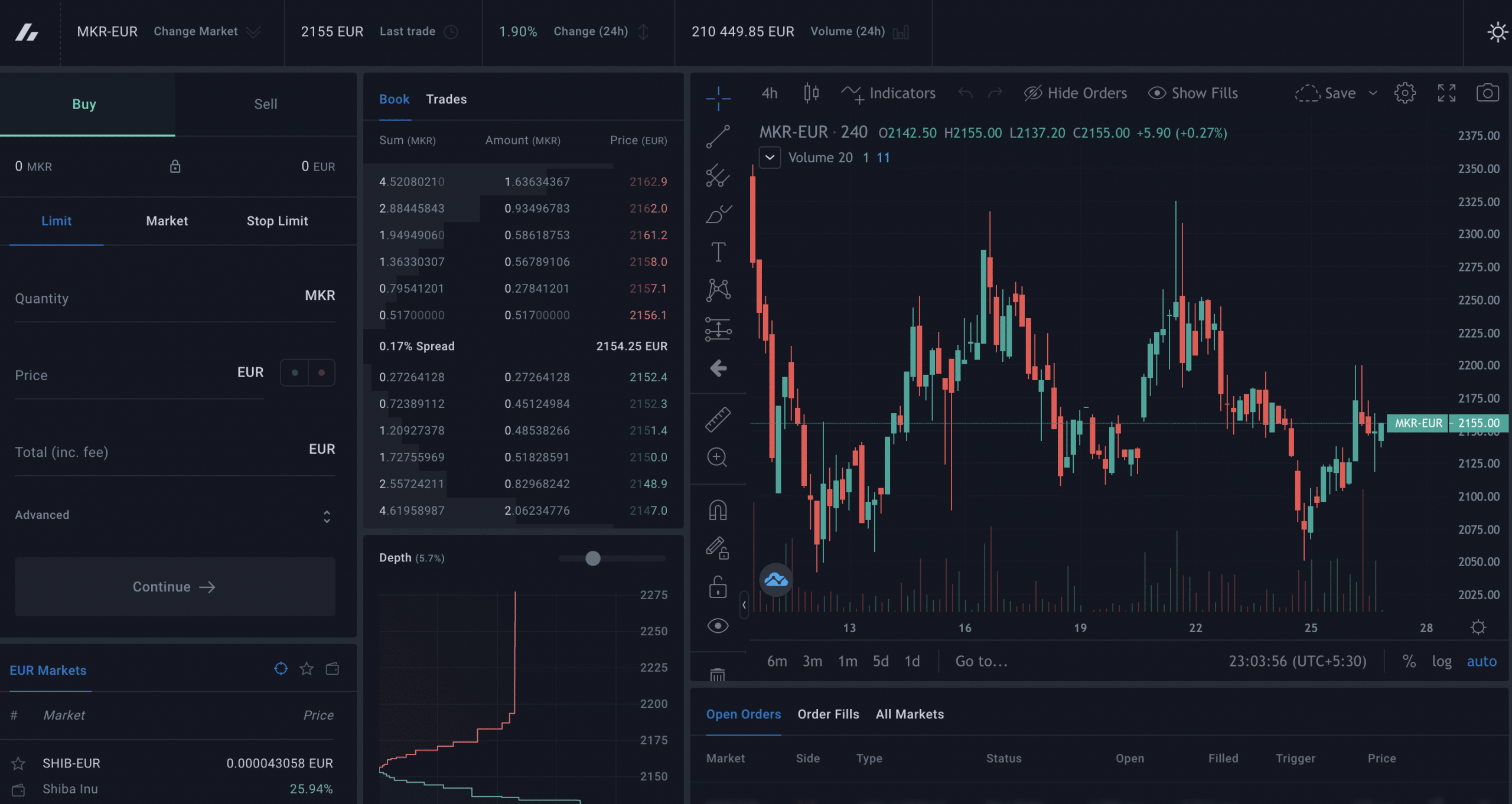 In addition, you will also have access to tons of charting tools and indicators to learn more about the markets and price movements before making a trading decision.
Bitvavo Supported Countries
As we mentioned earlier in this Bitvavo review, the provider offers a cryptocurrency exchange that caters only to European residents. More specifically, the platform currently offers its services to the following countries:
Austria
Belgium
Bulgaria
Czech Republic
Denmark
Estonia
Finland
France
Hungary
Ireland
Italy
Latvia
Lithuania
Luxembourg
Malta
Netherlands
Norway
Poland
Portugal
Romania
Slovakia
Slovenia
Spain
Sweden
Switzerland
In order to sign up as a Bitvavo user, you need to be aged at least 18 years old, and a resident of the European Economic Area.
Bitvavo Payments
As a European exchange, the only fiat currency supported on Bitvavo is EUR. This is not surprising, given the fact that you are only able to trade crypto-to-EUR pairs on this platform.
To facilitate deposits and withdrawals, Bitvavo integrates with the following payment methods:
Bancontact
SEPA Bank Transfer
SEPA Instant
EPS
GiroPay
iDeal
Sofort
MyBank
Among these, all methods except SEPA Bank can process your transfers immediately. You can also choose to deposit cryptocurrencies into your Bitvavo wallet to start trading on the platform.
Moreover, the payment methods available to you will depend on your location. For example, those in France can deposit and withdraw money via Sofort, SEPA, and MyBank.
Bitvavo Minimum and Maximum Deposit
There is no minimum deposit requirement for using Bitvavo. However, there is a maximum amount you can move to the platform via a single transfer – depending on the payment method you use.
The limit is set at €10,000 for all modes of payment except SEPA transfer, which is at €1,000,000, and best used for large purchases of cryptocurrencies.
You will also need to remember that there are some trading requirements that you need to meet when using Bitvavo.
For fiat currency, this is set at €5, and for cryptocurrencies, the minimum amount needed changes based on your chosen digital asset.
For instance, if you are trading BTC/EUR – the minimum required amount for 'base currency' (Bitcoin) is 0.0001 BTC and for the 'quote currency' (euros)  is €5.
Bitvavo KYC
Although Bitvavo isn't regulated as an online cryptocurrency broker, it still complies with relevant anti-money laundering laws. This means that the platform is required to verify your identity when you sign up. Not to worry, this process only takes five minutes.
There are three user levels on Bitvavo depending on your verification level:
Starter – This level only requires you to provide your email address while signing up. However, all you can do is access the platform.
Intermediate – Being an Intermediate user will require you to submit some personal details, along with an identity card. In addition to this, you will also have to go through a bank verification and upload a selfie. Achieving this level will give you access to all features of Bivavo, but there will be withdrawal limits enforced on your account.
Pro – As a Pro user, you will need to comply with all the requirements of the Intermediate level. Additionally, you will also need to provide proof of funds. However, this means that you can trade and withdraw funds with virtually no limit on your account.
Although it is notable that Bitvavo complies with anti-money laundering regulations, the fact that it is not regulated by a reputable financial body should be a major red flag. We explore this issue in more detail further down in this Bitvavo review.
Bitvavo Fees
If you are looking for a trustworthy cryptocurrency exchange, then you want the platform to be as transparent as possible when it comes to the costs involved. And one of the main reasons why Bitvavo is popular in Europe is due to its low fees.
Deposit and Withdrawal Fees
As we covered earlier, Bitvavo supports many payment methods. And the fees for each are as follows:
Bancontact – 0%
SEPA Bank Transfer – 0%
EPS – 1.75%
GiroPay – 1.75%
iDeal – 0%
MyBank – 1.50%
Sofort – 2.25%
Cryptocurrency deposits and withdrawals also come with additional costs that vary depending on the specific digital asset you are transferring. The main gap here with supported payment methods on the Bitvavo platform is that there is no acceptance for debit/credit cards or e-wallets like Paypal.
Trading Fees
Whether you are buying or selling cryptocurrencies, Bitvavo calculates fees based on your trading volume for the previous 30 days.
If you are a market maker who adds more liquidity to the platform, then you pay a fee between 0.03% to 0.15%.
On the other hand, if you are a market taker who accepts the liquidy already available on Bitvavo, then you will be charged between 0.04% to 0.25%.
In other words, the highest trading fee you will encounter on Bitvavo is 0.25%. Although this is not as competitive as eToro, the charges are still better than many other exchanges in this space.
However, while conducting this Bitvavo review, we also noticed that the platform charges you a 'spread'- which is the markup between the buy and sell price of your chosen digital asset. As such, this can be dynamic, and you will know how much you are paying only when you have entered the parameters of the trade.
Bitvavo Demo Account
Unfortunately, Bitvavo does not offer a demo version of its Instant Buy tool. However, you can see how the trading platform works, but you will not be able to try out the exchange without depositing funds.
If this feature is a prerequisite for you, then you might want to consider eToro – which gives you access to a practice trading account that comes funded with $100,000 in paper money.
On eToro, not only will you be able to try out the different tools on offer, but also test your strategies before you start placing trades in the real market.
Bitvavo App
In the current digital world, it would be unusual for an exchange to not have its own native app. Bitvavo also follows suit, by offering its mobile version for users to buy and sell cryptocurrencies easily on the go.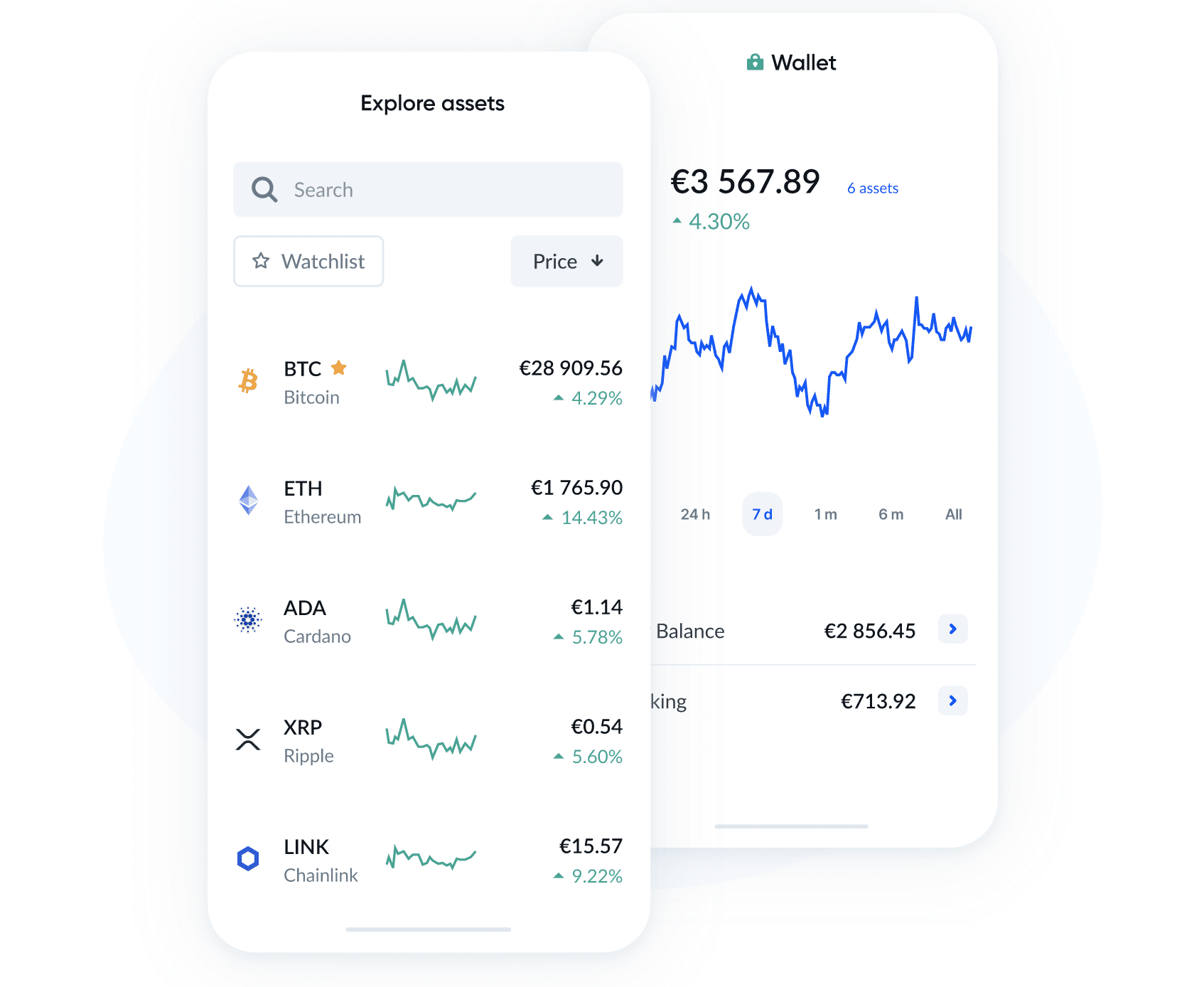 The application follows the same style as the Bitvavo web version, by providing you with a clean and simple interface that is easy to navigate and handle. However, the advanced options available to you via the exchange are not present in the mobile app.
Is Bitvavo Safe?
As of November 2020, Bitvavo is registered as a provider of digital asset services by the Dutch Central Bank. However, this only means that the platform complies with the Money Laundering and Terrorist Financing (Prevention) Act.
In other words, the financial requirements of this company are not monitored in any way, nor will this registration provide you with any specific consumer protection. And as such, if you want to trade cryptocurrencies in a regulated environment, it would be in your best interest to choose a licensed broker like eToro.
Bitvavo Security
Although not regulated, Bitvavo has implemented several security measures to ensure that you are trading your digital assets in a safe environment.
This includes:
2FA and anti-phishing code for protecting your account
The vast majority of your cryptocurrencies securely kept in offline cold wallets
Large transfers are approved only after manual verification
Critical consumer data saved in bank-grade vaults with continuous monitoring
Two leading custodial services insured up to $250 million
Regular security audits
These security features have protected users and their accounts from any hacks to date. However, it is imminent to still stress the fact the platform is not regulated, and if you are to encounter any losses, you will likely have nowhere to turn.
Bitvavo Customer Support
The only way for you to receive customer support on Bitvavo is via email. Other than that, the platform has only provided its registered address for transparency.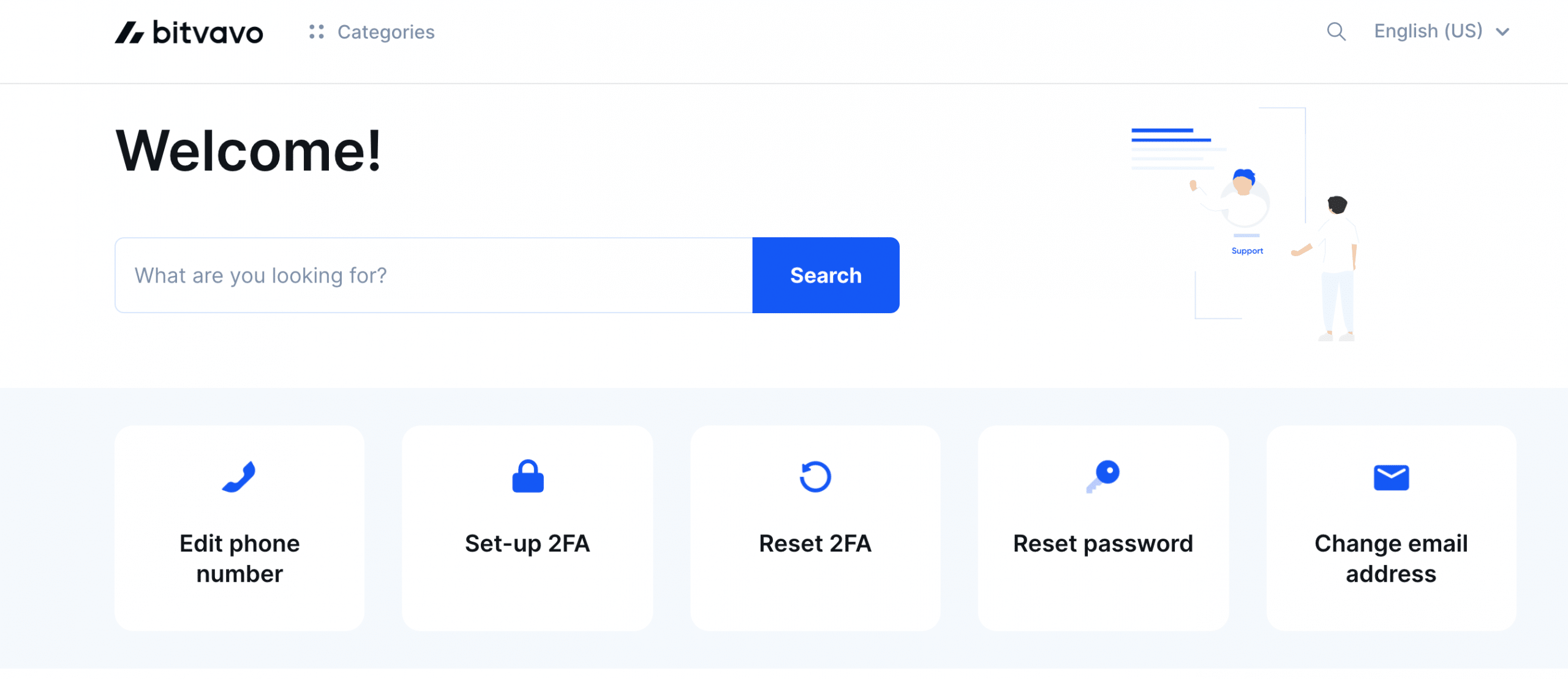 However, our Bitvavo review found that the platform has designed a catalog of articles and guides that can provide you with more clarity on how to use the exchange and its various features. That said, the lack of a direct phone-in or live chat option suggests that there is no means to get real-time support.
eToro vs Bitvavo – Comparison
After reading our Bitvavo review, you know by now where this exchange succeeds and what it lacks. But before making a final decision about which cryptocurrency exchange to use, you might want to consider what other options you have.
To help you with that, here we are comparing Bitvavo with eToro – a regulated online cryptocurrency broker that offers its services to over 20 million verified traders.
Safety and Regulation
Bitvavo and eToro are two online trading platforms with very distinct approaches. The biggest difference between them is that the latter is heavily regulated.
In fact, eToro is one of the best online brokers you can choose in terms of regulation.
This platform holds licenses from the FCA, CySEC, and ASIC, not to mention the SEC, alongside registration with FINRA.
In other words, you will be able to buy and sell cryptocurrencies in a much safer environment compared to what Bitvavo offers.
Supported Markets
Another drawback of Bitvavo is that you will only be able to trade cryptocurrencies against EUR. If you are based outside the EEA, you will not be able to access the platform or use other fiat currencies to fund your account.

On eToro, you will find support for heaps of fiat-to-crypto pairs, including USD, JPY, CAD, and more. You will also be able to trade digital assets against other tokens, and stablecoins such as USDT. Additionally, this broker also gives you access to stocks, commodities, indices, forex, and more.
User-Friendliness
When it comes to user-friendliness, both Bitvavo and eToro are excellent choices. The exchange and the broker make it easy for beginners and advanced traders to make the most of the online crypto arena.
You will also have access to technical indicators and multiple order types to refine your trading strategies. The only difference is that eToro has many more supported markets under its umbrella. 
Fees and Payments 
While Bitvavo is competent in its fee structure, it is not as good as eToro. You will still have to pay additional charges when buying or selling cryptocurrencies on this platform.
On eToro, however, cryptocurrency traders only have to worry about the spread – which starts at 0.75%. Moreover, the platform also allows you to pay for your investments via debit/credit cards and PayPal, which are not supported by Bitvavo.
Passive Investment Tools
eToro also gives you the option to engage in passive trading by investing in another trader. This means that any position opened by your chosen expert will be mirrored in your account, proportionately. You will not have to do any research or place any orders. Instead, you will passively benefitfrom the strategies of a professional.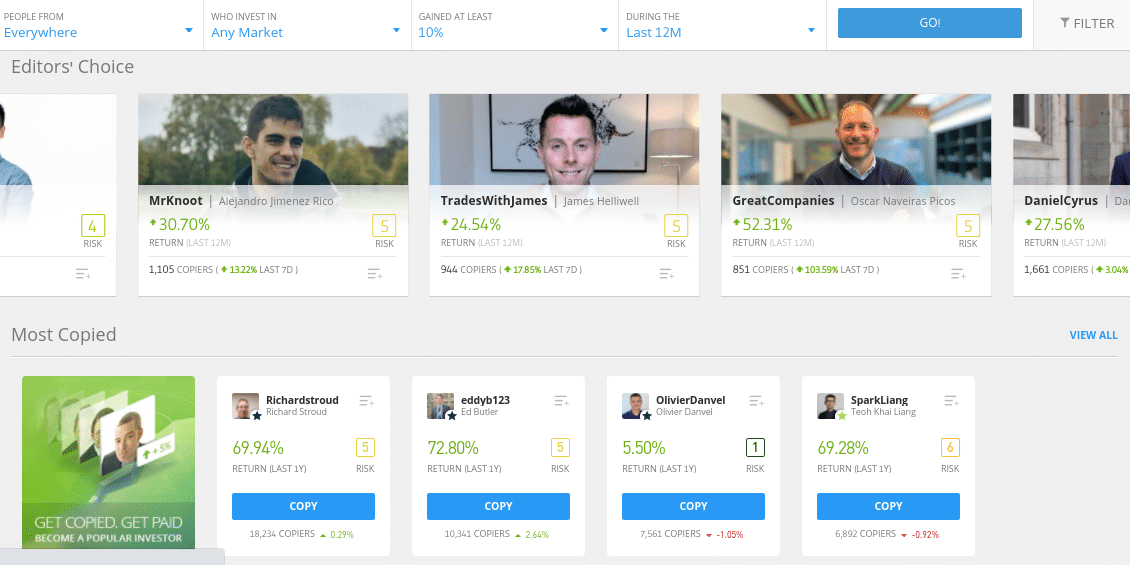 To invest passively, the eToro management team also offers a CryptoPortfolio service. This consists of a basket of digital currencies at various weights, subsequently giving you exposure to the crypto scene in a diversified manner. In comparison, Bitvavo does not offer you anything in the way of passive investment tools.
To sum up, if you are based outside Europe, or want to gain access to more cryptocurrency trading markets, eToro is the best option altogether. It is not only user-friendly but supports multiple payment methods and low fees.
Bitvavo Review – Conclusion
With competitive commissions, over 150 digital assets, and availability in 27 countries, Bitvavo is a potential option for EU residents wanting a user-friendly cryptocurrency platform. You can sign up on the exchange and get verified in a few minutes, and start trading right away.
However, Bitvavo is of use to you only if you are living in Europe. Moreover, you do not have access to USD-based markets and will not be able to trade one digital asset against another. If these are features that you are looking for in a cryptocurrency broker, it will be best to choose a provider like eToro.
This heavily regulated platform supports thousands of different assets, including dozens of cryptocurrencies, and allows you to trade them on a spread-only basis. Plus, eToro supports debit/credit card and Paypal payments that are processed instantly.
eToro – Best Broker to Trade Crypto
FAQ
Is Bitvavo available in the US?
What fees does Bitvavo charge?
How do you contact Bitvavo?
What is the Bitvavo minimum deposit?
This news is republished from another source. You can check the original article here.