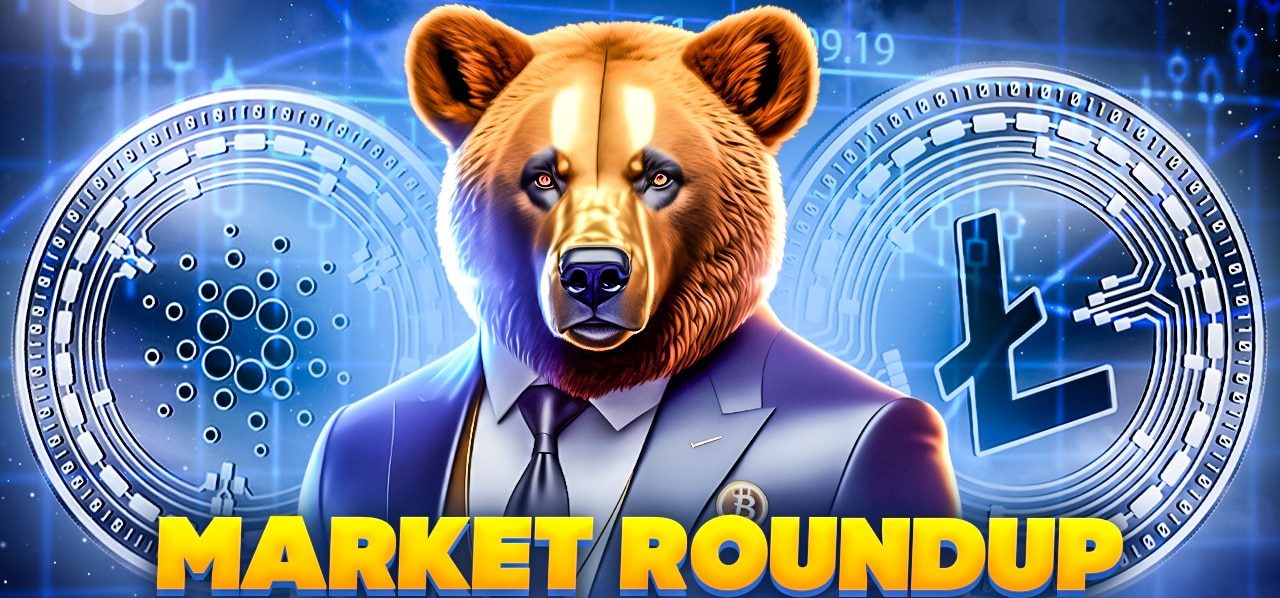 , often dubbed the 'digital gold,' is currently on a rollercoaster ride.

Having recently climbed beyond the $34,000 threshold, BTC's ascendancy led to the liquidation of over $220 million in short positions in a mere 24-hour span, a testament to its volatile nature.

This surge isn't exclusive to Bitcoin alone; the entire cryptoverse felt ripples, with liquidations across the board exceeding $400 million.

Amidst this tumult, Bitcoin stands tall, trading at a commendable $34,750.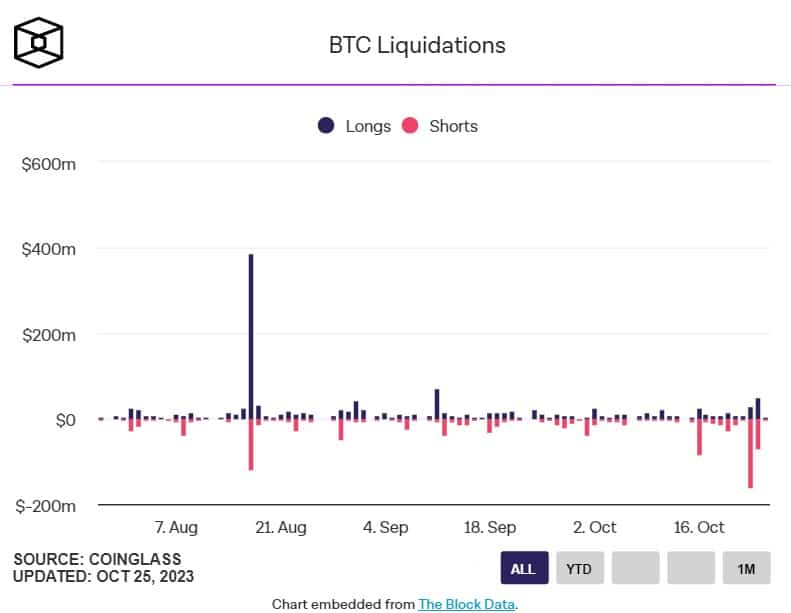 Bitcoin's value has risen by over 13% in the last day, with the global cryptocurrency market cap seeing a 9.8% increase.

André Dragosch from Deutsche Digital Assets attributes the price surge to a combination of a short squeeze and significant on-chain developments, including increased transfer volumes and large investor accumulation.

However, Dragosch also warns of a potential price correction in the near term.

A combination of institutional interest, potential ETF approvals, and global economic scenarios paints a complex picture of BTC's trajectory. Let's dive deeper.
Bitcoin Price Prediction

Examining Bitcoin's 4-hour chart offers a detailed insight into its recent price movements. The established pivot point, an essential tool for traders, remains steady at $32,462.

Clearly defined resistance levels have been identified, with the nearest one set at $34,501.

Should Bitcoin's upward trajectory continue, it's likely to encounter the next resistances at $36,507 and subsequently at $38,579.

Conversely, if the market turns bearish, immediate support is available at $31,212, with further support levels at $29,172 and a deeper one at $27,956.

Reviewing the technical metrics, the Relative Strength Index (RSI) is notably high at 78.

📊 #Bitcoin Analysis Update:
– BTC's 4-hour chart shows bullish signs.
– Price above 50-day EMA ($30,673) hints at short-term bullishness.
– Key level to watch: $34,700.
– Outlook: BTC could test $36,500 resistance if the bullish sentiment prevail.
🚀📈 #CryptoAnalysis #BTCUpdate pic.twitter.com/JeQQ3OQ8kQ

— Arslan B. (@forex_arslan) October 26, 2023
Such a value, exceeding 70, typically suggests the market is in overbought territory.
This could be a precursor to a market adjustment, yet it also underscores the prevailing positive momentum around Bitcoin.
The 50-day Exponential Moving Average (EMA), often relied upon by traders, is marked at $30,673.
Bitcoin's current price above this EMA indicates a positive short-term trend.
This positioning implies that there has been a sustained buying interest recently.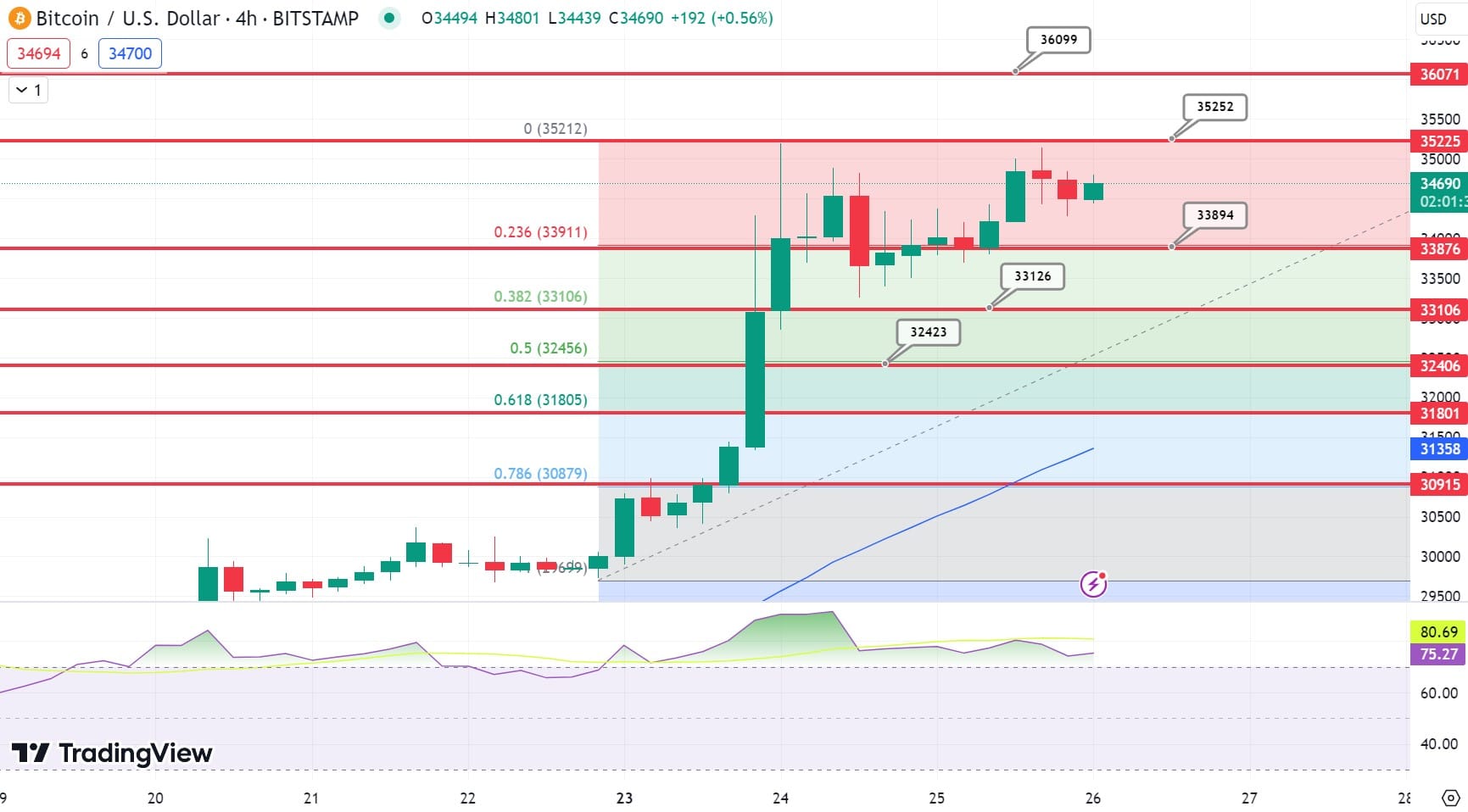 From a technical analysis standpoint, a compelling pattern emerges.
The 'Three White Soldiers' evident on the 4-hour chart is a bullish indicator, potentially hinting at a shift from the prior downtrend.
This positive sentiment is further solidified with Bitcoin surpassing the Triple top barrier at $31,655.
However, at present, Bitcoin is wrestling with the $34,705 threshold, denoting the 141.4% Fibonacci extension level.
Crossing this level could potentially stimulate further purchasing interest. The 50 EMA also supports this bullish view.
To Conclude

Bitcoin's current trajectory leans towards bullishness. Nonetheless, traders should be watchful of the $34,700 benchmark.

This level is pivotal; dropping below may attract sellers, while surpassing it could reinforce the upward momentum.

Given the prevailing positive sentiment, Bitcoin might challenge the $36,500 resistance upon a breakout of $34,700 resistance in the upcoming days.
Top 15 Cryptocurrencies to Watch in 2023

Stay up-to-date with the world of digital assets by exploring our handpicked collection of the best 15 alternative cryptocurrencies and ICO projects to keep an eye on in 2023.

Our list has been curated by professionals from Industry Talk and Cryptonews, ensuring expert advice and critical insights for your cryptocurrency investments.

Take advantage of this opportunity to discover the potential of these digital assets and keep yourself informed.
Find The Best Price to Buy/Sell Cryptocurrency

Disclaimer: Cryptocurrency projects endorsed in this article are not the financial advice of the publishing author or publication – cryptocurrencies are highly volatile investments with considerable risk, always do your own research.


This news is republished from another source. You can check the original article here.