In light of recent data showcasing a remarkable surge in US nonfarm payrolls, the cryptocurrency realm, particularly Bitcoin (BTC), seems to be set on a trajectory of its own. 
The employment figures for September 2023 have come in at a stellar 336K, easily surpassing the revised August count of 227K and leaving market predictions of 170K in the dust. 
This substantial increase, the most significant in eight months, exceeds the average 70K-100K monthly requirement to align with the growth of the working-age populace. 
Such robust data suggests a labour market that's demonstrating resilience, even amidst the Federal Reserve's ongoing tightening efforts.
Sectors like leisure and hospitality, government, and health care made significant gains. 
Conversely, mining, construction, and manufacturing industries displayed a static employment trend. 
As Bitcoin bulls fixate on the $30,000 resistance level, one can't help but wonder: is there a synchronicity between the strengthening labour market and a potential BTC comeback?
Bitcoin Price 
On October 7, Bitcoin's (BTC/USD) technical outlook revealed some interesting movements. The current price of Bitcoin stands at $28,000, having experienced a near 2% increase in the last 24 hours. 
With a 24-hour trading volume of approximately $12.63 billion, Bitcoin maintains its top position at #1 on CoinMarketCap. 
The cryptocurrency's live market cap is around $546.22 billion, with a circulating supply nearing 19.51 million BTC out of the maximum supply of 21 million BTC.
Bitcoin Price Prediction
Looking closer at its price action on a 4-hour time frame, the pivot point is noted at $27,878. Bitcoin price faces immediate resistance at $28,565 and further resistance at $29,261. 
On the downside, the asset finds its immediate support at $27,275, with subsequent supports at $26,790 and $26,435. 
The Relative Strength Index (RSI) indicates a slightly bullish sentiment with a value of 63. This is above the midpoint of 50 but hasn't yet reached the overbought territory of 70. 
In addition, Bitcoin's current price level surpasses its 50-day Exponential Moving Average (EMA) of $27,450, further confirming the prevailing short-term bullish trend.
The 4-hour chart showcases an upward channel pattern, suggesting a strong buying interest. The 50 EMA agrees, driving additional buying sentiments. This combination hints at a possible continuation of bullish momentum for the cryptocurrency.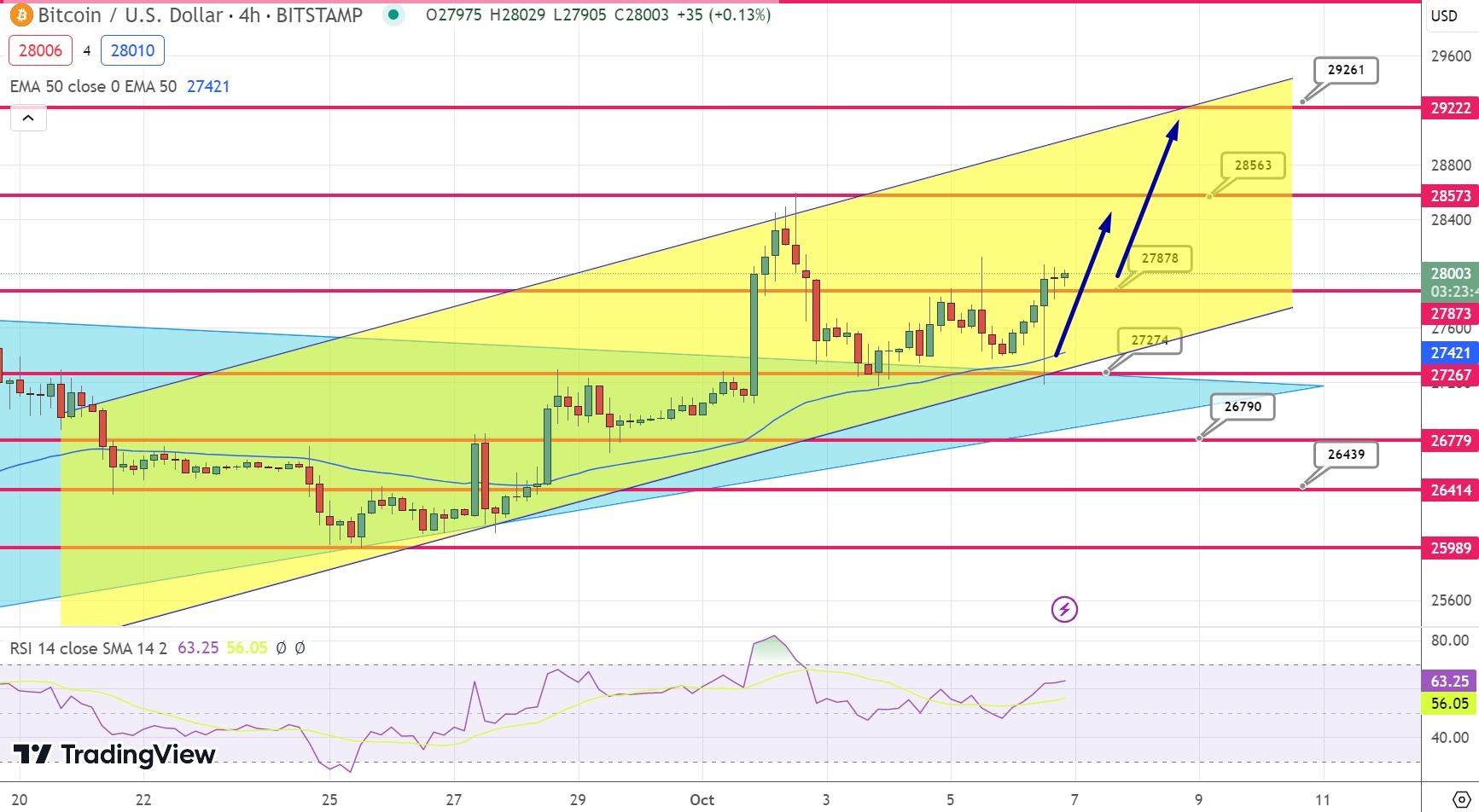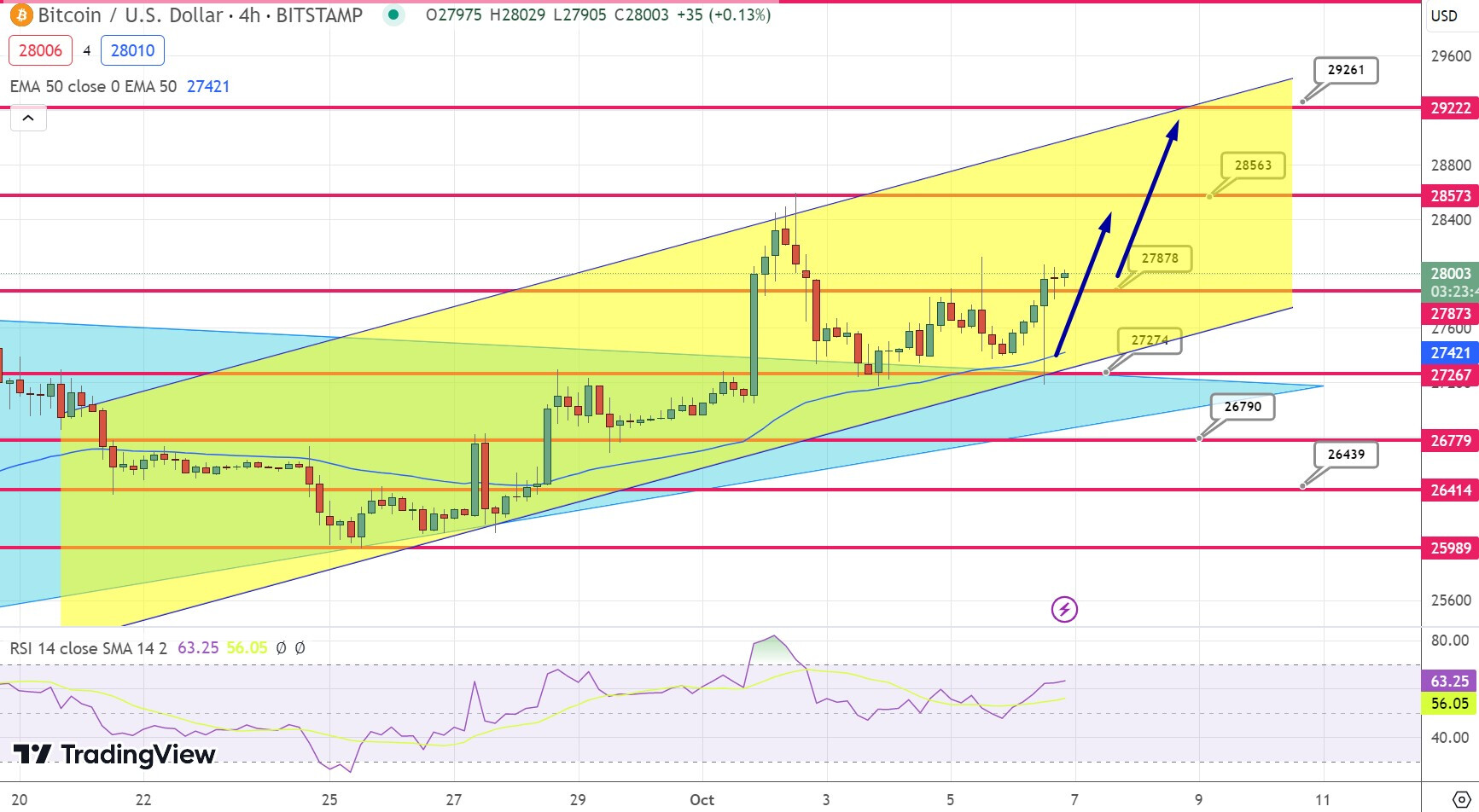 As of now, no significant fundamental news pieces are impacting Bitcoin's price. In conclusion, the trend for Bitcoin leans bullish, particularly if it sustains above the critical support of $27,275. 
However, a dip below this level might usher in bearish sentiments. It's recommended that traders and investors to monitor this key support level closely and strategize accordingly.
Top 15 Cryptocurrencies to Watch in 2023
In 2023, you can stay updated on the world of digital assets with our carefully selected collection of the top 15 alternative cryptocurrencies and ICO projects. 
Our list is created by experts from Industry Talk and Cryptonews, who provide professional advice and valuable insights for your cryptocurrency investment decisions. 
Don't miss out on this chance to explore the possibilities of these digital assets and stay informed.
Find The Best Price to Buy/Sell Cryptocurrency


Disclaimer: Cryptocurrency projects endorsed in this article are not the financial advice of the publishing author or publication – cryptocurrencies are highly volatile investments with considerable risk, always do your own research.


This news is republished from another source. You can check the original article here.