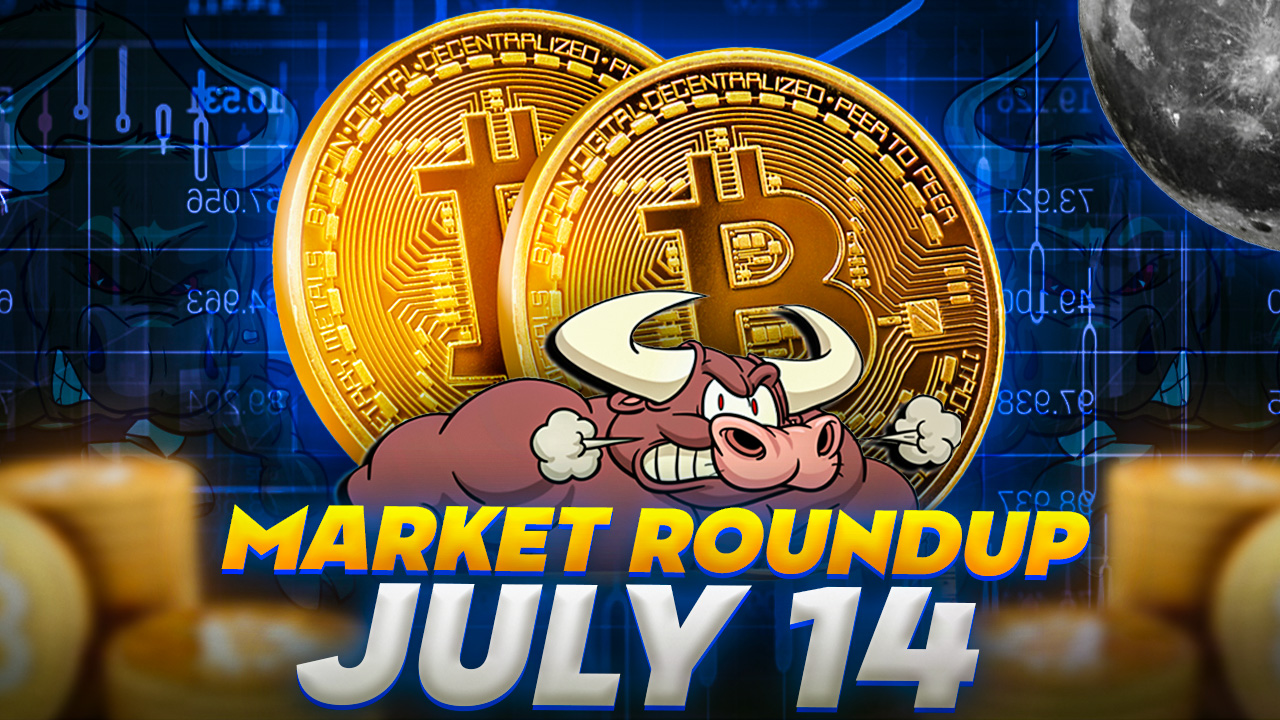 Bitcoin's price has surged significantly, propelled by a massive influx of $25 billion, breaking through the resistance level at $31,000.
Europe has emerged as a frontrunner in the race to introduce a spot Bitcoin exchange-traded fund (ETF), while the United States grapples with concerns raised by the Securities and Exchange Commission (SEC).
This development comes amidst a surge in consumer sentiment, reaching its highest level in almost two years in July, as inflationary pressures eased across various sectors.
Whereas, the preliminary data from the University of Michigan's consumer sentiment index reveals a reading of 72.6, surpassing expectations of 65.5 and June's figure of 64.4. 
More robust figures typically negatively impact Bitcoin prices, which has led to speculation about the right time to buy Bitcoin.
Europe Leads the Spot Bitcoin ETF Race as US Grapples with SEC Concerns
Investor optimism surrounding the approval of a Bitcoin Spot Exchange-Traded Fund (ETF) by the Securities and Exchange Commission (SEC) has played a significant role in the recent surge of Bitcoin's value (BTC).
In Europe, implementing the Markets in Crypto-Assets Regulation (MiCA) has bolstered investor confidence by providing a regulatory framework that brings stability and credibility to the cryptocurrency market. This has attracted a larger number of investors to the market.
Europe recently achieved a major milestone by introducing its own spot Bitcoin ETF, making it accessible to over 31 million cryptocurrency users. This development has further fueled investor optimism and contributed to the upward trend in BTC's value.
Similarly, there has been a surge of interest in filing for a spot Bitcoin ETF in the United States. Prominent companies like BlackRock, Fidelity, and others have shown strong enthusiasm by submitting their applications. 
Despite facing initial rejections from the SEC, these companies have persevered and resubmitted revised or refilled applications, hoping for eventual approval.
The anticipation of SEC approval has sparked investor optimism, resulting in a positive impact on the value of BTC. Investors are closely monitoring the progress of spot Bitcoin ETFs in both Europe and the United States. 
While Europe has taken a significant step forward with introducing its spot Bitcoin ETF, the situation in the United States remains uncertain due to approval challenges. 
However, the determination of companies to revise and resubmit their applications demonstrates their commitment to bringing ETFs to the market.
If the SEC grants approval, it would enhance accessibility and legitimacy for BTC investments, further bolstering investor confidence. 
The optimism triggered by the introduction of the Europe Bitcoin Spot ETF continued to support higher BTC value on Friday.
Bitcoin Price Prediction 
When examining the technical indicators of Bitcoin, it has faced challenges in surpassing the resistance level of $31,750. The presence of bearish candles closing below this level indicates a decline in bullish sentiment.
Furthermore, the Relative Strength Index (RSI) has entered the overbought territory, and the Moving Average Convergence Divergence (MACD) indicator shows notable upward momentum for Bitcoin.
With Bitcoin entering the overbought zone, several investors have chosen to capitalize on their profits, increasing sellers looking to establish short positions in Bitcoin.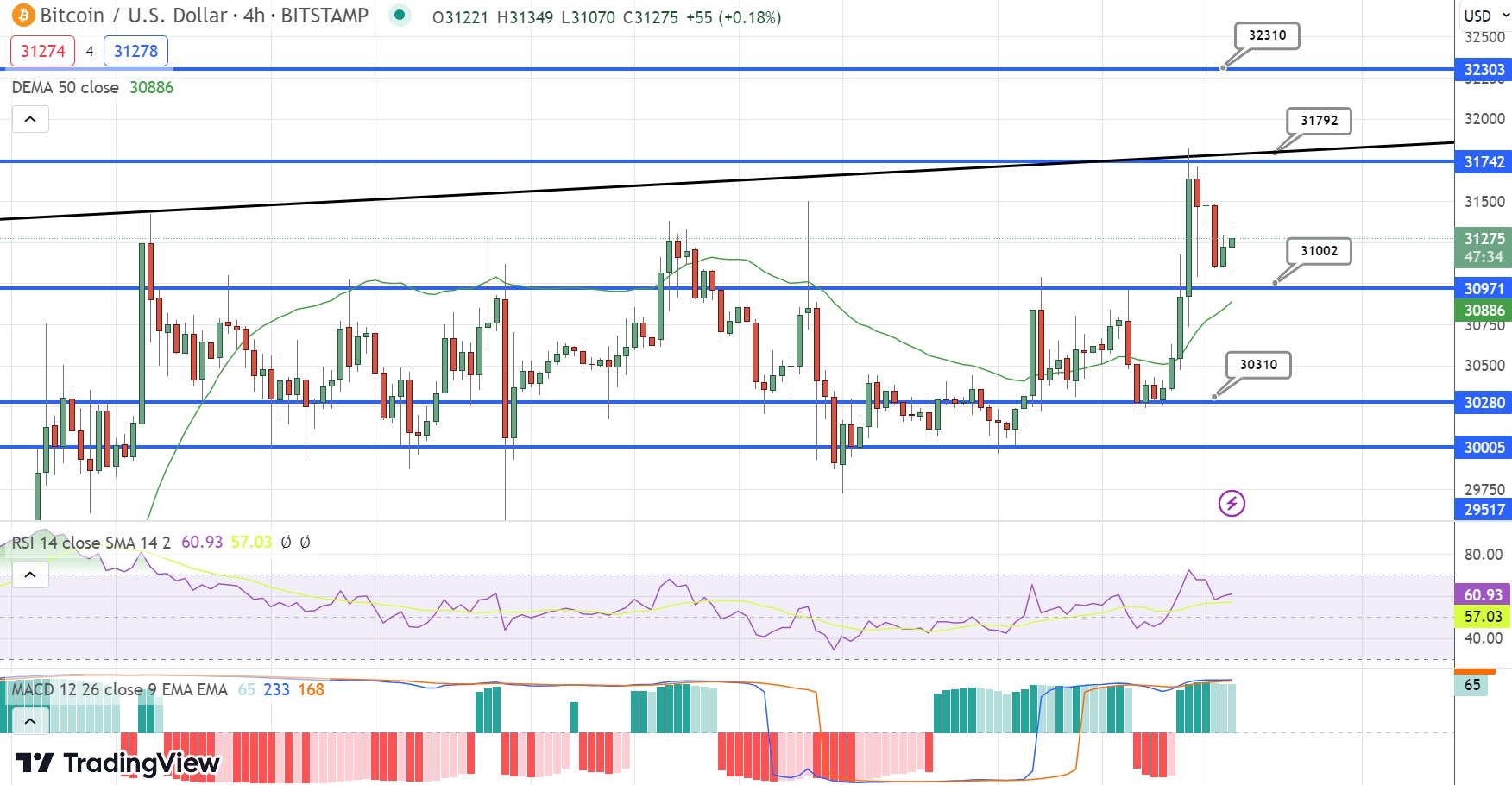 The current support level for Bitcoin is approximately $31,000. If this level remains intact, there is a possibility of a bullish recovery that could drive the price towards $31,750.
A successful breakthrough above this level could expose Bitcoin to the next target at $32,300.
However, if the price drops below the $31,000 level, it could lead to increased selling pressure, potentially pushing the price further down towards $30,600 or even $32,200.
Top 15 Cryptocurrencies to Watch in 2023
Stay informed about the latest initial coin offering (ICO) projects and alternative cryptocurrencies by regularly exploring our carefully selected collection of the top 15 digital assets to watch in 2023.
This thoughtfully curated list has been compiled by industry experts from Industry Talk and Cryptonews, ensuring that you receive professional recommendations and valuable insights.
Stay ahead of the game and discover the potential of these cryptocurrencies as you navigate the ever-changing world of digital assets.
Find The Best Price to Buy/Sell Cryptocurrency

Disclaimer: Cryptocurrency projects endorsed in this article are not the financial advice of the publishing author or publication – cryptocurrencies are highly volatile investments with considerable risk, always do your own research.


This news is republished from another source. You can check the original article here.