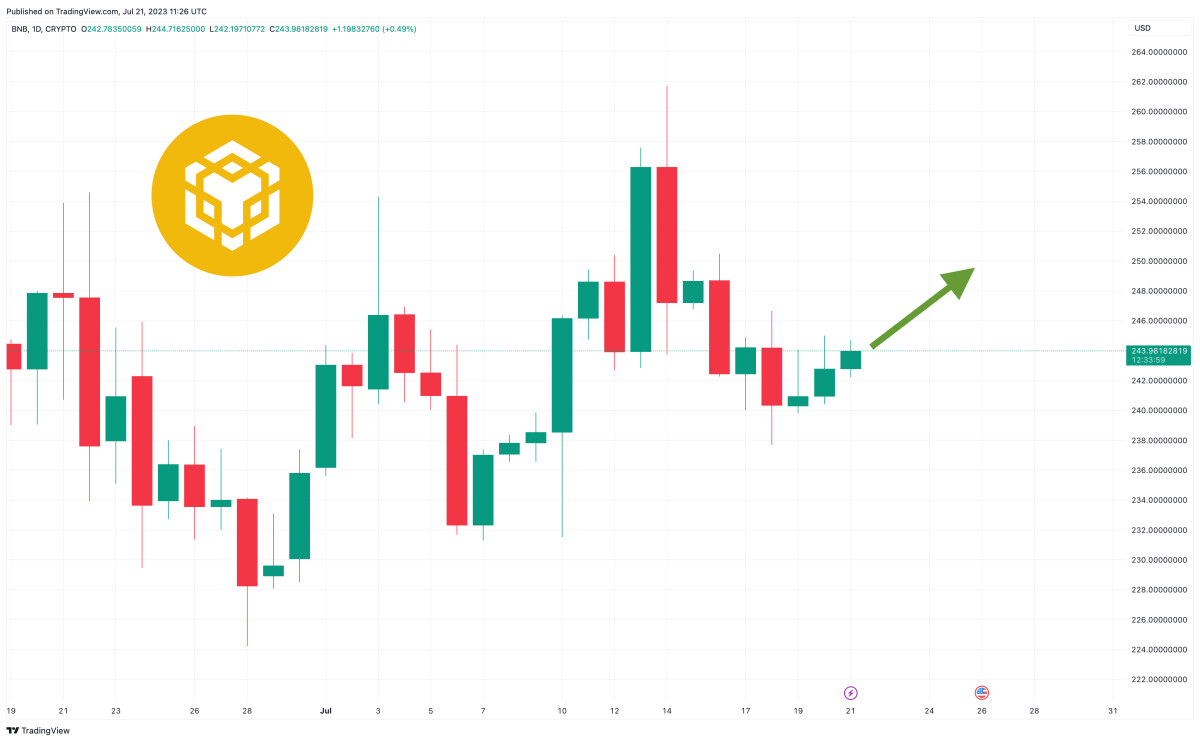 The price of Binance Coin (BNB) has remained flat in the past 24 hours, with its current level of $244 representing a 4% loss in the last seven days.
BNB is also down by 1.5% in the last 30 days and has actually declined by 1% since the beginning of the year, in contrast to most other major cryptocurrencies (e.g. Bitcoin is up by more than 80% since January).
And while BNB has been able to resist falling below the $240 support level, it's arguable that further falls are likely, given the problems Binance as an exchange and company has been experiencing in recent months.
Binance Coin Price Prediction as Bulls Hold $240 BNB Level – Time to Buy?
BNB may have struggled in the past week, but it now looks as though it could be close to mounting a comeback.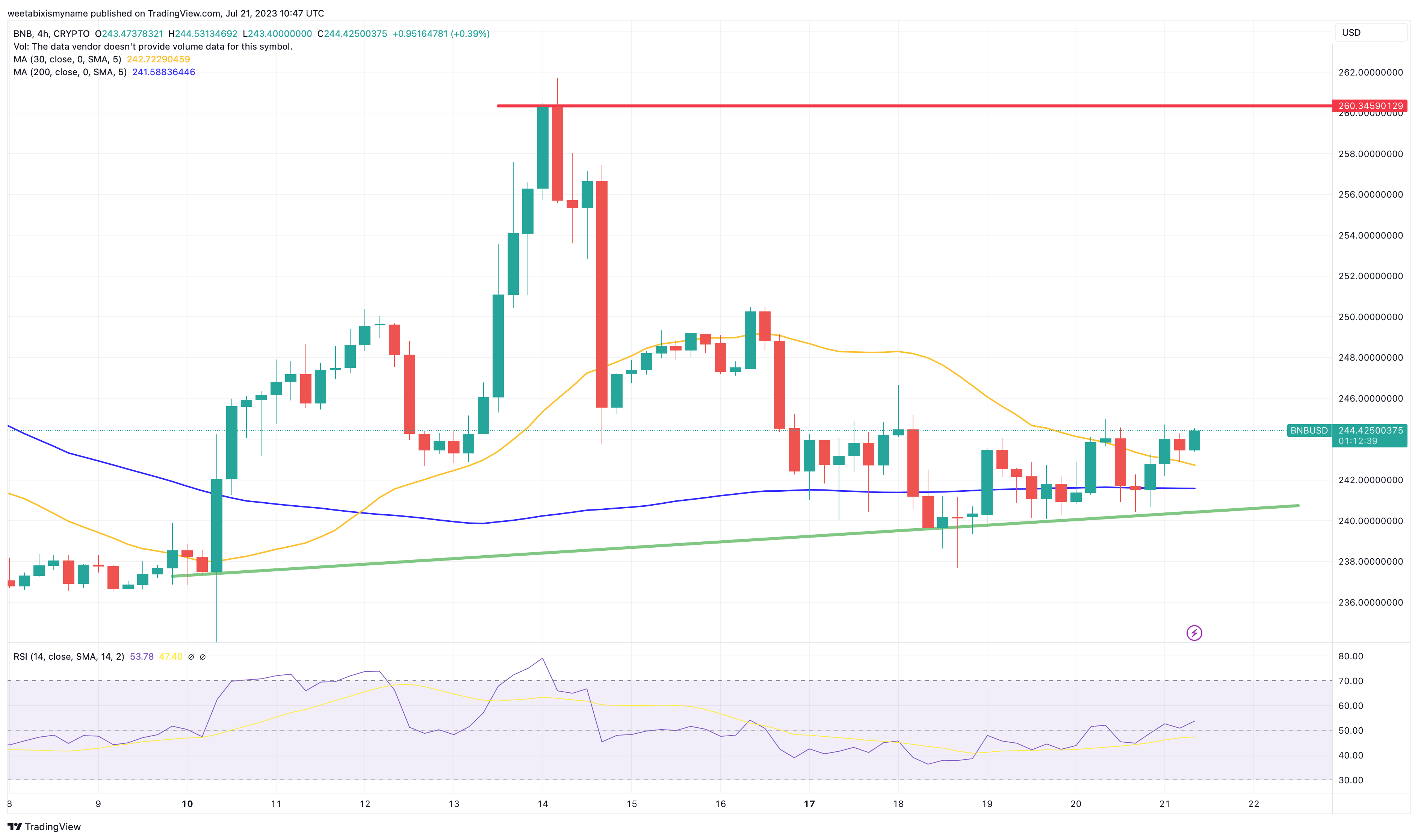 Its relative strength index (purple) has just risen above 50, having stood below 40 earlier in the week.
This signals some modest growth in momentum, yet BNB's 30-day moving average (yellow) still needs to fall below its 200-day average (blue) before the altcoin can be expected to see a rebound upwards.
One good piece of news, however, is that BNB's support level (green) has been holding up well in the past couple of weeks, suggesting that its price won't fall much lower before it recovers.
BNB could potentially return to $250 in the next couple of weeks, before possibly making it up to $260 in the next few months.
That's the short-term picture, yet in the medium- and long-term things don't look entirely optimistic for the altcoin.
This is because of the apparent difficulties Binance appears to be facing at the moment, with each passing week brining more news which appears to suggest that the exchange is struggling.
Most recently, it was reported that Binance had laid off more than 1,000 employees, with the company offering them two months' pay in the form of BNB.
At the same time, it's exiting markets and/or being denied licenses in various jurisdictions, while also facing legal actions in the US from both the SEC and the CFTC.
For this reason, now is not the best time to be investing in BNB, which may have to suffer several more losses before Binance can stabilize its situation.
Assuming that things get even worse for Binance before they get better, BNB could end up descending to $200 by the end of the year.
New Altcoins Hold More Promise
Because BNB may have a tough time ahead until Binance resolves its troubles, many traders and investors may be better advised to consider alternatives.
Fortunately, there's a healthy supply of new altcoins in the market that show plenty of potential, with several presale tokens being particularly promising.
One of the best of these is Wall Street Memes (WSM), a new ERC-20 token that has already raised more than $16.7 million in its presale.
WSM is a meme token that has arisen out of the online stocks movement that was responsible for the 2021 GameStop and AMC rallies.
It therefore already has its roots in a strong online community, with its Twitter account now having over 253,000 followers.
This following helps to account for why it has raised more than $16 million in only a couple of months, and it should also help the WSM token rally when it lists on exchanges in the next few weeks.
One big factor in WSM's ability to grow such a large community is the fact that 50% of its supply has been allocated to its presale, with another 30% going towards community rewards.
Such a decentralized supply provides its holders with a greater stake in the token, while also reducing the risk of a big dump or rug pull from a large holder.
New investors can join the WSM presale by going to the official Wall Street Memes website, with 1 WSM now available for $0.0322.
The presale will end with WSM being sold at $0.0337, a price which could end up looking markedly cheap once the token lists on exchanges.
Disclaimer: Crypto is a high-risk asset class. This article is provided for informational purposes and does not constitute investment advice. You could lose all of your capital.


This news is republished from another source. You can check the original article here.