There's been a noticeable divergence between Bitcoin and the stock market in recent months, which could presage an economic recession, according to Bloomberg strategist Mike McGlone.
He pointed out that after months of outperforming the Nasdaq 100 index, Bitcoin dropped 15% in the third quarter, while the Nasdaq went up by 2%.
In light of these events, what are the biggest crypto gainers today on DEXTools?
McGlone explained that this divergence between Bitcoin and stocks is meaningful because of Bitcoin's status as the highest-returning asset ever.
He presented two potential scenarios — either stocks follow Bitcoin's downtrend into a recession, or Bitcoin's underperformance compared to the Nasdaq is an anomaly.
McGlone believes scenario one is more likely, with high-interest rates triggering a recession that impacts both Bitcoin and equities.
Earlier in August, McGlone pointed out similarities between Bitcoin's current price chart and stocks in the 1930s following the 1929 crash, suggesting a possible major recession ahead for the leading cryptocurrency.
Most Bitcoin analysts remain optimistic about its cyclical halving timeline, expecting Bitcoin to repeat past upswings tied to the halving when miner rewards are cut in half every four years.
With 19.48 million coins circulating, Bitcoin would reach around $66,838 if it matched its past all-time high market capitalization – a 160% increase from the current $25,747 level.
However, some warn that Bitcoin's halving performance could diverge from past cycles.
Ultimately, analysts are split on whether Bitcoin's recent divergence from stocks is a harbinger of recession or just an anomaly.
The coming months will determine whether Bitcoin continues to chart its own path or falls prey to broader economic forces.
Amidst the continued consolidation of Bitcoin and the broader cryptocurrency market, cryptocurrency enthusiasts are diversifying towards lesser-known cryptocurrencies.
AGI, JNY, and PAPA are leading the charge as some of the biggest crypto gainers today on DEXTools.
AGI Token (AGI): Setting the Stage for a Potential Bounce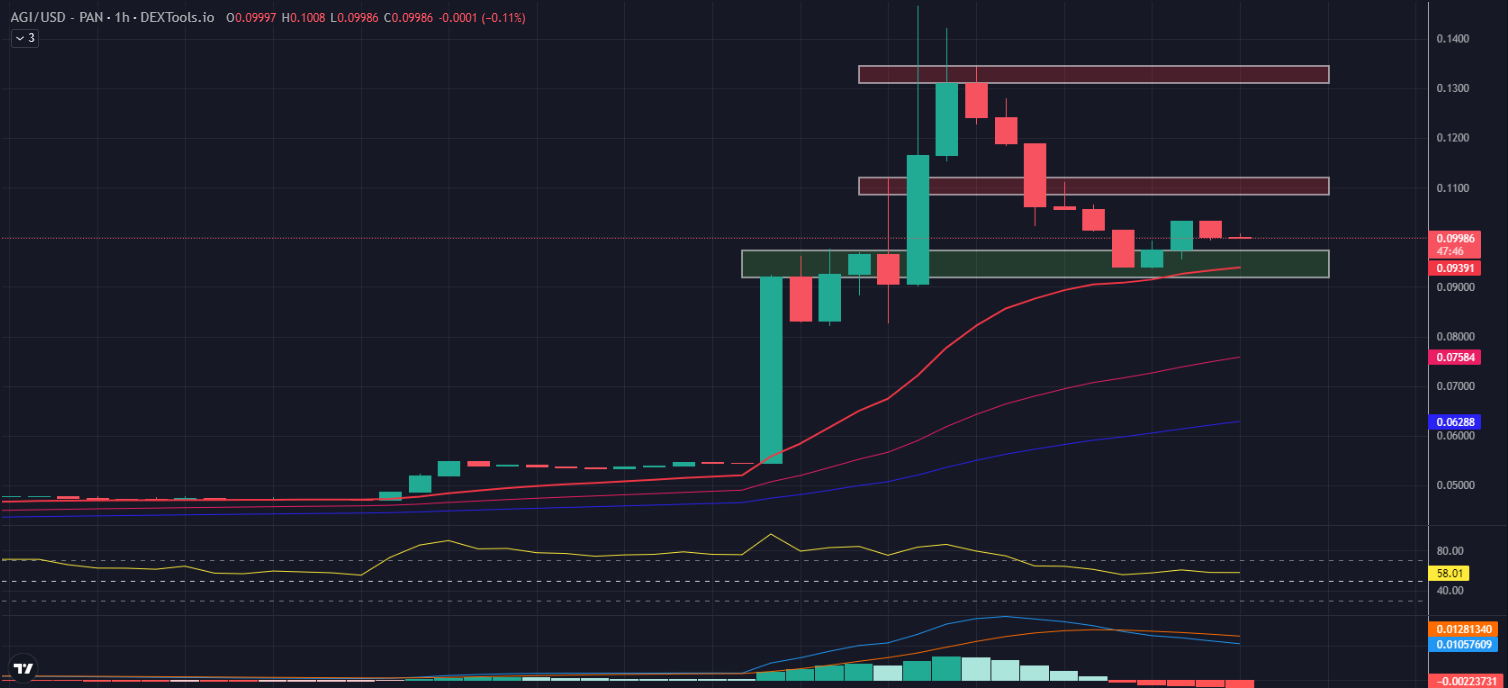 AGI Token (AGI) is one of the biggest crypto gainers today on DEXTools, showing a significant price action for the majority of the day so far.
At its peak, the cryptocurrency's price soared by almost 160% before settling at a still notable 86.83% gain for the day.
Currently priced at $0.09986, AGI appears to be pulling back toward its dynamic and horizontal support levels, setting up the expectation for a potential price bounce.
From a technical analysis standpoint, several indicators offer insights into AGI's immediate future.
AGI's RSI currently stands at $0.09391, the 50 EMA at $0.07584, and the 100 EMA at $0.06288.
These EMA levels suggest that AGI has been strong in the short term and has built solid foundations for its current price level.
The Relative Strength Index (RSI) is at 58.01, hinting that AGI might retest the 50 level before bouncing back.
This aligns with the current pullback towards support zones and suggests that the cryptocurrency isn't overbought at the moment, offering room for upward movement.
AGI's MACD histogram is currently at -0.00223731, indicating that the immediate momentum is somewhat bearish.
This could point to the current retracement phase being a temporary pullback before another potential upward move.
In terms of support and resistance levels, AGI has immediate support in the horizontal zone ranging from $0.09196 to $0.09740.
This area aligns well with the 1-hour 20 EMA of $0.09391. For the past few days, this dynamic support level has held, adding to the idea that a bounce might occur soon.
On the flip side, AGI faces resistance in the $0.1084 to $0.1120 range, with further resistance appearing in the $0.1310 to $0.1344 area.
The technical indicators for AGI suggest that the cryptocurrency is in a pullback phase and may find support soon for a potential bounce.
The RSI and MACD levels indicate that there is room for more upward movement, but also signify that caution is advised.
JiangNanYi's (JNY) Ascending Triangle and Its Potential Implications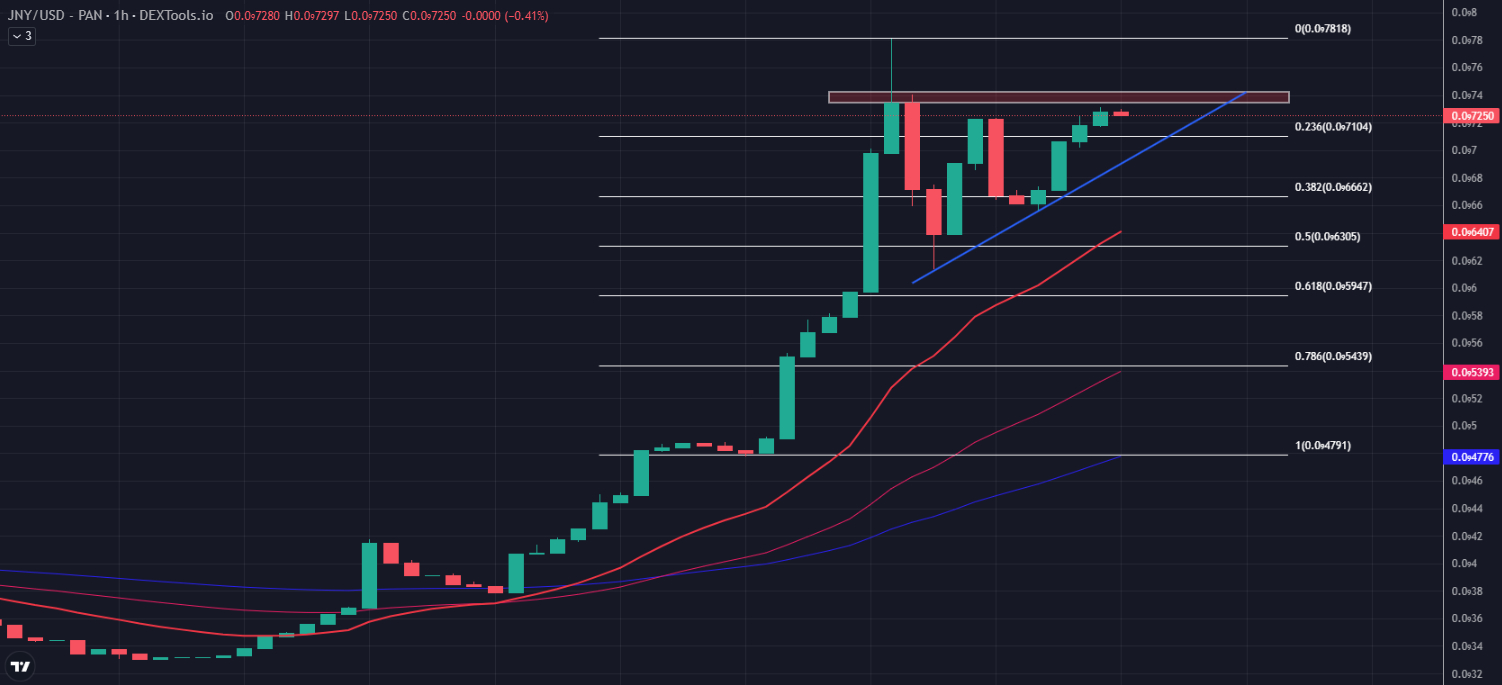 JiangNanYi (JNY) is surging today, adding to its strong gains from yesterday. The cryptocurrency is forming an ascending triangle pattern on the 1-hour chart. If this bullish pattern continues, JNY could see further upside.
Looking at the EMAs, the 20 EMA is at $0.0000000006407, higher than both the 50 EMA at $0.0000000005393 and the 100 EMA at $0.0000000004776.
These EMA levels suggest a bullish sentiment for JNY. The current price stands at $0.0000000007250, which is above all the EMA levels, reinforcing the bullish outlook.
Regarding resistance and support levels, there's an immediate resistance zone between $0.0000000007341 and $0.0000000007421. This area serves as the upper horizontal trendline of the ascending triangle pattern.
On the support side, the Fib 0.236 level at $0.0000000007104 is the first level to watch, followed by ascending trendline support at $0.0000000007013.
The indicators point to a potential upward movement for JNY, especially if it maintains the ascending triangle pattern.
Investors should keep an eye on these technical levels for a clearer understanding of where JNY might head in the immediate future.
Papa Bear (PAPA) Surges 100%: Is There More Room for Growth?; One of the Biggest Crypto Gainers Today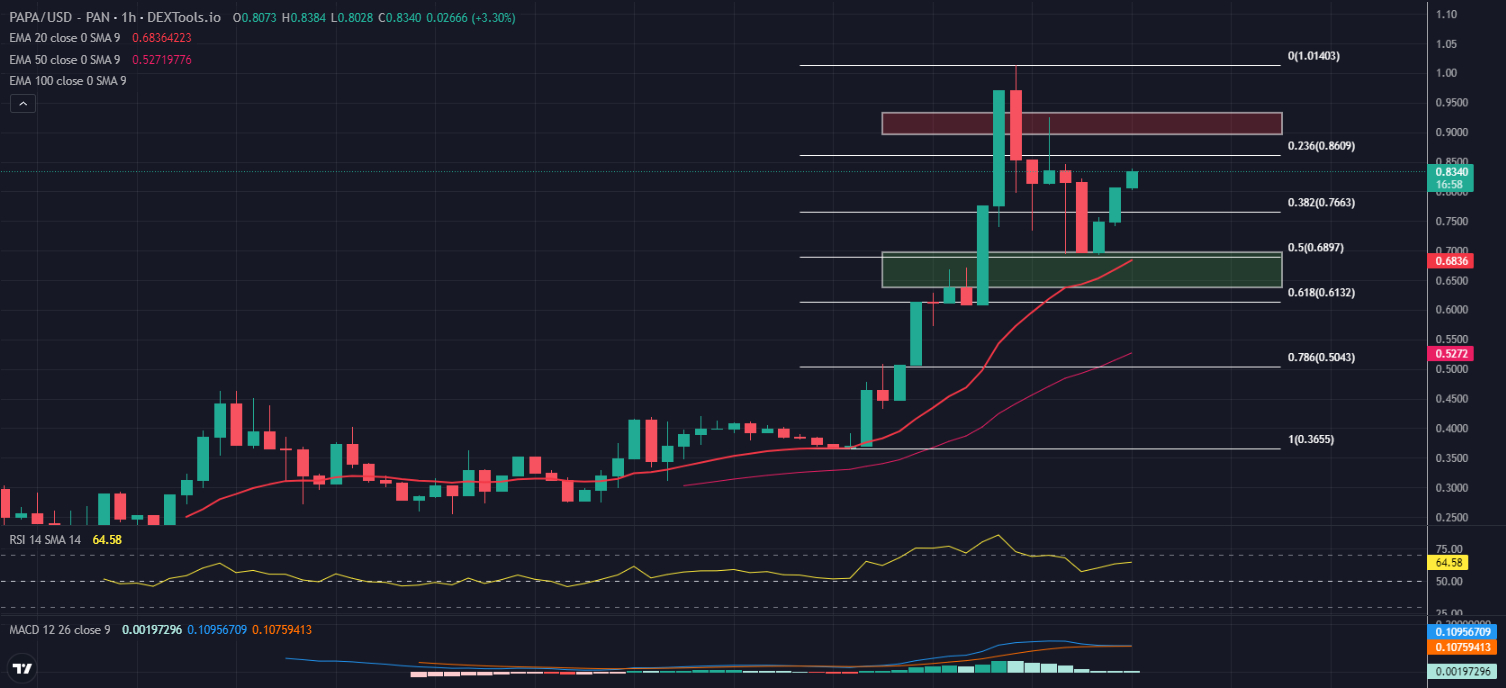 Papa Bear (PAPA) traders are seeing green today, with the cryptocurrency jumping over 100% from its morning lows.
PAPA has retraced and rebounded from its Fib 0.5 level as it now attempts to break out above the Fib 0.382 level of $0.7663.
With PAPA currently trading at $0.8340, the question now is whether this rally has enough juice left to push higher.
Turning to technical indicators for a 1-hour chart, the 20 EMA is at $0.6836 and the 50 EMA is at $0.5272.
These numbers indicate that, for now, PAPA is trading above both its short-term and longer-term exponential moving averages. This suggests that the cryptocurrency is generally in an upward direction at this time.
PAPA's RSI currently stands at 64.58, which is below the commonly referenced overbought level of 70.
This suggests that PAPA is not yet in an overbought condition and has room to move higher before hitting overextended levels.
The MACD histogram is currently at 0.10956709. The MACD being above zero supports the idea that PAPA is experiencing upward momentum.
PAPA's current price is $0.8340, and it has gone up by 104.68% so far today. The immediate resistance lies at the Fib 0.236 level of $0.8609, followed by the horizontal resistance zone between $0.8971 to $0.9324.
On the flip side, immediate support is at the Fib 0.382 level of $0.7663. A more established support zone exists between $0.6383 to $0.6977, which aligns well with the Fib 0.5 level of $0.6897 and the 1-hour 20 EMA of $0.6836.
Promising Crypto Presales for 2023
Investing in cryptocurrency presales allows you to get in early on new projects before they launch to the wider cryptocurrency market.
Acquiring tokens at presale discounts compared to later listing prices provides a significant upside if the project gains traction after release.
While inherently risky, investing in presales can provide substantial rewards for growth-focused investors.
The key lies in identifying standout opportunities led by skilled teams with forward-thinking blockchain visions.
The market analysts at Cryptonews.com leverage their deep crypto knowledge to research upcoming presales and pinpoint options with major growth prospects thanks to strong founding teams and unique project ideas.
After careful evaluation, they've identified promising presales for 2023 that represent overlooked opportunities worth the risk.
Though success is not guaranteed, getting in early on these vetted presales with exciting teams and visions provides the chance for immense returns post-launch.
For cryptocurrency investors open to calculated risks in return for potentially high rewards, participating in these selected presales may offer lucrative growth in 2023.
New Cryptocurrencies to Buy In 2023
Disclaimer: Crypto is a high-risk asset class. This article is provided for informational purposes and does not constitute investment advice. You could lose all of your capital.


This news is republished from another source. You can check the original article here.