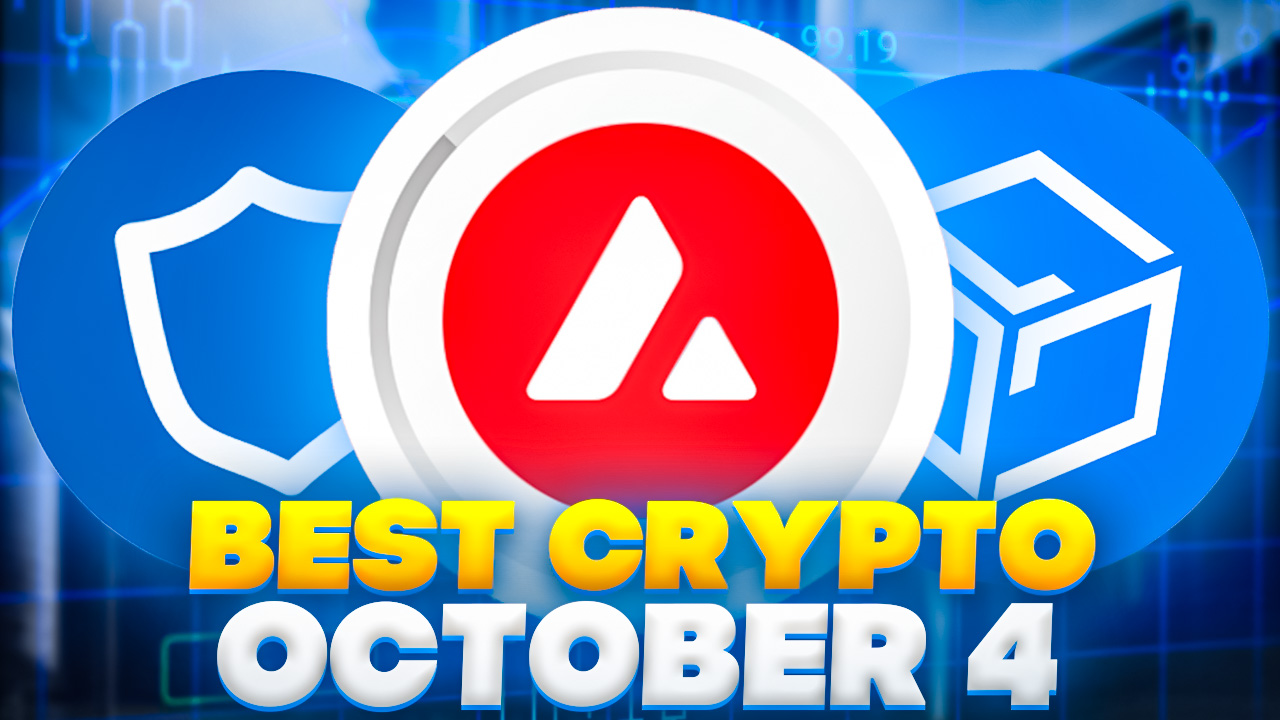 Federal judge Analisa Torres rejected a motion filed by the Securities and Exchange Commission (SEC) seeking to appeal its loss against Ripple Labs on October 3.
Judge Torres ruled that the SEC failed to demonstrate that the case involved controlling legal questions or substantial differences of opinion that warranted an appeal at this stage.
As Ripple builds momentum versus the SEC allegations, what is the best crypto to buy now?
The SEC originally sued Ripple Labs and its executives in December 2020, alleging that Ripple's XRP cryptocurrency was an unregistered security.
In July, Judge Torres issued a partial victory for Ripple, ruling that retail sales of XRP did not constitute the sale of securities. However, the judge found that some institutional sales of XRP by Ripple did violate securities laws.
In response, the SEC filed a motion in August to appeal the partial loss. Judge Torres has now denied that request, determining that the SEC did not meet the required legal standards for an interlocutory appeal.
The judge did schedule a trial date of April 23, 2024, to address any outstanding issues.
The SEC's setback against Ripple comes amid ongoing legal battles between regulators and crypto companies over securities rules.
The ultimate outcome of the Ripple lawsuit could have significant implications for the treatment of cryptocurrencies under U.S. securities laws going forward.
Trust Wallet Token, Bitcoin Minetrix, Avalanche, yPredict, and GALA are staking their claim as the best crypto to buy now against today's cryptocurrency market backdrop, buoyed by their solid fundamentals and/or upbeat technicals.
TWT Price Surges: Is Trust Wallet Token Ready for an Uptrend?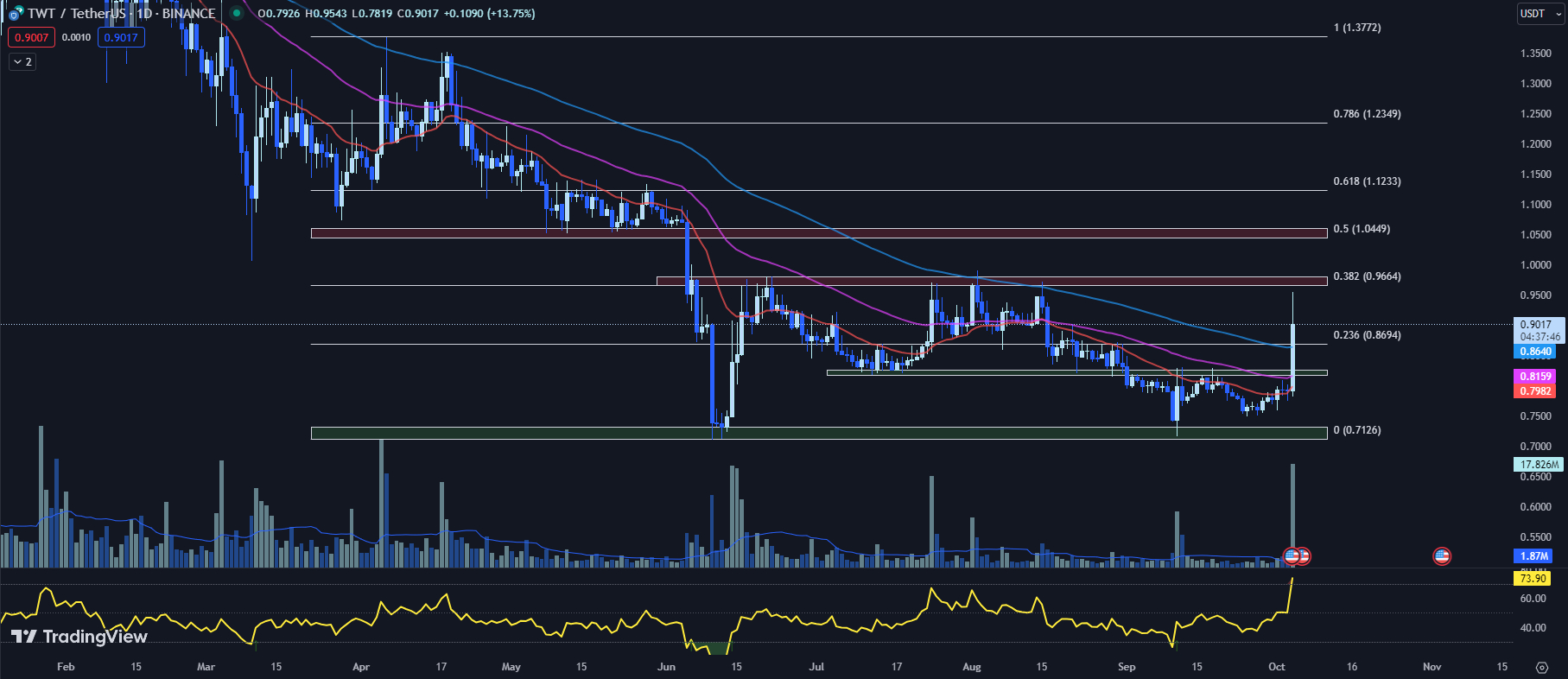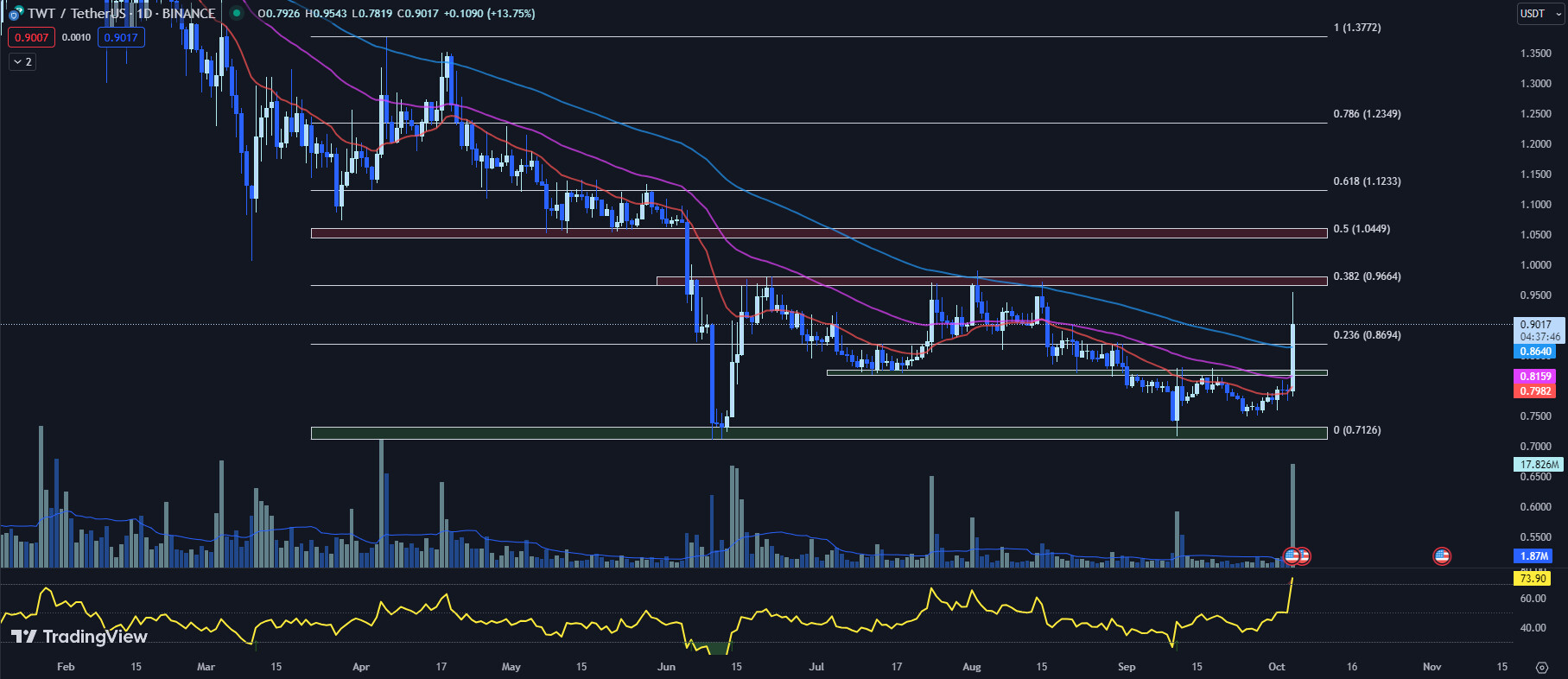 Bucking the broader cryptocurrency market's relatively low volatility, the TWT price is up by a significant 13.75% so far today as it currently trades at $0.9017.
TWT is currently trading above the 100-day EMA for the first time since April 18 of this year. If TWT manages to hold its current gains and successfully consolidate above the 100-day EMA, it may be well-positioned for a potential continued uptrend.
The 20-day EMA for the TWT price currently stands at $0.7982, below the 50-day EMA of $0.8159. Typically, when the short-term EMA crosses above the long-term EMA, it is seen as a bullish sign.
The current closeness of these EMAs is a sign of a potential shift in momentum for the TWT price, and traders should monitor this indicator for further confirmation.
The RSI currently stands at 73.90, up from yesterday's 50.12. This shows the TWT price gaining strength in the upside direction and moving out of neutral territory. However, the RSI is approaching overbought levels, so some pullback may occur before further gains.
The MACD histogram is at 0.0111, an increase from the previous day's 0.0043. This growing positive value reflects building bullish momentum, which could propel the TWT price higher if sustained.
With the market cap up by 15.09% to $374.2 million, coupled with the significant 1390.93% surge in 24-hour volume to $135.3 million, enthusiasm appears to be increasing for TWT among investors. This influx of interest could provide tailwinds for further upside.
The TWT price faces immediate horizontal resistance between $0.9667 and $0.9809, along with the Fib 0.382 level of $0.9664. Moving above this zone would remove the overhead supply and open the door for extended gains.
On the downside, initial support lies at the Fib 0.236 level of $0.8694 followed by the 100-day EMA of $0.8640. As long as the TWT price can remain above these levels, the newfound upside momentum has the potential to persist.
Overall, with Trust Wallet Token stabilizing above the 100-day EMA, technical indicators are turning positive. Newfound trading volume and momentum warrant close monitoring for traders seeking to capitalize on a potential trend change.
Bitcoin Minetrix's Stake-To-Mine Model Makes It One of the Best Crypto to Buy Now
Bitcoin Minetrix enters the crypto presale market with its new $BTCMTX token, offering a decentralized twist on cloud mining through a stake-to-earn model. Token holders can convert stakes into mining credits for potential profits.
The Bitcoin Minetrix platform will allow $BTCMTX token holders to stake their coins to earn mining credits. These credits give token stakers a share of Bitcoin Minetrix's own Bitcoin mining operations.
According to the project's staking dashboard, stakers can currently earn rewards at an annual percentage rate of up to 1,423%.
Since starting its presale just days ago, Bitcoin Minetrix has already raised over $450,000 so far.
The presale is divided into phases, with the price per token increasing with each phase. The current phase sells tokens at $0.011, before rising to $0.0111 and finally $0.0119.
Bitcoin Minetrix seeks to provide a decentralized alternative to existing centralized cloud mining platforms.
The project claims its approach eliminates issues like fraud risks since everything is handled on-chain by smart contracts. The smart contract code has been audited by Coinsult, passing with no major issues detected.
Some crypto analysts have noted Bitcoin Minetrix's potential. Analyst Jacob Crypto Bury suggested the token could see significant gains while others like Zach Humphries and Michael Wrubel have praised its stake-to-mine concept.
According to its whitepaper, Bitcoin Minetrix plans to use 42.5% of presale funds for Bitcoin mining investments. Other allocations include 35% for marketing, 15% for community rewards, and 7.5% for staking.
The presale is currently in phase 1 of a 4-phase roadmap. The remaining phases cover further development, launch, and mass adoption. While not scheduled until phases 2 and 3, the team has already begun work on the staking dashboard.
The $BTCMTX token presale is open for public purchase using ETH, USDT, BNB, or credit cards. Those buying with ETH can begin staking immediately.
Avalanche (AVAX) Gains Positive Momentum, Eyes Higher Targets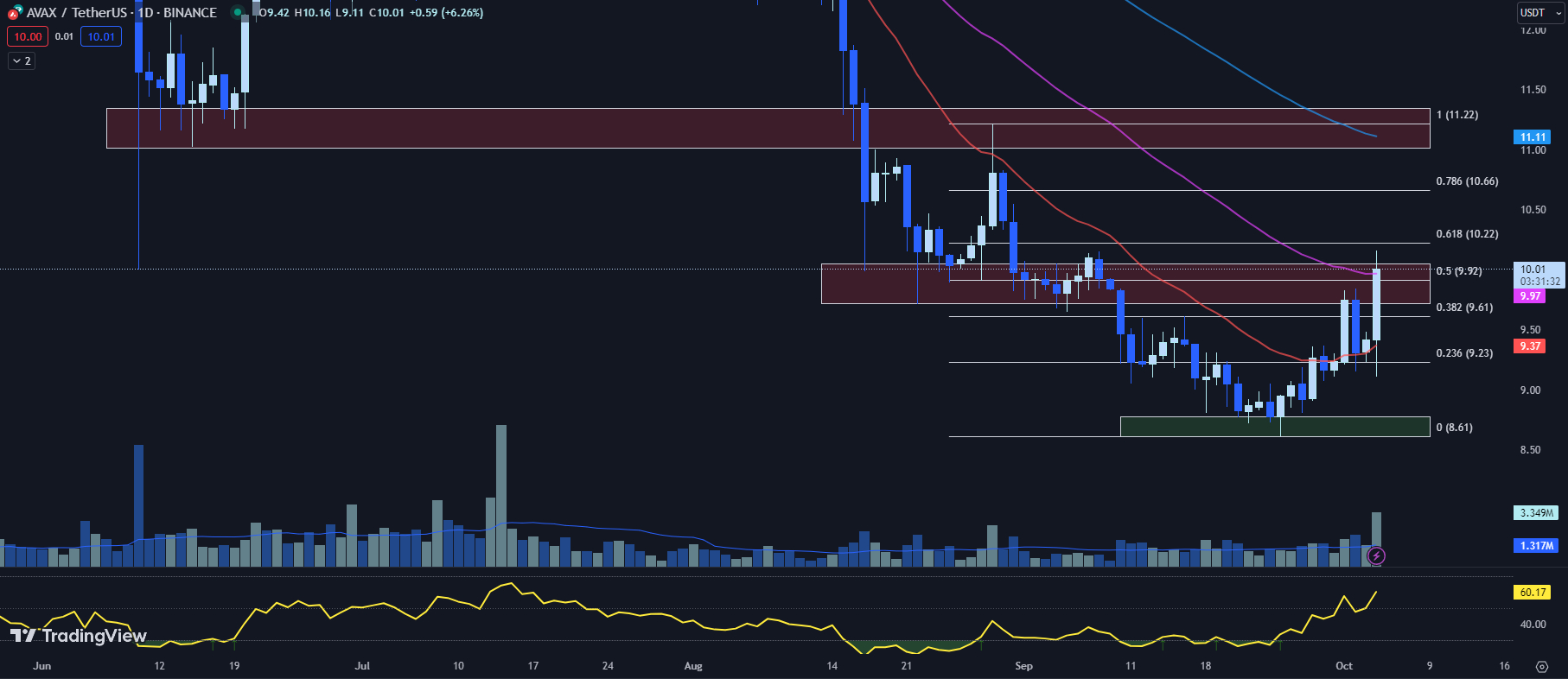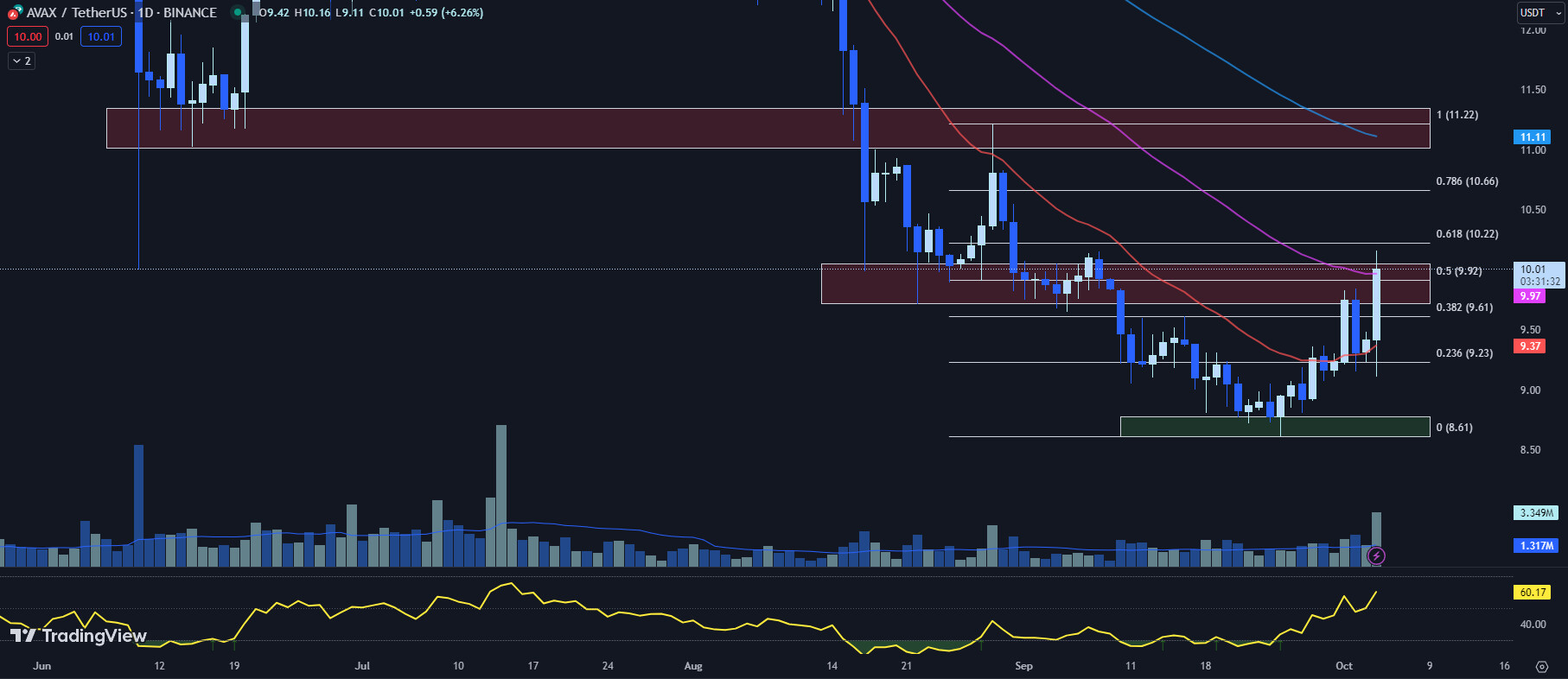 The AVAX price has seen a notable uptick today as it challenges key resistance levels in an attempt to continue its upward momentum.
After consolidating above the reverse Fib 0.236 support at $9.23 and 20-day EMA at $9.37 over the past few days, Avalanche (AVAX) is up 6.26% so far today to $10.01.
With the RSI bouncing up to 60.17 from yesterday's 50.05, AVAX appears to be gaining positive momentum. The MACD histogram has also ticked up to 0.15 from 0.12, reflecting strengthening bullish sentiment.
AVAX currently faces immediate resistance between $9.72 and $10.05, which aligns with the reverse Fib 0.5 level at $9.92 and the 50-day EMA of $9.97. Overcoming this zone could propel the AVAX price higher.
On the downside, the AVAX price has initial support at the reverse Fib 0.382 level of $9.61. Further support lies at the 20-day EMA of $9.37, which has been holding well over the past few days. Below that, the robust reverse Fib 0.236 level of $9.23 represents the next key support area.
With its technical indicators signaling positive momentum and the AVAX price challenging resistance, Avalanche appears ready for further gains in the near term.
However, trading within defined risk limits is recommended until a definitive breakout or breakdown is seen. A decisive move above $10.05 resistance or a drop below $9.23 support could set the next major trend.
With Over $4 Million Raised, yPredict Preps Launch of All-in-One AI Platform for Crypto Traders
Traders tired of flying blind may soon have a new copilot—an AI-powered analytics platform that has raised over $4 million so far in its ongoing presale.
With substantial early investment secured, the startup intends to launch its all-in-one ecosystem offering trading insights and content automation.
yPredict is currently progressing through the seventh phase of its presale process. The remaining fundraising goal before the token price increases from $0.10 to $0.11 stands at less than $500,000.
The platform has positioned itself as a comprehensive hub for traders, offering a variety of services such as Predictions, Analytics, Repository, Terminal, and Marketplace.
In a bid to broaden its service offerings, yPredict has introduced a beta version of WriteMingle, an AI-enabled tool for content creation and collaboration.
This tool is now being assessed by community beta testers, marking the company's progression beyond the scope of trading signals.
The key to unlocking yPredict's diverse toolset across various sectors is the YPRED token. Plans for the post-presale period include the launch of an Analytics platform, which will deliver more detailed data to traders.
Entering a market with an estimated worth of $2.55 billion, yPredict has set its sights on the intersection of artificial intelligence and cryptocurrency.
CEO of yPredict, Raj Sharma, shared his thoughts on the ongoing developments. "The introduction of WriteMingle to our beta testers has brought us immense joy," he expressed.
"The primary objective of WriteMingle is to free up content creators from mundane tasks such as proofreading and SEO optimization, and allow them to concentrate on the broader content strategy."
The early fundraising success and extensive product offerings of yPredict suggest that it has the potential to become a crucial player in the AI-backed crypto analytics sector.
Following the company's trajectory, particularly its dive into a range of AI applications promises to be interesting for those bridging the gap between cryptocurrency and artificial intelligence.
GALA Price Consolidation: A Breather or a Reversal?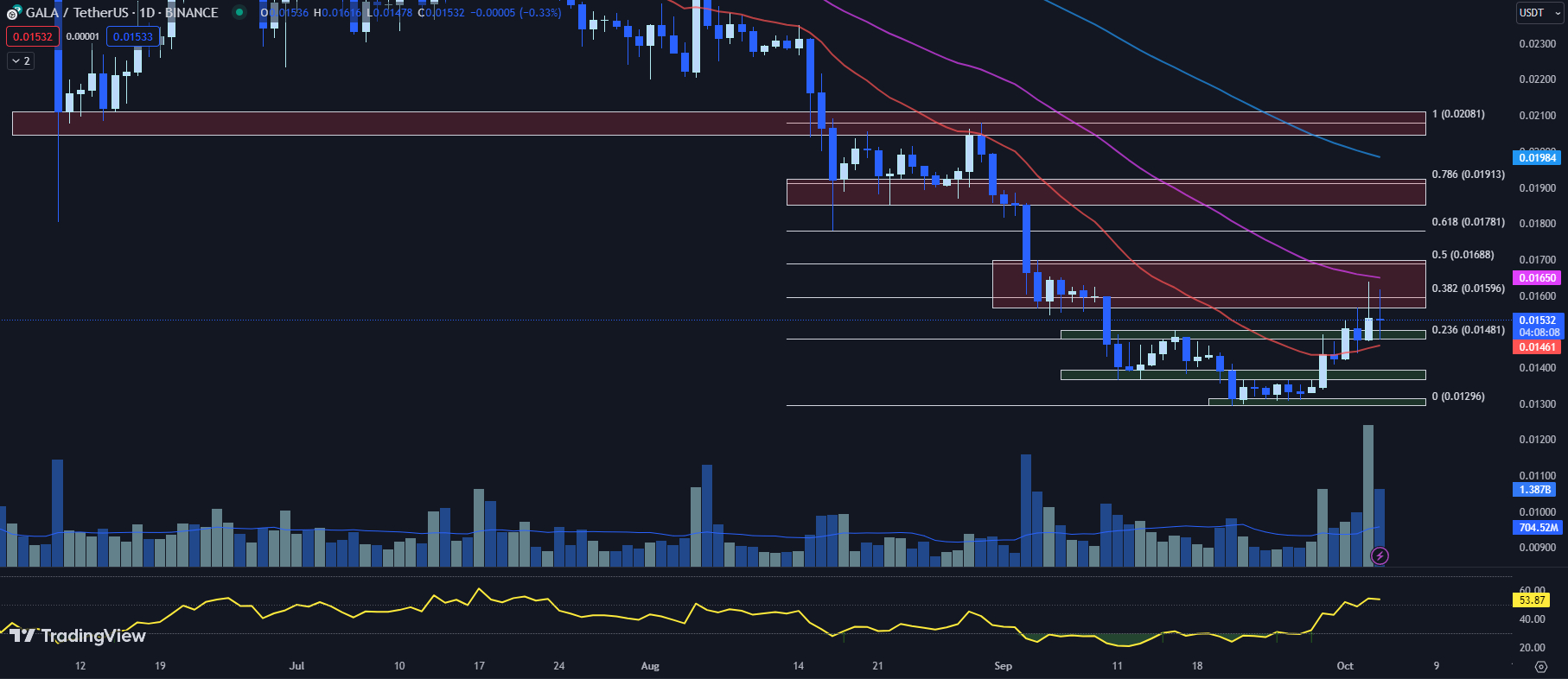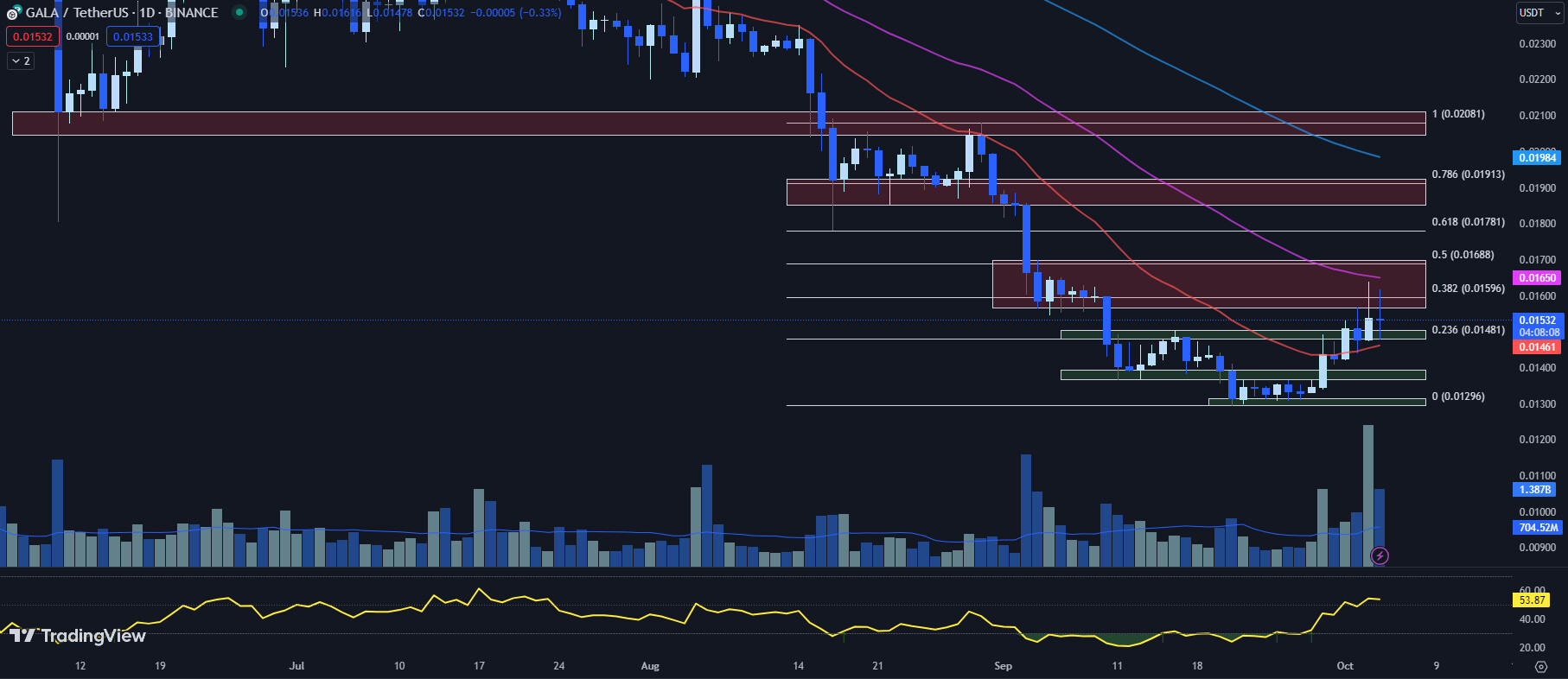 After posting strong gains over the past week, GALA price is taking a pause as investors evaluate whether this rally has further room to run.
With GALA stabilizing around the $0.015 level, technical indicators remain mixed regarding the path forward for the cryptocurrency in the days ahead.
The 20-day EMA for the GALA price currently stands at $0.01461, below the 50-day EMA of $0.01650.
Typically, when the short-term EMA trades underneath the long-term EMA, it signals bearish sentiment. However, with the EMAs in close proximity, this indicator alone provides little clarity on direction.
The RSI has risen to 53.87 from yesterday's 50.05 reading. This uptick towards the midpoint suggests gathering bullish momentum, though not yet reflective of overbought conditions.
The MACD histogram sits at 0.15, up from 0.12 yesterday, highlighting improving positive traction for the GALA price.
GALA currently faces immediate resistance between $0.01566 and $0.01699, with additional barriers at the 50-day EMA of $0.01650. Overcoming this zone could open the door for further advances.
On the support side, GALA has an immediate floor between $0.01481 and $0.01505. As long as this holds, the uptrend remains intact. However, a breach below this area could lead to a steeper pullback towards the 0.236 Fib level around $0.01381.
With GALA taking a breather around a key support zone, the coin appears to be consolidating recent gains. The stabilizing RSI advocates for potential bullish continuation, while the 20/50 EMA cross presents a wait-and-see approach.
As it stands, trading within defined risk limits around $0.015 seems prudent while awaiting confirmation of the next trend. A break above $0.016 resistance or a breakdown under $0.0148 support should set the near-term direction.
Disclaimer: Crypto is a high-risk asset class. This article is provided for informational purposes and does not constitute investment advice. You could lose all of your capital.


This news is republished from another source. You can check the original article here.