The SEC made a surprising decision on Thursday to pull back on its legal action against Ripple, affecting both CEO Brad Garlinghouse and co-founder Chris Larsen. This marks the third win in a row for Ripple in its legal battles.
This news coincided with a more than 7% rise in the price of XRP, the company's associated cryptocurrency, during Friday's early trading hours.
Considering the macroeconomic impact of the SEC's Ripple lawsuit reversal, what is the best crypto to buy now?
The ruling from Judge Analisa Torres earlier this year set the stage for the SEC's latest move.
She had previously decided that XRP sales didn't qualify as investment contracts, a point in Ripple's favor. While Ripple celebrates its wins, it continues to call for regulatory definitions that could guide the larger crypto industry in the United States.
Ripple's leaders have not been shy about sharing their views. Chris Larsen, Executive Chairman and co-founder, took the opportunity to call for increased oversight of the SEC's past conduct, highlighting concerns about how regulatory actions affect innovation in the cryptocurrency industry.
Stuart Alderoty, the Chief Legal Officer at Ripple, referred to the SEC's decision as a capitulation, bringing up an earlier July 13 ruling that clarified XRP's status.
Brad Garlinghouse, the CEO, criticized the SEC for its lack of consumer protection. He also questioned the financial and resource cost of the ongoing legal battle with the regulatory agency.
Ripple's series of legal successes could set an example for other cryptocurrencies facing regulatory scrutiny, like Cardano and Solana.
These cases have heightened discussions among crypto stakeholders about what regulatory clarity could look like, including the possibility of a Bitcoin spot ETF approval.
Upon the SEC's announcement, the price of XRP climbed by 8.05% to reach $0.5184. This was its highest increase since mid-July. Also, its one-day trading volume rose dramatically, hitting $1.74 billion.
Bitcoin and the overall crypto market are also seeing gains, with Bitcoin back up to the high of $29,000, recovering the drop it saw earlier this week on false news of a Bitcoin ETF approval. The total crypto market cap is also rising by 2.75% so far today, back to $1.101 trillion.
The legal decisions surrounding Ripple are pivotal moments in the ongoing dialogue between crypto entities and regulatory institutions. While it doesn't provide all the answers, it does add some clarity to a market often seen as ambiguous from a legal standpoint.
Given the evolving legal situation with XRP versus the SEC and rising optimism in crypto markets, Stacks, Meme Kombat, eCash, TG.Casino, and Bitcoin Cash are staking their claim as some of the best crypto to buy now due to their robust fundamentals and/or positive technical momentum.
STX Price Prediction: Volatility Looms as Stacks' Support Levels Hold Firm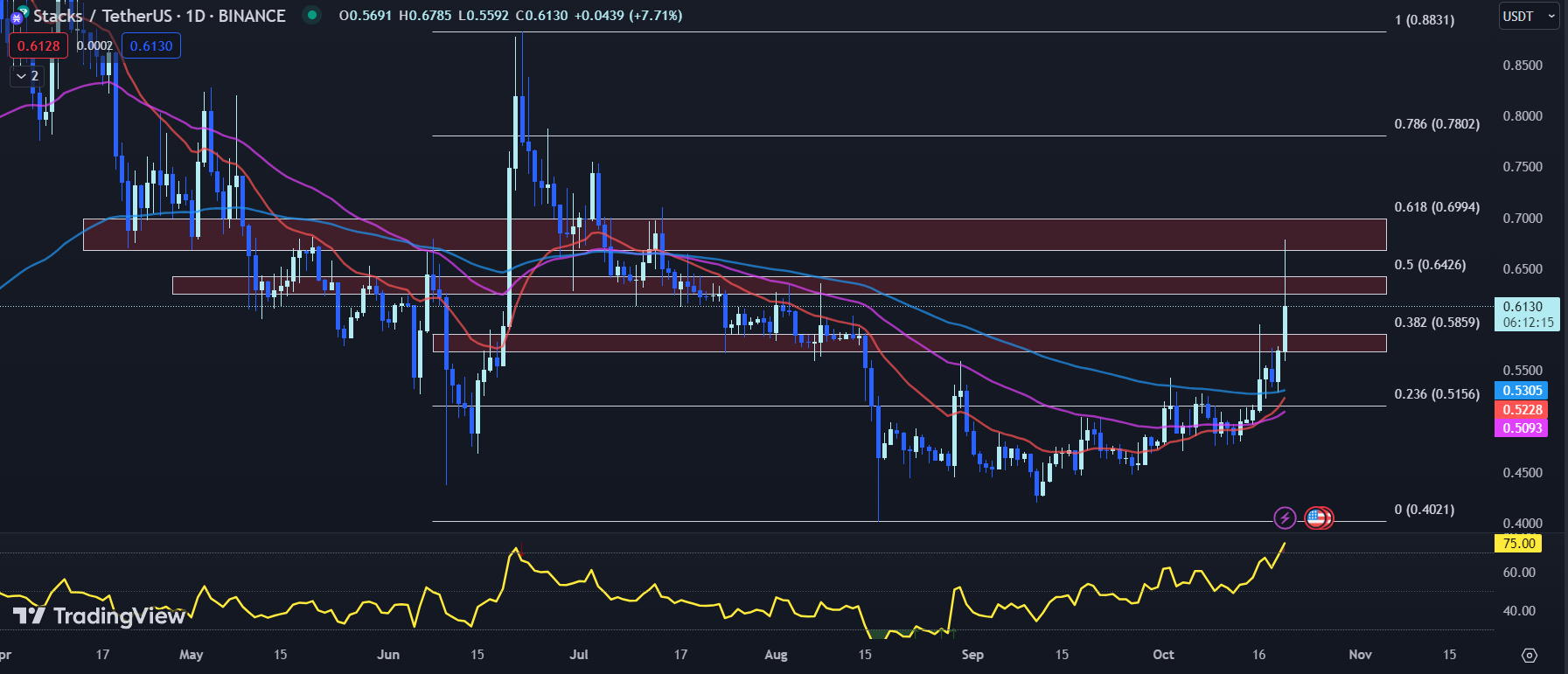 The STX price has entered an uptrend and is attempting to push past immediate resistance, following several days of choppy consolidation between the 100-day EMA and Fib 0.382 level.
STX initially jumped higher in early trade to hit an intraday peak of $0.6785 before bullish momentum tapered off. Nonetheless, STX still holds significant gains of 7.71% so far today as it trades at $0.6130.
The STX price technical indicators show a mix of bullish and cautious signals. The 20-day EMA stands at $0.5228 while the 50-day EMA is at $0.5093, with the STX price above both averages which is a bullish sign. However, the closeness of these EMAs indicates some volatility and uncertainty for the STX price.
The RSI is currently at 75, up from yesterday's 68.42 and entering overbought territory. This suggests upward momentum is strong but could lead to a potential pullback.
The MACD histogram is at 0.0099, an increase from the previous day's 0.0064. The growing positive value reflects a strengthening bullish sentiment.
With the STX price stabilizing above key support levels, technical indicators remain somewhat conflicted. The overbought RSI indicates potential for a pullback, but rising volume highlights growing conviction. Trading within defined risk limits while awaiting confirmation of a breakout past immediate resistance around $0.58 may be prudent.
A sustained move above the resistance zone between $0.5684 to $0.5856 validates upside potential, with the next test at $0.64. Alternatively, a drop back below the 100-day EMA at $0.5305 would question the nascent uptrend.
Meme Kombat: Gamblefi's Rising Star With Over $600K in Presale; Best Crypto to Buy Now
With its presale already netting over $600,000 so far, Meme Kombat ($MK) joins the ranks of cryptocurrency projects diversifying the expanding GambleFi sector.
The Meme Kombat project distinguishes itself by combining gambling features with artificial intelligence-generated meme battles.
Token holders have the opportunity to bet on these simulated meme confrontations and accumulate rewards based on their performance. Meme Kombat's first season will showcase 11 popular meme characters, scheduled to commence soon after the presale.
GambleFi's entrance into the Web3 space has been noteworthy, particularly given projects like Rollbit's year-over-year chart showing gains of over 7,200%.
This niche has been considered ripe for development, especially in contrast to the bearish tendencies in the broader cryptocurrency market in years.
Meme Kombat seeks to set itself apart by incorporating a range of gambling modes to boost engagement rates.
One mode allows for player-versus-player gambling, while another, known as Direct Betting, enables wagers on specific battle outcomes. Yet another feature, Side Action Betting, lets players place bets on dynamic events within a battle.
The decline in the valuation of established meme coins such as Shiba Inu and Pepe has prompted projects like Meme Kombat to focus on utility and community engagement.
Both Shiba Inu and Pepe have seen significant drops in market cap and relevance, opening the door for new entrants that offer more than just meme value.
Transparency and fairness in-game results and reward distribution are maintained through the GambleFi platform's blockchain foundation. The project is led by industry veteran Matt Whiteman, whose wealth of experience brings invaluable insights and expertise to the project.
Meme Kombat's integration of AI meme battles provides a unique value proposition to the GambleFi sector. With veteran leadership and over $600,000 raised so far, Meme Kombat has gained admirable early traction as one of the cryptos to watch in 2023.
eCash XEC Price Prediction: Strengthening Upside Momentum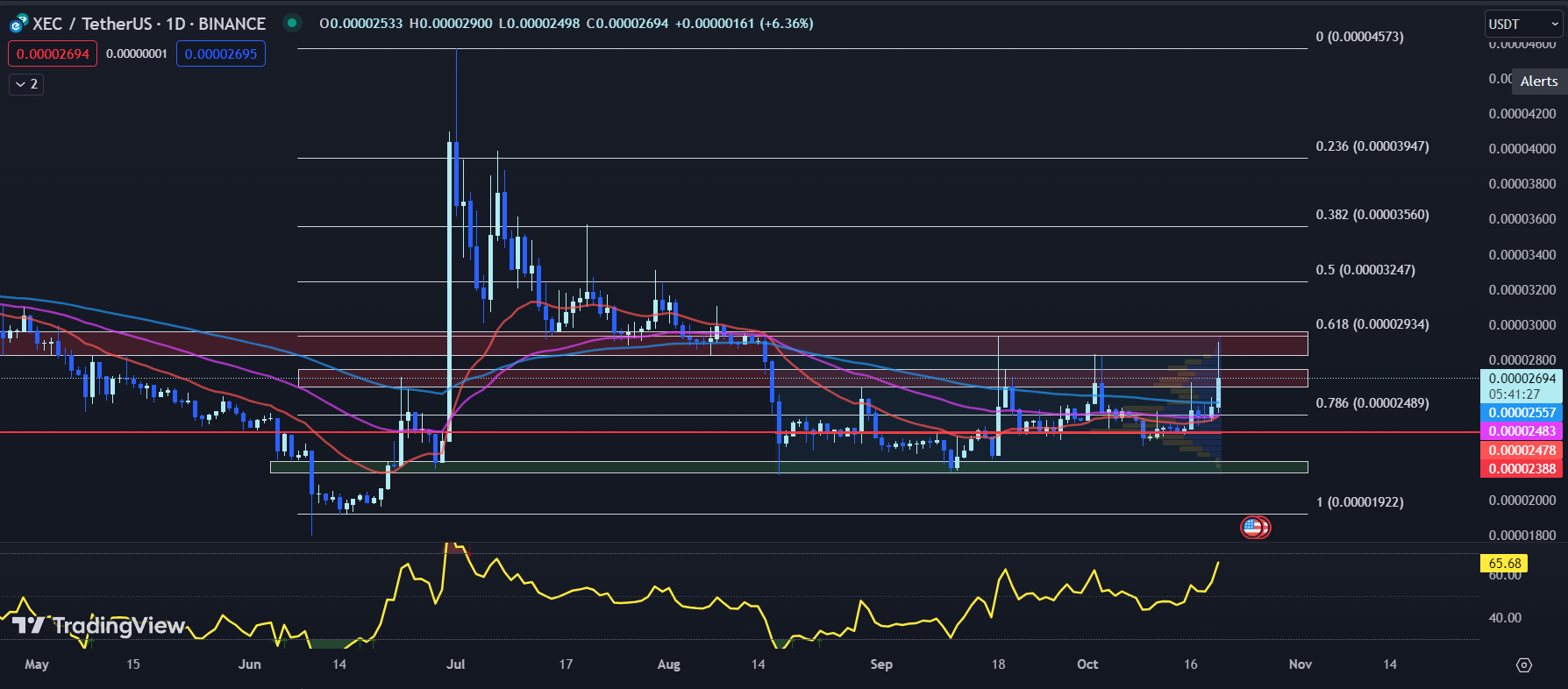 The eCash (XEC) price has shown signs of bottoming after two months of sideways consolidation trading between a range low of $0.00002144 and a high of $0.00002930. With the XEC price up over 11% in the past week, bullish momentum appears to be building.
The 20-day EMA currently stands at $0.00002478 while the 50-day EMA is at $0.00002483. With the faster moving average crossing above the slower moving average, this signals a potential trend change from neutral to bullish. The widening gap between the EMAs shows strengthening upside momentum for the XEC price.
The RSI jumped from 56.54 to 65.68, moving further into oversold territory. This indicates buying interest is returning to the XEC market. The expanding positive MACD histogram, from 0.00000008 to 0.00000021, confirms the bullish upside price action.
The XEC price is attempting to break out above the 100-day EMA resistance at $0.00002557. Sustained trading above this level would convert it into potential support.
Further overhead resistance is found between $0.00002646 to $0.00002746 and at the Fib 0.618 level of $0.00002934 where XEC hit an intraday high of $0.00002900 earlier today.
On the downside, initial support is at the Fib 0.786 level of $0.00002489 followed by the 20-day and 50-day EMA dynamic support levels of $0.00002478 and $0.00002483. As long as these hold, the XEC price uptrend could continue.
A breakback below XEC's fixed volume POC of $0.00002388 could jeopardize XEC's potential bullish outlook.
TG.Casino: Streamlining Crypto Gambling on Telegram, Best Crypto to Buy Now?
TG.Casino brings crypto gambling to the masses by integrating directly into Telegram's messaging app. Removing common friction points like KYC verification and software downloads, TG.Casino offers easy access to blockchain-powered gaming and betting.
The project's pioneering approach has received significant interest, raising over $1.31 million in its TGC token presale so far.
Industry observers say the crypto gambling sector is positioned for massive growth, with some estimates predicting the market will reach $150 billion by 2030. However, many users still find crypto apps confusing or intimidating.
TG.Casino seeks to change that by merging crypto gambling with Telegram's popular messaging platform. The project is developing a custom Telegram bot that will handle all the functions of a typical online casino.
Players can deposit, withdraw, and place bets completely within Telegram, avoiding the need to use external crypto wallets or decentralized apps. The bot also facilitates gameplay for casino games like slots, poker, and blackjack.
By directly integrating with Telegram, TG.Casino is removing the technical barrier to entry for users who may be interested in exploring blockchain gambling for the first time. The presale numbers indicate TG.Casino's approach is resonating with the cryptocurrency market, making it one of the best crypto to buy now.
In just over three weeks, the project has raised over $1.31 million by selling its TGC token to presale participants. The strong demand underlines the advantages of TG.Casino's Telegram-based platform.
In addition to ease of use, TG.Casino also prioritizes security and transparency. The casino bot and smart contracts have undergone multiple audits, ensuring fair odds and secure storage of player funds. Players can participate risk-free, knowing their experience will be safe and credible.
As crypto gambling adoption grows, projects like TG.Casino that focus on accessibility and trust are poised to capture significant market share. With its one-of-a-kind Telegram integration and robust security protocols, TG.Casino has laid a strong foundation for long-term success.
BCH Price Prediction: Bitcoin Cash Bulls Gain Momentum, Eyes on $270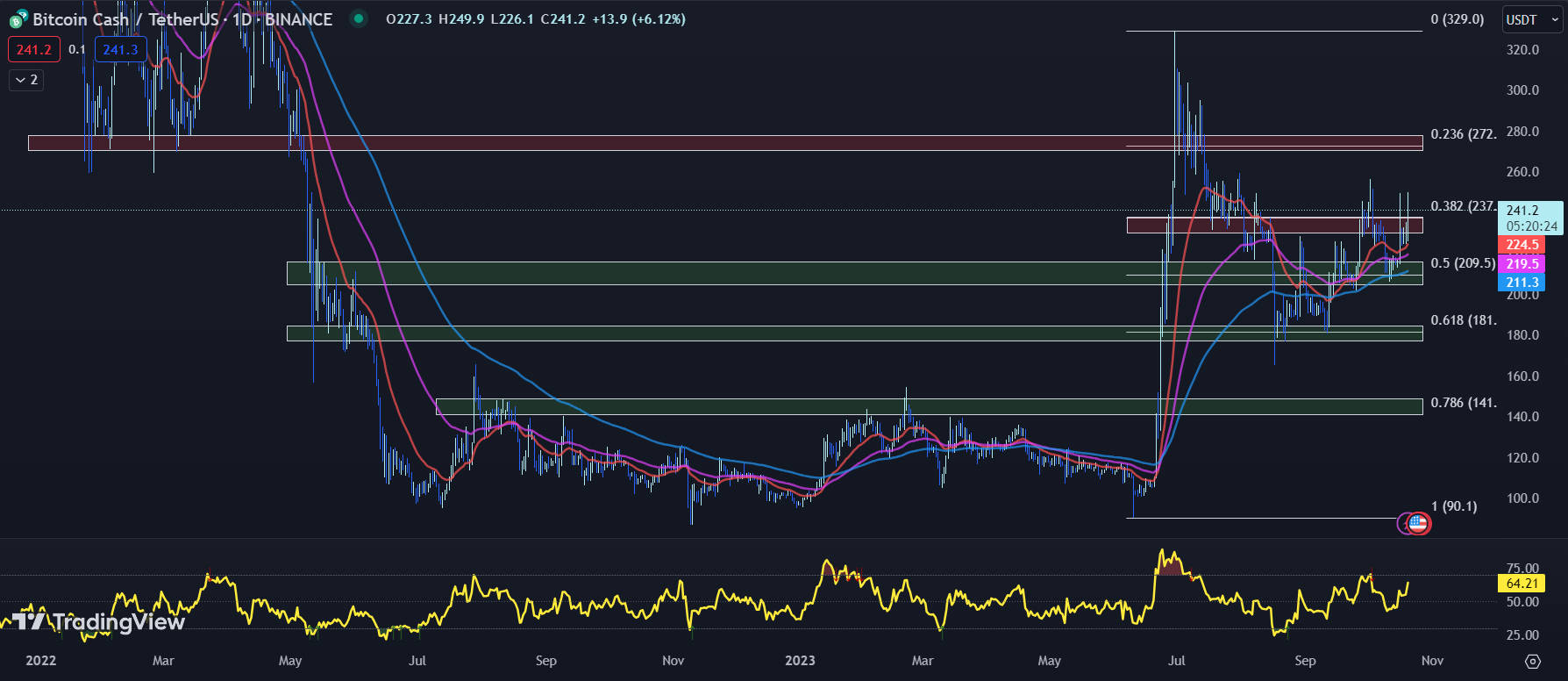 The so-called bitcoin alternative Bitcoin Cash (BCH) has been on an overall uptrend so far in October, with the cryptocurrency up by over 10% month-to-date. BCH is currently trading around $241, up 6.12% on the day, as it attempts to overcome immediate resistance levels.
The 20-day EMA for the BCH price stands at $224.5, while the 50-day EMA is at $219.5. With the price well above these short and long-term EMAs, this indicates an established bullish trend for BCH. The widening gap between the EMAs shows gathering upside momentum.
The RSI is currently at 64.21, up from 55.15 yesterday. This shows decreasing bearish pressure and underscores the strengthening bullish sentiment. The RSI is not yet in overbought territory, signaling room for more gains.
The MACD histogram is now printing at 0.9, a reversal from yesterday's -0.1 reading. This positive crossover suggests bullish momentum is accelerating for the BCH price.
BCH faces immediate resistance between $230 and $237.7, which aligns with the Fib 0.382 level at $237.7. With strong momentum today, BCH looks well-positioned to overcome this barrier. More significant resistance lies between $270.6 and $278, near the Fib 0.236 level of $272.6.
On the support side, BCH has its 20-day EMA of $224.5 holding as first support, followed by the 50-day EMA at $219.5. If BCH manages to hold above these levels, BCH's bullish outlook will remain intact.
With Bitcoin Cash breaking out above key moving averages, bullish momentum gaining traction and oversold conditions reversing, the technical picture favors continuation higher for the BCH price.
Overcoming the initial resistance point around $237 appears achievable for the Bitcoin alternative in the near term.
Disclaimer: Crypto is a high-risk asset class. This article is provided for informational purposes and does not constitute investment advice. You could lose all of your capital.


This news is republished from another source. You can check the original article here.