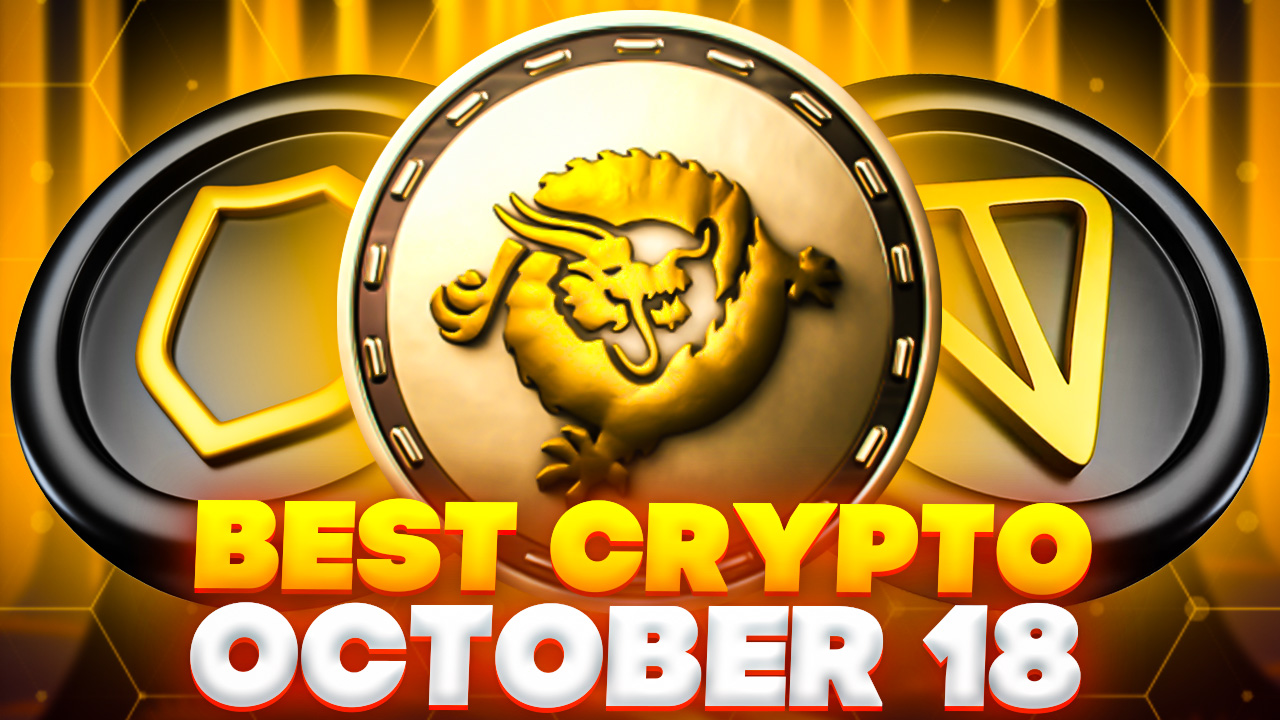 Reddit announced on October 17 that it would discontinue its blockchain-based "Community Points" rewards service on November 8, citing challenges related to scalability.
The decision came as a surprise to the Reddit community and led to a swift decline in the value of the associated tokens.
With the recent news of Reddit's decision to discontinue its blockchain-based "Community Points" rewards service, what is the best crypto to buy now?
The closure was confirmed in an official post on the r/CryptoCurrency subreddit by a Reddit team member. The statement revealed that while there were prospects for the "Community Points" feature, scalability issues prevented its broader adoption on the platform.
Starting November 8, Reddit users will no longer accumulate points in their communities or see points in their "Reddit Vault," the platform's native crypto wallet.
Launched in May 2020, the "Community Points" service was intended to encourage quality content and positive engagement in specific Reddit communities. These rewards were Ethereum-based ERC-20 tokens stored in the Reddit Vault.
Despite initially rolling out on the Ethereum network, the service later transitioned to the Arbitrum layer-2 scaling solution in an attempt to improve scalability.
Each participating subreddit had a distinct token. For example, the r/CryptoCurrency subreddit used the Moons (MOON) token, while Bricks (BRICK) served the r/FortNiteBR subreddit. These tokens were exchangeable for badges and exclusive avatar items.
Following the announcement, a moderator from r/CryptoCurrency, known as "CryptoMods," expressed their disappointment, stating that they had only just found out about Reddit's decision.
They assured users that the existing tokens would not be "burned" and that Reddit was relinquishing its control over the smart contracts, allowing the tokens to remain in circulation.
The announcement has had a ripple effect on the value of the MOON and BRICK tokens, both of which experienced a significant drop. Social media reactions were also largely negative.
On Twitter, a pseudonymous trader known as Byzantine General shared that MOON's price had plunged by approximately 90% following the announcement.
Likewise, Reddit user u/Bunker_Beans voiced strong disappointment, stating they had canceled their special membership and would refrain from using the platform in the future.
In summary, Reddit's decision to terminate its "Community Points" rewards service raises questions about the scalability and sustainability of blockchain features in larger online platforms.
With the service ceasing operations on November 8, the immediate focus turns to the affected Reddit communities as they adjust to the sudden change.
With the latest developments in the crypto space, experts argue that Toncoin, Bitcoin Minetrix, Trust Wallet Token, TG.Casino, and Bitcoin SV should be considered as the best crypto to buy now thanks to their robust platforms and/or bullish technical indicators.
Toncoin (TON) Takes a Breather: Technical Indicators Remain Cautiously Optimistic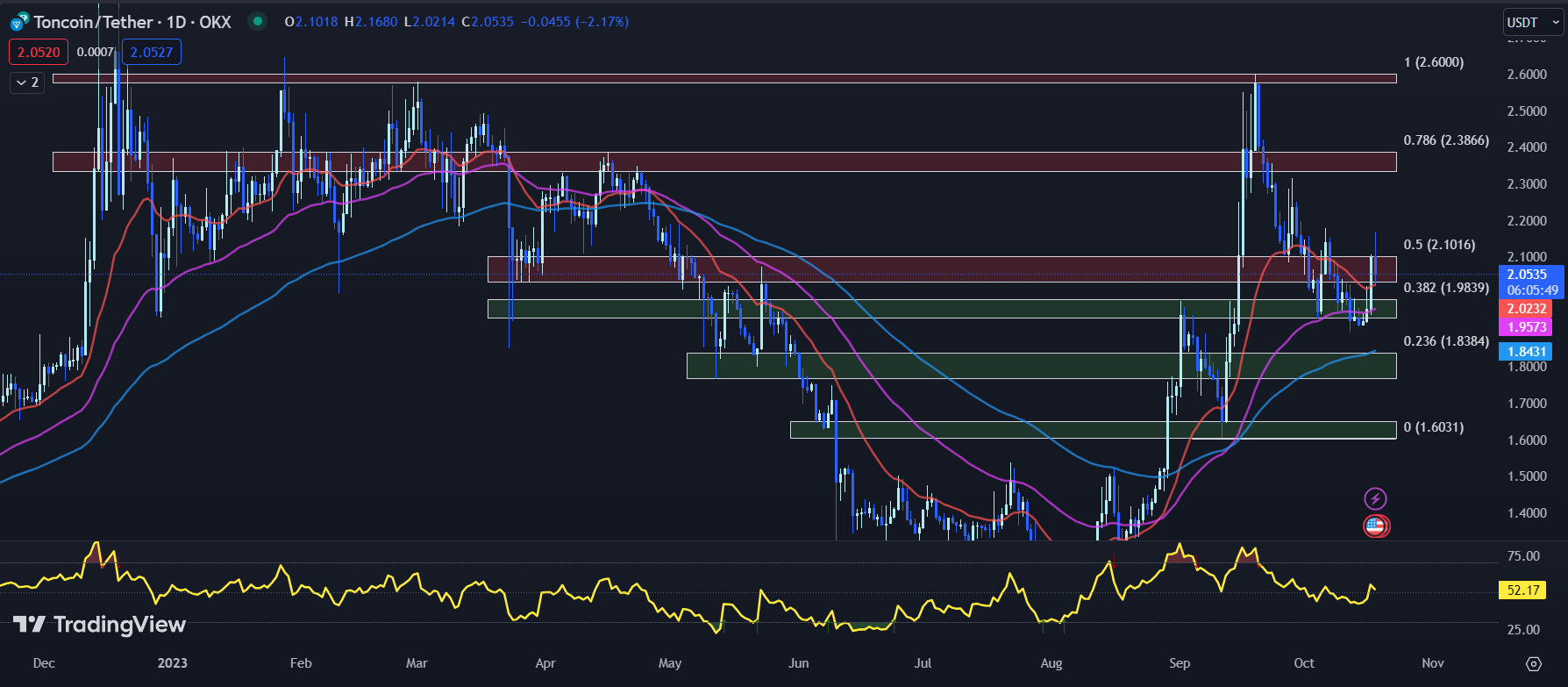 After a significant 7.20% surge yesterday that allowed TON to break out above its 20-day EMA of $2.0232, bullish momentum was temporarily halted as the price has been pulling back by 2.17% so far today.
However, the cryptocurrency remains above its key Exponential Moving Averages (EMAs), signaling TON's bullish price structure is still intact.
TON is currently trading at $2.0535, stuck between an immediate resistance zone of $2.0332 to $2.1023. This area is in confluence with the Fib 0.5 level at $2.1016, explaining the selling pressure that has formed a long wick on today's candle after an intraday high of $2.1680 was reached.
On the support side, TON will look to hold above the 20-day EMA at $2.0232 on any further pullbacks. More significantly, the 50-day EMA currently sits at $1.9573, which aligns closely with the Fib 0.382 level of $1.9839. This wide support zone between $1.9332 and $1.9835 must hold to keep the bullish structure viable.
Examining the technical indicators shows the bullish alignment remains despite the price consolidation. The 20-day EMA is above the 50-day EMA, and the gap has widened after the latest price surge.
The RSI has pulled back from yesterday's 55.32 to 52.17, avoiding overbought territory. Likewise, the MACD histogram has become less negative at -0.0024, moving closer to a potential bullish crossover.
The TON price continues to consolidate within a defined range. While signs remain bullish, conviction has been shaken by the swift rejection at resistance.
As TON stabilizes above the 20-day EMA, trading within risk limits while awaiting a breakout beyond $2.10 resistance or breakdown under $1.95 support may be wise. The next major trend will be defined by a breach of these key levels.
Bitcoin Minetrix Enters Stage 2 of Presale Amid ETF Optimism, Making Its Case as the Best Crypto to Buy Now
The cryptocurrency market is closely watching Bitcoin's price as it consolidates near $28,000, partly driven by optimism surrounding the possible approval of spot Bitcoin exchange-traded Funds (ETFs).
This same sentiment has fueled interest in Bitcoin Minetrix ($BTCMTX), a token connected to a Bitcoin cloud-mining ecosystem.
With over $1.72 million contributed so far to its $BTCMTX presale, Bitcoin Minetrix has now entered the second stage of its presale, where each token is priced at $0.0111.
The situation gained momentum after the U.S. Securities and Exchange Commission (SEC) recently decided not to challenge a court ruling regarding Grayscale Bitcoin Trust's application to convert to an ETF.
The SEC's decision has led many to speculate that the approval for a spot Bitcoin ETF is more likely than before. "We believe there's a 90% chance of approval by Ark's Jan.10 deadline," said James Seyffart, an ETF analyst at Bloomberg Intelligence.
False rumors earlier this week about BlackRock's pending spot Bitcoin ETF approval pushed Bitcoin's price momentarily above the $30,000 mark.
While the market calms after this short-lived excitement, all eyes are now on the upcoming deadlines for ETF applications, including one from Ark Invest and 21Shares set for SEC review by January 10.
Bitcoin Minetrix differentiates itself from other cryptocurrencies by being tied to a Bitcoin cloud-mining mechanism on the Ethereum blockchain. The platform attracted sizable contributions meeting its Stage 1 presale target of $1.54 million in less than two weeks.
Interested investors now have less than 5 days t to participate at the current Stage 2 price before a price increase.
As the crypto market holds its breath for a Bitcoin spot ETF approval, Bitcoin Minetrix continues to build momentum, entering the second stage of its presale.
With its one-of-a-kind stake-to-mine model and impressive presale fundraising so far, Bitcoin Minetrix makes a compelling case as the best crypto to buy now before the next major cryptocurrency market catalyst.
Trust Wallet Token (TWT) Soaring: October's Bullish Momentum Continues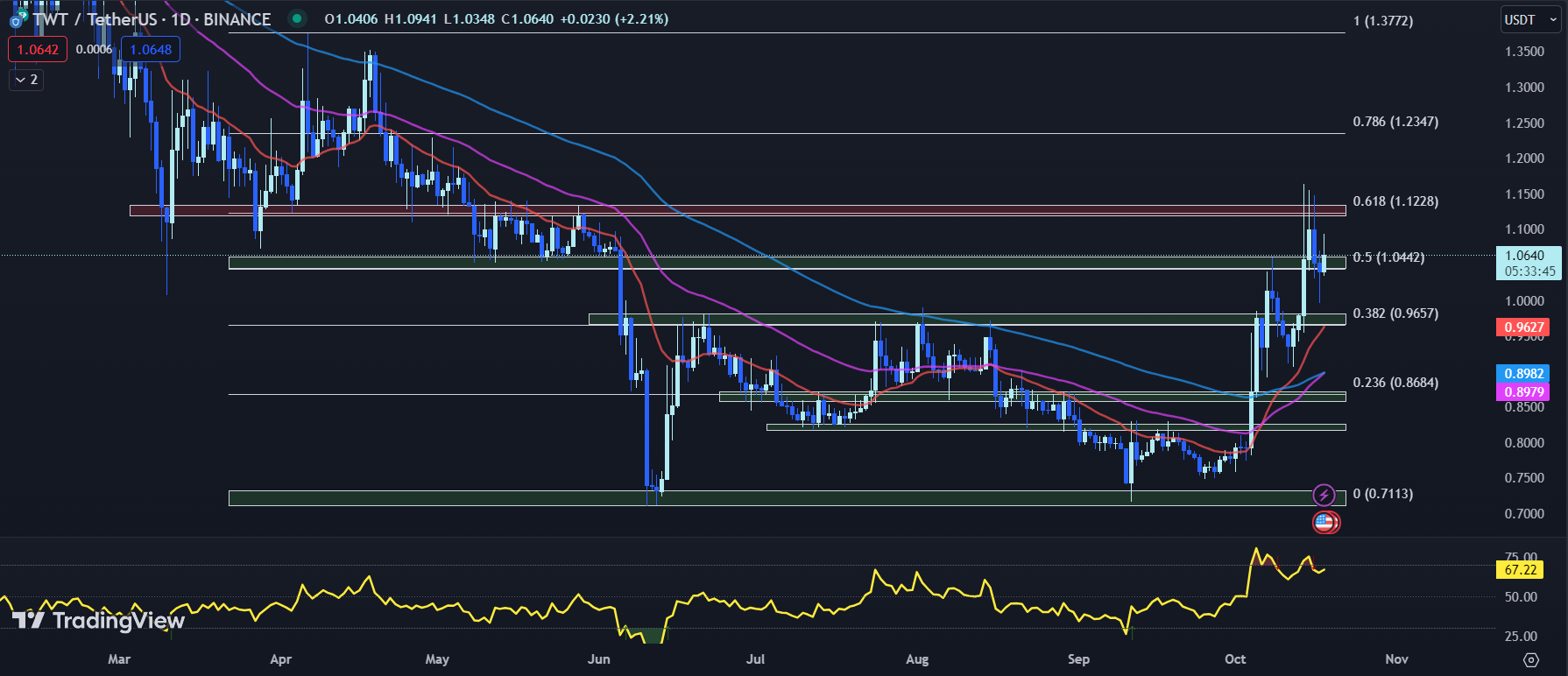 The Trust Wallet Token (TWT) price has been showing continued bullish momentum in October, with the cryptocurrency up 37.15% month-to-date. TWT currently trades above all major EMAs, suggesting a potential further continuation of its upward trend.
The 20-day EMA for TWT price currently stands at $0.9627, above the 50-day EMA of $0.8979 and the 100-day EMA of $0.8982. When shorter-term EMAs trend above longer-term EMAs, it often signals bullish sentiment.
TWT's RSI of 67.22 is down slightly from 67.46 yesterday but remains firmly close around its overbought territory of RSI 70.. This indicates buyers have control, though downward RSI movement warrants caution.
At 0.0109, TWT's MACD histogram fell from 0.0125 yesterday but stays firmly positive. The indicator reflects building bullish momentum that could lift TWT price further.
With TWT up 2.21% so gat today to $1.0640, the cryptocurrency looks to consolidate around the Fib 0.5 support level of $1.0442 before attempting to break above resistance.
TWT faces horizontal resistance between $1.1190 and $1.1337, aligned with the reverse Fib 0.618 level of $1.1228. Breaking above could signal a strong uptrend.
Support lies between $0.9661 and $0.9809, bolstered by the reverse Fib 0.382 level of $0.9657 and 20-day EMA of $0.9627. Holding the above support is key for TWT to avoid a price pullback.
TWT remains in an undisputed uptrend according to technical factors. The cryptocurrency looks positioned to continue its ascent but may face temporary resistance and support tests first.
Maintaining above the 20-day EMA at $0.9627 is key for TWT to sustain its bullish trajectory.
Earn Passive Income with TG.Casino: Stake $TGC Tokens for up to 419.11% Yields
TG.Casino revealed that its Ethereum-based $TGC token is now supported on its Telegram casino app, allowing users to bet with $TGC directly. As an incentive, the company stated that $TGC gamblers will get 25% of their net losses reimbursed each week.
The announcement comes as TG.Casino's presale for $TGC tokens has already raised over $1.19 million since launching in late September. The presale allows early buyers to acquire the Ethereum-based tokens at $0.125 each ahead of the public listing.
According to the casino's website, $TGC holders can earn yields up to 419.11% by staking their tokens.
TG.Casino distributes 60% of the platform's profits to $TGC stakers, while burning the remaining 40% in a buyback program. This model has proven successful for other crypto casinos like Rollbit, whose token saw a major price surge after implementing a similar buyback.
As a licensed Telegram casino, TG.Casino seeks to provide an easy entry point into crypto gambling for mainstream users. The integration with Telegram removes hurdles like installing wallet apps or swapping between cryptocurrencies.
TG.Casino enters a fast-growing market, with active users of gambling sites jumping nearly 10x in 2023 so far. But the overall sector remains tiny at $250 million versus $263 billion for centralized casinos, pointing to the potential for massive growth.
By leveraging Telegram's vast built-in audience and network, TG.Casino solves major friction points holding back crypto gambling adoption among mainstream consumers.
The presale of $TGC tokens offers investors an enticing chance to secure them at a substantially discounted rate compared to its forthcoming public launch.
Will the Bitcoin SV (BSV) Price Hold Above $40? Technical Indicators Suggest Positivity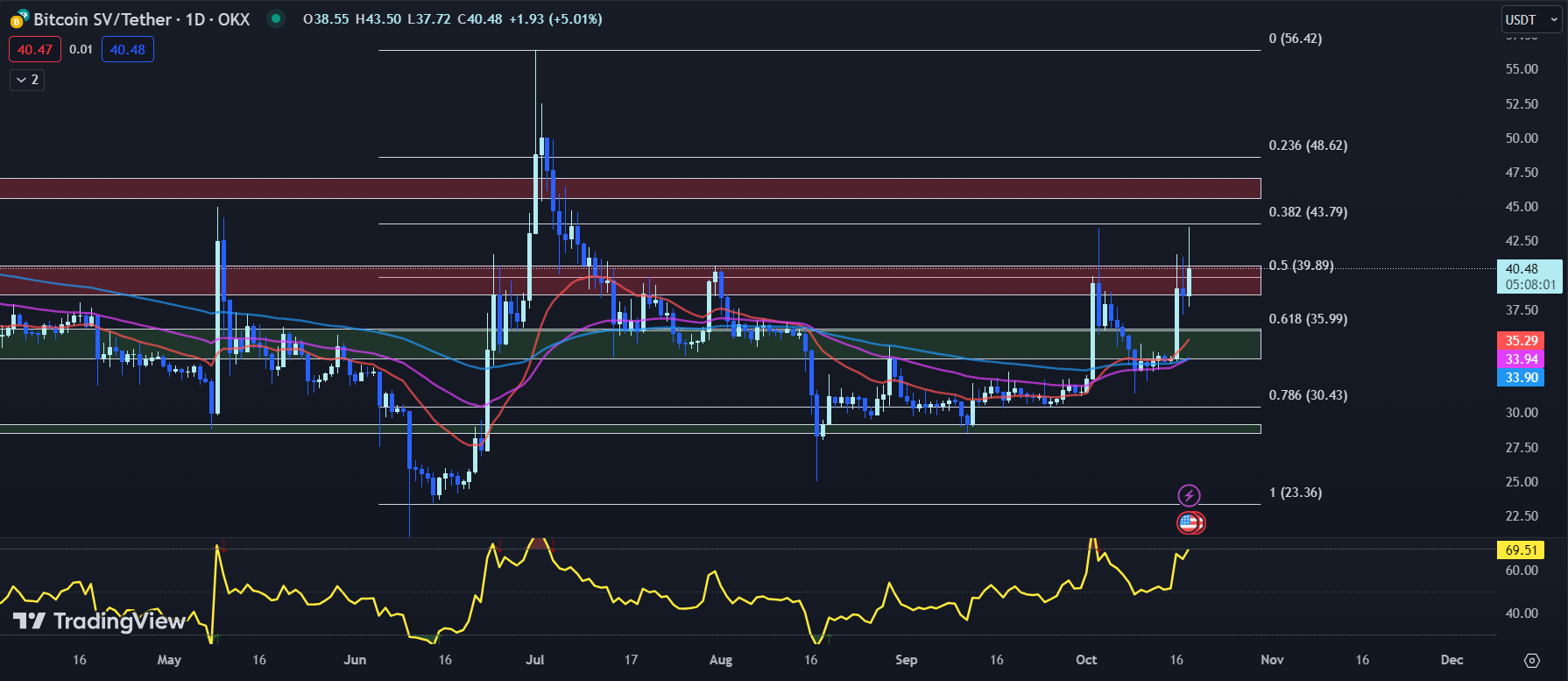 The Bitcoin SV (BSV) price continues to challenge immediate resistance levels this week, signaling the potential for an upside breakout in the coming days. After closing yesterday's trading session down 1.31% at $35.94, the BSV price has rebounded 5.01% to $37.72 so far today.
BSV is currently trading within its third consecutive day inside an immediate resistance zone between $38.60 and $40.71. This area aligns with the key Fib 0.5 retracement level at $39.89, representing a significant technical barrier.
The technical indicators for BSV highlight building upside momentum that could propel the price through its immediate resistance.
The 20-day EMA stands at $35.29, crossing above the 50-day EMA at $33.94. When the faster short-term moving average crosses above the slower long-term moving average, it often signals bullish conviction.
Additionally, the RSI has risen from yesterday's reading of 65.27 up to 69.51 today, approaching the 70 overbought threshold. The MACD histogram also shows growing positive momentum, increasing from 0.27 to 0.48 over the last 24 hours.
If the BSV price can overcome resistance at $40, it may attempt to test the next target at the Fib 0.382 level of $43.79. BSV retested this resistance level earlier today when it registered an intraday high of $43.50, but selling pressure appears to be prevailing around this level so far.
On the downside, initial support exists between $33.95 and $36.11, aligned with the 20, 50 and 100-day EMAs. A break below this area could open the door for a retest of the swing low around $30.
With BSV stabilizing at a key resistance confluence, the technical picture remains at an inflection point. A decisive breakout above the $40 resistance or breakdown below the $34 support should set the near-term trend.
Traders are advised to trade within defined risk limits until a clear catalyst emerges for the price of BSV.
Disclaimer: Crypto is a high-risk asset class. This article is provided for informational purposes and does not constitute investment advice. You could lose all of your capital.


This news is republished from another source. You can check the original article here.