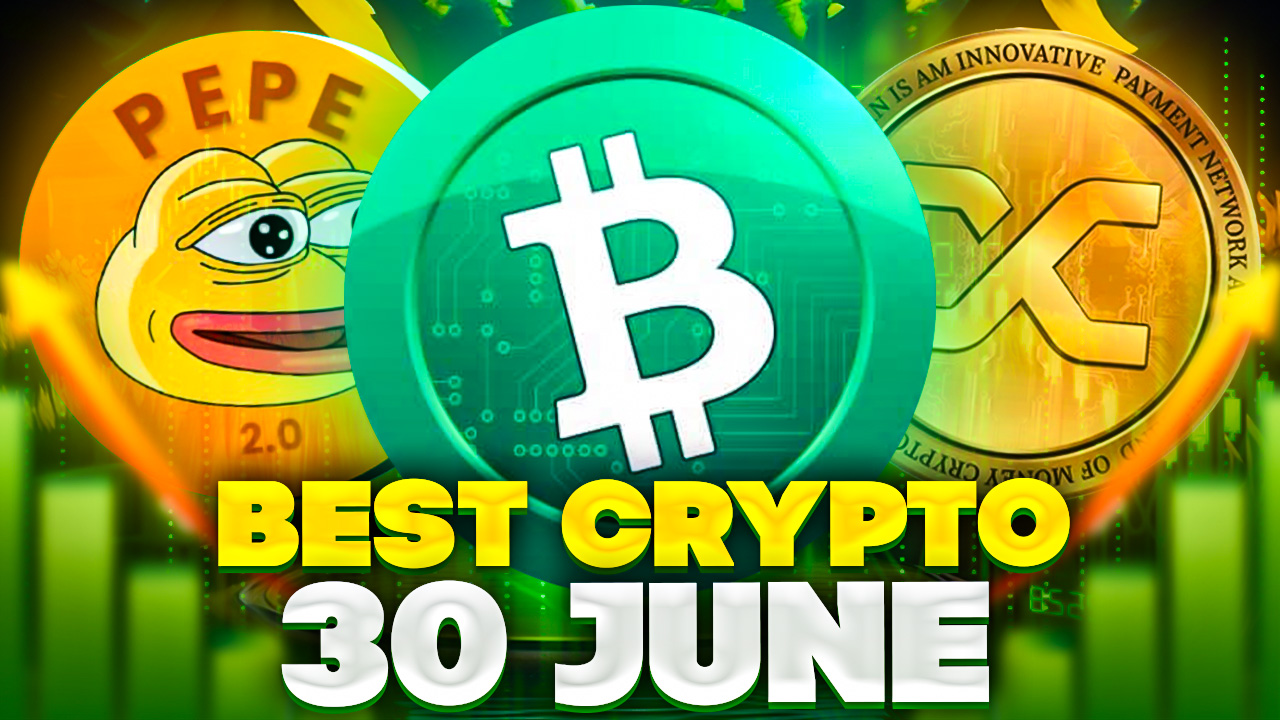 Cryptocurrency markets are mixed on Friday.
Ether (ETH) is up over 4% and rallying into the mid-$1,900s and bitcoin alternatives like Litecoin, Bitcoin SV, Zcash and eCash have all been pumping.
Bitcoin, meanwhile, was last trading in the $30,400s, having been knocked off its prior perch above $31,000 on a WSJ report that the SEC has told spot bitcoin ETF applicants that their filings are currently insufficient.
Overall, total crypto market cap is up around 1.5% on the day at close to $1.2 trillion.
US economic data released on Friday pointed to easing price pressures and a weakening consumer, not enough to push back against expectations for two further interest hikes from the Fed, but enough to feed into the narrative that the end of monetary tightening is near.
For crypto investors keen to diversify their holdings away from blue-chip names like bitcoin and ether, here are some of the best coins to consider buying on Friday.
Bitcoin Cash (BCH)
Alongside the other aforementioned bitcoin alternatives that have been rally in recent days, Bitcoin Cash (BCH) has also been pumping.
The catalyst for the rally has been the news that the cryptocurrency will be listed on a new crypto exchange called EXM Markets, which has the backing of major financial institutions.
BCH was last up close to another 20% on Friday,  having exceeded the $300 level for the first time in over one year.
Bulls are eyeing a test of key long-term support-turned-resistance in the $390 area.
Wall Street Memes ($WSM)
Wall Street Memes, one of the internet's hottest retail investing communities, rose to prominence in the meme stock craze of 2021 and has recently been expanding its relevance in the cryptocurrency space with the presale of its new $WSM token.
The success of the $WSM presale, which has raised more than $11.6 million only around one month, isn't surprising given the size of Wall Street Memes' community.
Not only are there 523k hyper-engaged community members on its wallstbets Instagram account, there are another 214k on Twitter and more than 100k across its two other Instagram channels, wallstgonewild and wallstbullsnft.
All told, Wall Street Memes has a 1 million-strong social community of degens, which analysts think all but guarantees that the $WSM token will be listed on tier 1 crypto exchanges like Binance.
With 30% of the token supply being held back for community rewards, it can reasonably be expected that airdrops to holders will be a big part of the ecosystem.
Indeed, the first $WSM airdrop is open now. 
Analysts are already predicting big things for Wall Street Memes when it lists on exchanges and you can be a part of it.
Synthetix Network (SNX)
SNX, the native cryptocurrency of the Sythetix Network, is probing for a breakout to the north of its 200-Day Moving Average (DMA) in the $2.30.
SNX was last trading around $2.27, up an impressive 40% from earlier monthly lows in the $1.60 area.
If it can get above the 200DMA, this could also trigger a breakout from the cryptocurrency's recent downtrend that could reopen the door to a possible test of earlier yearly highs in the $3.38 area.
yPredict (YPRED)
The yPredict market intelligence platform is building a first-of-its-kind, institutional-grade financial price prediction system.
Observers think the tool, which is built on yPredict's in-house deep data analysis, will help crypto investors discover the next explosive crypto with ease.
The best part, yPredict's crypto price prediction system will remain free and open for all users to access – the price predictions will be made publicly available and require no login to see, the project's Whitepaper explains.
But yPredict offers investors much more than just crypto price predictions.
The project is "building a cutting-edge crypto research and trading platform that provides traders and investors access to dozens of AI-powered signals, breakouts, pattern recognition, and social/news sentiment features", the start-up says in yPredict's Litepaper.
As AI continues to make waves in the crypto industry and beyond, projects like yPredict are expected to attract significant interest.
That's why many industry observers are tipping AI cryptos like yPredict's native $YPRED token, currently available via presale, to be amongst the next best-performing coins.
Pepe (PEPE)
Pepe, the biggest meme coin success of 2023, has been gaining momentum in the second half of June and, at current levels around $0.0000016, is up around 2x from earlier monthly lows in the $0.0000008 area.
The cryptocurrency is currently probing for a breakout back to the north of its recent $0.0000014-18 range that could reopen the door to a retest of all-time highs in near $0.000004.


This news is republished from another source. You can check the original article here.