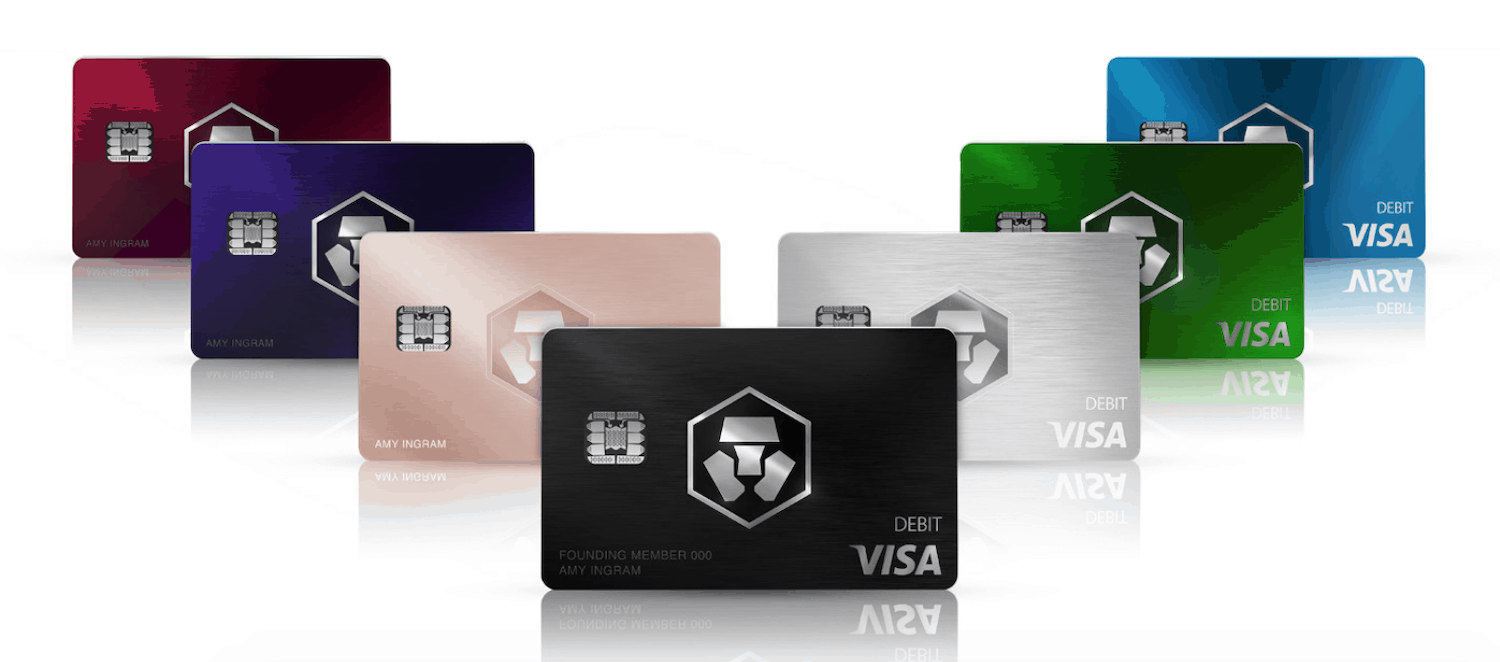 How are Crypto Payments Processed?
Regarding crypto credit cards, "crypto" refers exclusively to the crypto rewards you get for spending. The card is funded by the credit line extended to you by the card issuer. This implies that when you use the card regularly, your line of credit is funded in fiat currency rather than bitcoin.
The operation of crypto debit cards and prepaid cards somewhat differs. Using these cards, you can withdraw bitcoin from your crypto wallet and convert it to fiat cash at a rate established by the card. The fiat cash is then spent or withdrawn via the Visa, Mastercard, or EFTPOS network.
As a result, crypto cards do not permit direct bitcoin spending. This may change shortly since both Visa and Mastercard are implementing direct-spend cryptocurrency trials this year. Depending on the results of these trials, crypto cards and their offerings may grow substantially in Australia and other crypto-friendly countries.
10 Best Crypto Debit Cards in Australia: A Curated List 2022
Crypto.com VISA Debit Card
The Crypto.com VISA Debit Card is a prepaid card that offers a variety of high-end metal cards with no fees, up to 5% cash back, unrestricted access to airport lounges, and subscription reimbursements for streaming services. Although numerous rivals, like TenX, questioned Crypto.com's value, Crypto.com dominated in terms of its continued community and Crypto.com Visa Card usage. By simply stacking CRO, you can benefit from Crypto.com's competitive interest rates and incentives. The card is available with varying CRO Stakes, with each level conferring progressively more fantastic rewards. The rewards include discounts from Spotify, Netflix, Expedia, and Airbnb. This is an excellent option if you're searching for a card with a higher cashback rate and many features.
CoinJar Mastercard
CoinJar Card is a Mastercard-powered debit card that allows you to spend your digital currency anywhere in Australia, supporting EFTPOS (which essentially acts as a prepaid debit card). You can enable both virtual and actual payments with the app and card. With the physical card, you can withdraw funds from any ATM or retailer that offers cash-out services (1% withdrawal fee). It's free to start up, there are no monthly fees, and you'll earn CoinJar Rewards every time you spend. There is a 1% conversion cost from crypto to fiat every transaction, which is reimbursed to your CoinJar rewards account and may be redeemed. The CoinJar Card was initially debuted in 2015 (under the name CoinJar Swipe), then reintroduced in August 2021 under the name CoinJar Card. People are beginning to utilise it on their smartphone apps and smart watches for regular purchases.
Binance Visa Card
The Binance Visa Card enables you to convert and spend your prefered cryptocurrencies at over sixty million merchant locations. Move your cryptocurrency from your spot wallet to your card wallet, and you are ready to use it. Spend your cryptocurrency whenever, anywhere. Hold crypto in your Binance Card wallet and only trade while making purchases to collect daily rewards in BNB. The Binance Card is not yet available in Australia; it is expected to come in 2021, and you may pre-register on the website.
EFTPOS Cryptocurrency Debit Card
The new Cryptocurrency Debit Card is an excellent method to make POLi Payments purchases from the comfort of your home or to make in-person cash purchases at one of their retail partners. This cryptocurrency debit card can be loaded with multiple cryptocurrencies, including Bitcoin, Litecoin, Ether, etc. The card is compatible with EFTPOS, allowing you to make purchases and cash withdrawals at EFTPOS terminals. It's free to apply for and will be issued the same day through rapid delivery. As time progresses, the future of finance is the use of cryptocurrencies, which cater to the more technical use of money rather than physical cash. Your crypto debit card will handle your funds, and you can also use it to pay your bills.
Spectrocoin Prepaid Card
Spectrocoin now offers prepaid cards that can be used at any ATM worldwide and as a standard payment card in stores. With a Spectrocoin blockchain wallet, your prepaid card will be instantly loaded with funds. In addition, the card is contactless and more convenient than traditional cash, chip, or PIN purchases. This card's global acceptance at any ATM is one of its main features. Such a feature eliminates travel-related annoyances by keeping your funds with you wherever you go, eliminating the need to incur unnecessary fees and currency conversion. In addition, the card's high deposit and withdrawal limits make it easy to conduct large commercial transactions or expenditures when necessary.
Wirex Visa Card
Wirex Visa cards provide Bitcoin incentives for in-store purchases and the ability to spend cryptocurrencies in the real world. You can use the card globally in stores, for online purchases, or at local ATMs. Using a Wirex Visa card eliminates any unnecessary bank fees when travelling and paying in a foreign currency. The card offers 1.5% cash back in BTC for every in-store transaction, which is a nice bonus. The Cryptoback smart reward is ideal for individuals who want to spend, as it will reduce your expenditures and give an efficient way to pay throughout the globe. This is a terrific card for storing your bitcoins and offers an excellent Cryptoback reward.
Cryptopay Visa Card
The Cryptopay Visa Card is an excellent option to spend your cryptocurrency anywhere and at any time, owing to the widespread acceptance of Visa cards. You can also enjoy high spending restrictions and manage your cash online or in-app at any time. Since the card is Visa-verified, it's easy to use bitcoins to purchase large transactions online. The card is prepaid, so there are no overdraft fees or charges. You can rapidly lock or unlock the card for usage via the app or website, eliminating the need to contact the company directly. The card also has a notification function that allows you to follow your transaction history and costs and exchange currencies using your wallet anytime. Other data, such as card statements, are readily accessible from your wallet, allowing you to manage your money correctly.
Bitpay Debit Card
Bitpay was founded in 2011 as a startup that witnessed the potential of the bitcoin industry and aimed to simplify global financial efficiency and time consumption. This Bitpay Debit Card is an excellent fit for the cryptocurrency community since it allows for rapid balance reloads with no conversion costs based on Bitpay's exchange rate. This versatile card's features include balance viewing, PIN modification, fast balance reloading, and much more, all within the Bitpay application. The Bitpay card is fitted with an EMV chip for enhanced protection, which locks your card and restricts spending.
Coinbase Debit Card
Powered by your Coinbase account balance, the Coinbase Debit Card makes your bitcoin as spendable as fiat currency. You can use your card at millions of locations globally, uninhibited by the local currency exchange rate or inconvenience. The Coinbase app allows you to pay with any of your available cryptocurrencies, saving you time as you choose between nine alternatives, including BTC, ETH, LTC, REP, ZRX, BCH, XRP, BAT and XLM. Through the Coinbase Card app, you can monitor all types of spending and transactions and receive quick notifications on your spending limits. If you are concerned about your security, the card has a two-step authentication mechanism, and you can freeze it quickly via the app.
TenX Debit Card
The TenX Debit Card enables instant Bitcoin spending, Ether, and Litecoin spending. It can Instantaneously convert bitcoin to fiat currency to facilitate quick payments. TenX was founded in 2015 and was once known as "one-bit" as a Bitcoin-only startup. In 2016, they changed their name to TenX since they did not want to expand "one-bit" but 10x. You will have a flawless experience with this crypto card as it allows you to trade bitcoin quickly, withdraw local cash from ATMs worldwide, enjoy 24/7 security with notifications and the ability to lock your card, and trace your transactions whenever you choose.
Final Thoughts
Crypto debit cards revolutionise how we spend digital currencies and even bridge the gap between crypto and fiat currency. In addition to the ease of paying with cryptocurrency, several cards provide cashback for users to profit as they spend. The transaction costs differ across card issuers, but you can rest assured that they will not be excessive.
Several cryptocurrency exchanges have already leapt at the chance to provide their services to consumers. Therefore, it's the right time to get a crypto debit card to unlock the full potential of cryptocurrency as a transactional currency.


This news is republished from another source. You can check the original article here.